You are here: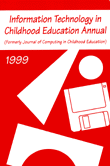 Malay Digital Folklore: Using Multimedia to Educate Children Through Storytelling
Article
ITCE Volume 2003, Number 1, ISSN 1522-8185 Publisher: Association for the Advancement of Computing in Education (AACE)
Abstract
In the early centuries of human evolution, the information to express cultures, social contents, ideas, values, and the society itself were primarily developed by means of expression. This information was represented in the form of classical, signs, figures, traditional manuscripts and performing arts. On the other hand, it becomes less important or is even forgotten, especially by the younger generation, to understand the origin and the significance of this rich local content. Apparently, there are infrequent and minimal efforts given to bring back and preserve these local contents. Storytelling is frequently chosen to reflect way of life and thinking of the people during that era. This research selects one of the most famous groups of folklore in Malaysia namely the Malay folklore to critically understand and explore the characteristics, elements and functions. It covers seven types of the Malay folklore namely: (a) "Penglipurlara," (b) moral, (c) myths, (d) comical, (e) animal, (f) knights, and (g) adventure and mystery. The aim of this study is to evaluate the effectiveness of storytelling based on the local contents of Malay folklore. This study will look at current attempt to represent old contents with the present medium of visualisation based on multimedia capabilities and technologies such as three-dimensional (3D), interactivity, nonlinearity, Internet and web education contents. According to Boston (1997), access the to the World Wide Web (WWW or Web) is a victory for educational opportunity equity for groups who are disadvantaged to achieve the goal of equal outcomes. A few selected students' works will be introduced as a result from this study. It will also revise the structure of storytelling in the first form of literature, especially on the social aspects of the Malay society. Animation has its strength to create an effective learning environment. This research will demonstrate animation as one of the medium to represent local contents. Wetzel, Radtke, and Stern (1994) explained, a variety of characteristics are used to make animations uniquely effective for instruction. It highlights the structure, procedure and narrative elements as the foundation to understand and represent old literature styles using multimedia technology. It is hoped that this framework will provide a guide for better multimedia development of local folklore and the development for digital content creation. The authors also believe that presenting material in an interactive manner is an effective technique for making learning and education process more memorable.
Citation
Zainal Abidin, M.I. & Abd. Razak, A. (2003). Malay Digital Folklore: Using Multimedia to Educate Children Through Storytelling. Information Technology in Childhood Education Annual, 2003(1), 29-44. Association for the Advancement of Computing in Education (AACE). Retrieved January 23, 2020 from https://www.learntechlib.org/primary/p/17771/.
Keywords
References
View References & Citations Map
Aarne, A. (1964) The types of the folk-tale: A classification and bibliography, Helsinki, Finland: Suomalainen Tiedeakatemia, Academia Scientiarum Fennica.
Boston, K. (1997). Continuity and change in Australian schools. Journal of the Australian College of Education, 23(2)
Danandjaja, J. (1986). An annotated bibliography of Japanese folklore. University of California, Berkeley, Center for South and Southeast Asia Studies.
Hamid, I. (1986). Sastera Rakyat: Suatu Warisan. Petaling Jaya, Malaysia: Fajar Bakti.
Mankiewicz, J. (1978). [Online]. Available: http://www.reelclassics.com/Directors/Mankiewicz/mankiewicz.htm
Taib, O. (1991). Pengka j ian Sas tera rakya t bercorak ceri ta. Kuala Lumpur: Dewan bahasa dan pustaka.
Wetzel, C., Radtke, P., & Stern, H. (1994). Instructional effectiveness of video media. Hillsdale, NJ: Lawrence Erlbaum.
Windstedt, R. (1968). A history of classical Malay literature. Kuala Lumpur: Oxford University Press, M.B.R.A.S
These references have been extracted automatically and may have some errors. Signed in users can suggest corrections to these mistakes.
Suggest Corrections to References