You are here: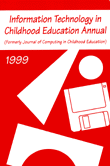 Technology Driven Group Investigations for Gifted Elementary Students
Article
Marianne K. Dove, Youngstown State University, United States ; Joyce A. Zitkovich, Boardman Local Schools, United States
ITCE Volume 2003, Number 1, ISSN 1522-8185 Publisher: Association for the Advancement of Computing in Education (AACE)
Abstract
The purpose of this study is to examine an instructional design for teaching science to gifted elementary students that integrates a gifted education teaching model (Group Investigations) with Internet-based communications, in order to conduct an onsite/outdoor learning expedition. This study demonstrates the importance of high-powered science curriculum (aligned in accordance with national science standards) and the use of advanced technologies in creating differentiated curricula for young gifted students. Given the paucity of research studies on gifted learners in science and technology, this study assessed gifted elementary students' ability to use advanced technologies, and the worthiness of using Group Investigations (initially designed as a pedagogical model for secondary students) to conduct science expeditions. A questionnaire (Likert scales and open-ended items) was constructed to assess the extent to which students found this science project, entitled Our Lake Online, to be engaging and effective. The study strongly suggests that integration of the Group Investigations Model with advanced science content and digital technologies contribute positively to planning science programs for gifted elementary students. The research findings indicate that young gifted learners are capable of engaging in onsite science expeditions as well as highly capable of using mobile digital communications and environmental analysis tools.
Citation
Dove, M.K. & Zitkovich, J.A. (2003). Technology Driven Group Investigations for Gifted Elementary Students. Information Technology in Childhood Education Annual, 2003(1), 223-241. Association for the Advancement of Computing in Education (AACE). Retrieved January 25, 2020 from https://www.learntechlib.org/primary/p/17769/.
Keywords
References
View References & Citations Map
Bennett, F. (1999). Computers as tutors: Solving the crisis in education. Sarasota, FL: Faben.
Boettcher, J. (2000). Computer literacy spiral: What do students need to know? Syllabus, 14(3), 42-45.
Clark, B. (2002). Growing up gifted: Developing the potential of children a t home and a t school (6 th ed.). Upper Saddle River, NJ: Merrill Prentice Hall.
Coleman, L.J., & Cross, T.L. (2001). Being gifted in school. Waco, TX: Prufrock Press. Damon , W. (1984). Peer education: The untapped potential. Journal of Applied Developmental Psychology, 5, 331-343.
Dewey, J. (1938). Experience and education. New York: Collier Books. Dewey, J. (1902 /1943). The school and society (Rev. Ed.). Chicago: University of Chicago Press.
Doise, W., & Mugny, G. (1984). The social development of the intellect. Oxford: Pergamon Press.
Maker, C.J., & Nielson, A.B. (1995). Teaching models in education of the gifted (2nd ed.). Austin, TX: Pro-ed.
National Research Council (1996). National science educations tandards. Washington, DC: National Academy Press.
Phelps, E., & Damon, W. (1989). Problem solving with equals. Peer collaboration as a context for learning mathematics and spatial concepts. Journal of Educational Psychology, 81(4), 639-646.
Rogoff, B. (1990). Apprenticeship in thinking: Cognitive development in social context. New York: Oxford University Press. Sharan , S. (Ed.). (1990). Cooperative learning: Theory and research. New York: Praeger.
Sharan, S., & Sharan, Y. (1976). Small group teaching. Englewood Cliffs, NJ : Educational Technology. Sharan , Y. , & Sharan , S. (1992). Expanding cooperative learning through group investigations. New York: Teachers College Press.
Snowman, J., & Biehler, R. (2000). Psychology applied to teaching (9 th ed.). Boston: Houghton Mifflin. Tudge , J.R.H. , & Winterhoff , P.A. (1993). Vygotsky, Piaget , and Bandura: Perspectives on there la t ions between the social world and cognitive development. Human Development, 36(2) , 61-81.
VanTassel-Baska, J. (1998). Excellence in educating gifted& Talented learners (3rd ed.). Denver, CO: Love Publishing. Vygotsky, L.S. (1930 /1933 /1935 /1978). Mind in society: The development of higher psychological processes. Cambridge, MA: Harvard University Press.
These references have been extracted automatically and may have some errors. Signed in users can suggest corrections to these mistakes.
Suggest Corrections to References