You are here: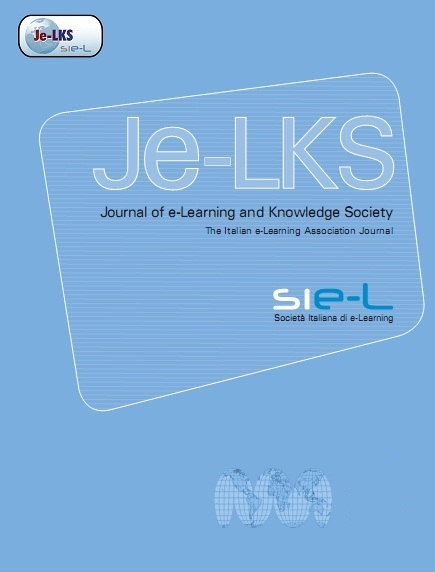 Conversation-based Learning in the Social Semantic Web
ARTICLE
Journal of e-Learning and Knowledge Society Volume 8, Number 2, ISSN 1826-6223 e-ISSN 1826-6223 Publisher: Italian e-Learning Association
Abstract
The collaborative approaches based on concepts of Knowledge construction and knowledge creation consider the learning as a direct function of processes of social participation and dynamic argumentative talk between peers. These approaches justify the Social Semantic Web' success as a theoretical and technological model which establishes a synergy between an Ontology-based approach to knowledge (suitable for defining, structuring and sharing knowledge) and collaborative software environments (utilized to create and share knowledge socially). The above mentioned approaches make reference to Semantic Web and Social Web respectively. If the Ontologies are an effective mechanism for the formal representation and sharing of knowledge, the social/collaborative activities adopt pedagogical theories of Social Constructivism. Recently, the scientific community has promoted the Educational Social Semantic Web, where activities and educational content are easily created, shared and used by teachers and students even without possessing brilliant engineering knowledge skills or technological know-how. The purpose of this work is to model, according to Social Semantic Web's principles, an adaptive environment able to support Instruction-based Conversation learning processes in a work environment. In such an environment, the conversational process is guided by a collaborative script automatically generated basing on the explicit representation of a disciplinary domain, a knowledge goal to be achieved, as well as learner's characteristics (cognitive state) and corporate resources available at a given time. The environment maintains the learner's cognitive balance, minimizes the extraneous processing, appropriately manages the essential processing and maximizes the generative processing.
Citation
Mangione, G., Orciuoli, F., Gaeta, M. & Salerno, S. (2012). Conversation-based Learning in the Social Semantic Web. Journal of e-Learning and Knowledge Society, 8(2), 45-63. Italian e-Learning Association. Retrieved February 26, 2020 from https://www.learntechlib.org/p/43463/.
Keywords
References
View References & Citations Map
Aalst J.V. (2009), Distinguishing knowledge-sharing, knowledge-construction, and knowledge-creation discourses. I.J. Computer-Supported Collaborative Learning(2009) 259-287

Bereiter C., Scardamalia M. (1987), The psychology of written composition. Hillsdale, NJ: Lawrence Erlbaum Associates.

Blei D., Lafferty J. (2009) Topic Models. In A. Srivastava and M. Sahami, editors, Text Mining: Classification, Clustering, and Applications. Chapman& Hall/CRC Data Mining and Knowledge Discovery Series.

Bouyias Y., Demetriadis S. (2010), Cognitive Processes Induced from Fading-out of the Collaboration Script During Argumentation. Incos, pp.24-31, 2010 International

Brown J.S., Collins A., Duguid P. (1989), Situated cognition and the culture of learning. Educational Researcher, 18(1), 32–42.

Calvani A. (2009), Teorie dell'istruzione e carico cognitivo. Modelli per una scuola| Invited Papers-Vol. 8, N. 2, May 2012 efficace. Trento: Erickson, P. 1-146.

Capuano A., Gaeta M., Marengo A., Miranda S., Orciuoli F., Ritrovato P. (2009), LIA: an Intelligent Advisor for e-Learning. Interactive Learning Environments, Taylor& Francis, vol. 17, no. 3, pp. 221-239, September 2009.

De Maio C., Fenza G., Gaeta M., Loia V., Orciuoli F., Senatore S. (2012), RSS-based e-learning recommendations exploiting fuzzy FCA for Knowledge Modeling, Applied Soft Computing journal, Elsevier, Vol. 12, No. 1, 113-124.

Dillenbourg P. (2002), Over-scripting CSCL: The risks of blending collaborative learning with instructional design. In P.A. Kirschner (Ed.), Three worlds of CSCL. Can we support CSCL, (pp. 61-91), Heerlen, NL: Open Universiteit Nederland.

Dillenbourg P., Hong F. (2008), The Mechanics of Macro Scripts, International Journal of Computer-Supported Collaborative Learning, 3 (1), 5-23.

Dillenbourg P., Jermann P. (2007), Designing interactive scripts. In F. Fischer, I. Kollar, H. Mandl, & J. Haake (Eds.), Scripting computer-supported collaborative learning: Cognitive, computational and educational perspectives, (pp. 276-301), New York:

Gaeta M., Orciuoli F., Paolozzi S., Salerno S. (2011), Ontology Extraction For Knowledge Reuse The e-Learning Perspective, IEEE Transactions on Systems, Man, and Cybernetics, Part A: Systems and Humans journal, Vol. 41, No. 4, 798809.

Gruber T. (2007), Collective Knowledge Systems: Where the Social Web meets the Semantic Web. Journal of Web Semantics.

Knuf J. (2000), Benchmarking the lean enterprise: Organizational learning at work. Journal of Management in Engineering, 16(4), 59–71.

Kollar I., Fischer F., Hesse F.W. (2006), Computer-supported collaboration scripts-a conceptual analysis. Educational Psychology Review, 18(2), 159-185.

Kollar I., Fischer F., Slotta J.D. (2005), Internal and external collaboration scripts in webbased science learning at schools. Computer supported collaborative learning 2005: The next 10 Year!,LEA, Mahwah, NJ, pp 331-340.

Mayer R.E. (2010), Applying the science of learning. Upper Saddle River, NJ: Pearson.

Mangione G.R., Orciuoli F., Pierri A., Salerno S. (2009), Competence management in e-learning systems: a possible approach, Journal of e-Learning and Knowledge Society, Vol 5, No 3, 2009.

Mercer N. (2000), Words and Minds: how we use language to think together. London: Routledge.

Paavola S., Lipponen L., Hakkarainen K. (2004), Models of innovative knowledge Giuseppina Rita Mangione, Francesco Orciuoli, Matteo Gaeta, Saverio Salerno-Conversation-based Learning in the Social Semantic Web communities and three metaphors of learning. Review of Educational Research, 74, 557–576.

Pea R.D. (1994), Seeing what we build together: distributed multimedia learning environments for transformative communities. The Journal of the Learning Sciences, 3, 285–299.

Renshaw P. (2004), Dialogic learning, teaching and instruction: Theoretical roots and analytical frameworks. In J. Vander Linden, & P. Renshaw (Eds.), Dialogic learning (pp. 1-15). Dordrecht, The Netherlands: Kluwer.

Ritter A., Cherry C., Dolan B. (2010), Unsupervised modeling of Twitter conversations. HCT-NAACL.

Salomon G., Perkins D.N. (1998), Individual and social aspects of learning. Review of Research in Education, 23, 1-24.

Soller A., Lesgold A. (2003), A computational approach to analyzing online knowledge sharing interaction. In: Proceedings of Artificial Intelligence in Education 2003, Sydney, Australia, pp. 253–260.

Sutton C., McCallum A. (2011), An Introduction to Conditional Random Fields, Foundations and Trends in Machine Learning.

Ten Dam G., Volman M., Wardekker W. (2004), Making sense through participation: social differences in learning and identity development. In J. Vander Linden& P. Renshaw (eds.), Dialogic learning (pp. 63-85). Dordrecht: Kluwer.

Tynjälä P., Häkkinen P. (2005), E-learning at work: Theoretical underpinnings and pedagogical challenges, Journal of Workplace Learning 17 (5/6), 318-336.

Van Merriënboer J.G., Pass F. (2003), Powerful learning and the many faces of instructional design: Toward a framework for the design of powerful learning environments, in E. De Corte, L. Verschaffel, N. Entwistle and J.G. Van Merriënboer (Eds) , Powerful Learning Environments: Unraveling Basic Components and Dimensions, Amsterdam, Pergamon, P. 3-20.

Vygotsky L. (1978), Mind in Society: The development of higher psychological processes. Harvard University Press. Cambridge, MA.

Volz J., Bizer C., Gaedke M., Kobilarov G. (2009), Discovering and Maintaining Links on the Web of Data. International Semantic Web Conference 2009: 650-665

Wegerif N., Mercer N., Dawes L. (1999), From social interaction to individual reasoning: an empirical investigation of a possible socio-cultural model of cognitive development. Learning and Instruction, Vol. 9, No. 6

Weinberger A., Ertl B., Fisher F., Mandl H. (2004), Cooperation scripts for learning via web-based discussion boards and videoconferencing, EARLI SIM 2004, Retrieved April 10, 2010, from http://www.cs.uu.nl/docs/vakken/b3elg/literatuur_files/Weinberg.pdf
These references have been extracted automatically and may have some errors. Signed in users can suggest corrections to these mistakes.
Suggest Corrections to References