You are here: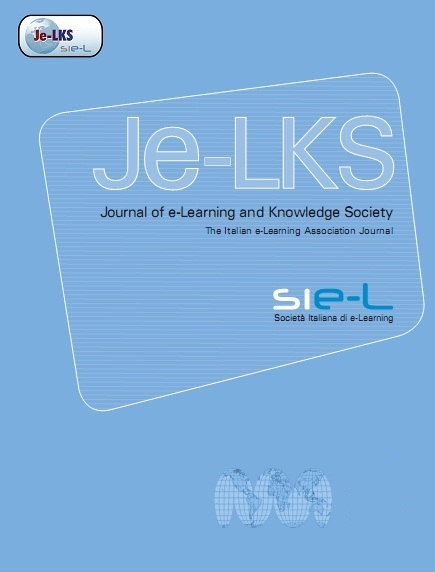 Metacognitive Learning Environment: a semantic perspective
ARTICLE
Journal of e-Learning and Knowledge Society Volume 7, Number 2, ISSN 1826-6223 e-ISSN 1826-6223 Publisher: Italian e-Learning Association
Abstract
In the last years, Knowledge Technologies have been exploited to realize innovative and challenging self-regulation scenarios in e-learning systems. The learning environments as metacognitive artifact suitably scaffolding learners to improve their self regulated abilities, is still lacking though. In this work, we propose an innovative Web-based educational environment that sustains metacognitive self-regulated learning processes by means of Semantic Web and Social Web methods and technologies.
Citation
Gaeta, M., Mangione, G., Orciuoli, F. & Salerno, S. (2011). Metacognitive Learning Environment: a semantic perspective. Journal of e-Learning and Knowledge Society, 7(2), 69-80. Italian e-Learning Association. Retrieved February 20, 2020 from https://www.learntechlib.org/p/43281/.
Keywords
References
View References & Citations Map
Albano G., Gaeta M., Salerno S. (2006), E-learning: a model and process proposal. Int. J. Knowledge and Learning, Vol. 2, Nos. 1/2,, Inderscience Publisher, ISSN (Online): 1741-1017-ISSN (Print): 1741-1009, pp.73–88.

Azevedo R. (2009), Theoretical, conceptual, methodological, and instructional issues in research on metacognition and self-regulated learning: A discussion. Metacognition and Learning 4(1):87–95.

Code J., Zaparyniuk N. (2006), Individual differences in self-regulated learning: The role of cognitive style in adaptive e-learning. In Pearson, E., and Bohman, P., eds., Proceedings of World Conference on Educational Multimedia,Hypermedia and Telecommunications 2006, 2673–2678. Chesapeake, VA: AACE.
Crippen K.J., Biesinger K.D., Muis K.R., Orgill M. (2009), The role of goal orientation and self-efficacy in learning from web-based worked examples. Journal of Interactive Learning Research 20(4):385–403.

Dettori G., Persico D. (2008), Detecting self-regulated learning in online communities by means of interaction analysis. IEEE Transactions on Learning Technologies 1:11–19.

Dong A., Zhang R., Kolari P., Bai J., Diaz F., Chang Y., Zheng Z., Zha H. (2010), Time is of the essence: improving recency ranking using twitter data. In WWW '10: Proceedings of the 19th international conference on Worldwide web, 331–340.

Gaeta M., Orciuoli F., Ritrovato P. (2009), Advanced ontology management system Matteo Gaeta, Giuseppina Rita Mangione, Francesco Orciuoli, Saverio Salerno-Metacognitive Learning Environment: a semantic perspective

Greene J.A., Azevedo R. (2007), A theoretical review of winne and hadwin's model of self-regulated learning: New perspectives and directions. REVIEW OF EDUCATIONAL RESEARCH 77(3):334–372.

Kemp R., Kemp E., Todd E. (2009), Self-regulated fading in on-line learning. In Proceeding of the 2009 conference on Artificial Intelligence in Education, 449–456.

Lee I. (2004), Searching for new meanings of self-regulated learning in e-learning environments. In Cantoni, L., and McLoughlin, C., eds., Proceedings of World Conference on Educational Multimedia, Hypermedia and Telecommunications 2004, 3929–3934. Lugano, Switzerland: AACE.

Lin X. (2001), Designing metacognitive activities. ETR & D 49(2):23–40.

Mcmanus T.F. (2000), Individualizing instruction in a web based hypermedia learning environment: Nonlinearity, advance organizers, and self-regulated learners. Journal of Interactive Learning Research 11(2):219–251.

Shih K.P., Chang C.Y., Chen H.C., Wang S.S. (2005), A self-regulated learning system with scaffolding support for self-regulated e/m-learning. In ITRE, 30–34.

Sperling R.A., Howard B.C., Staley R., Dubois N. (2004), Metacognition and selfregulated learning constructs. Educational Research and Evaluation 10(2):117– 139.

Steffens K. (2008), Technology enhanced learning environments for self-regulated learning: a framework for research. Technology, Pedagogy and Education 17(3):221–232.
Teng Y.T., Benson A. (2006), The use of concept mapping in instructional system design: Implications for e-learning design. In Reeves, T., and Yamashita, S., eds., Proceedings of World Conference on E-Learning inCorporate, Government, Healthcare, and Higher Education 2006, 1459–1466. Honolulu, Hawaii, USA: AACE.
Tsai M.J. (2009), The model of strategic e-learning: Understanding and evaluating student e-learning from metacognitive perspectives. Educational Technology& Society 12(1):34–48.

Van den Boom G., Paas F., van Merrinboer J.J.G., van Gog T. (2004), Reflection prompts and tutor feedback in a web-based learning environment: effects on students self-regulated learning competence. Computers in Human Behavior 20:551–567.

Vockell E.L. (2009), Educational Psychology: A Practical Approach.

Witherspoon A.M., Azevedo R., D'Mello S.K. (2008), The dynamics of self-regulatory processes within self-and externally regulated learning episodes during complex science learning with hypermedia. In Intelligent Tutoring Systems, 260–269.

Zimmerman B.J. (2008), Investigating Self Regulation and Motivation: Historical Background, Methodological Developments, and Future Prospects, American Educational Research Journal, 45(1), 166-183.

Wu Z., Palmer M. (1994), Verb semantics and lexical selection, Proceedings of the 32nd Annual Meeting of the Associations for Computational Linguistics, pp. 133-138.
These references have been extracted automatically and may have some errors. Signed in users can suggest corrections to these mistakes.
Suggest Corrections to References