You are here: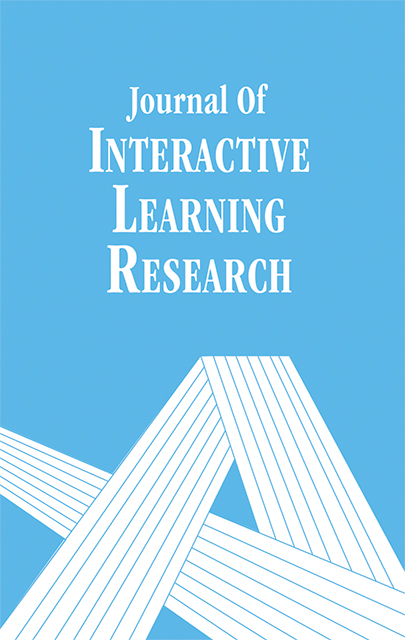 Nurturing students' problem-solving skills and engagement in computer-mediated communications (CMC)
ARTICLE
Ching-Huei Chen, National Changhua University of Education, Taiwan
Journal of Interactive Learning Research Volume 25, Number 3, ISSN 1093-023X Publisher: Association for the Advancement of Computing in Education (AACE), Waynesville, NC
Abstract
The present study sought to investigate how to enhance students' well- and ill-structured problem-solving skills and increase productive engagement in computer-mediated communication with the assistance of external prompts, namely procedural and reflection. Thirty-three graduate students were randomly assigned to two conditions: procedural and reflection groups. Pre-/post-experiment design was conducted to examine differences in problem-solving processes, particularly in problem representation, solution development, justifications, and monitoring and evaluating. Students initially formulated individual responses to well- and ill-structured problems with the assistance of procedural or reflection prompts, and later discussed their solutions with assigned group members within CMC. The results demonstrated that students received reflection prompts performed better in making justifications, monitoring and evaluating the plan of action for the ill-structured problem than those received procedural prompts. Additionally, the results of content analysis showed that reflection prompts served a critical role in fostering the use of higher-level cognitive skills such as reflection and reasoning and for facilitating learners' reflective practices in online group discussion. This study suggests the use of question strategies and task complexities should be carefully implemented so the quality of CMC learning can be ensured.
Citation
Chen, C.H. (2014). Nurturing students' problem-solving skills and engagement in computer-mediated communications (CMC). Journal of Interactive Learning Research, 25(3), 309-325. Waynesville, NC: Association for the Advancement of Computing in Education (AACE). Retrieved January 28, 2020 from https://www.learntechlib.org/primary/p/39529/.
References
View References & Citations Map
Berge, Z.L. (1999). Interaction in post-secondary Web-based learning. Educational Technology, 39(1), 5-11. Berthold, K., nuckles, M., & Renkl, A. (2007). Do learning protocols support learning strategies and outcomes? The role of cognitive and metacognitive prompts. Learning and Instruction, 17, 564-577.
King, A. (1992). Facilitating elaborative learning through guided student-generated questioning. Educational Psychologist, 27(1), 111-126.
Lee, C.Y., & Chen, M.P. (2009). A computer game as a context for non-routine mathematical problem solving: The effects of type of question prompt and level of prior knowledge. Computers& Education, 52(3), 530-542.
Lin, X., & Lehman, J.D. (1999). Supporting learning of variable control in a computer-based biology environment: effects of promoting college students to reflect on their own thinking. Journal of Research in Science Teaching, 36(7), 837-858.
Maddison, S., & Mazzonlini, M. (2003). Sage, guide or ghost? The effect of instructor intervention on student participation in online discussion forums. Nurturing Students' Problem-Solving Skills And Engagement 325
Peterson, M. (2009). Learner interaction in synchronous CMC: A sociocultural perspective. Computer Assisted Language Learning, 22(4), 303-321.
Rosenshine, B., Meister, C., & Chapman, S. (1996). Teaching students to generate questions: A review of the intervention studies. Review of Educational Research, 66(2), 181-221.
Scardamalia, M., & Bereiter, C. (1994). Computer support for knowledge-building communities. The Journal of the Learning Sciences, 3(3), 265-283.
Scardamalia, M., & Bereiter, C. (2003). Knowledge building. In J.W. Guthrie (ed.), Encyclopedia of Education. New York, uSA: Macmillan Reference. Simon, H.A. (1978). Information-processing theory of human problem solving. In W.K. Estes (ed.), Handbook of learning and cognitive processes (Vol. 5, pp. 271-295). Hillsdale, nJ: Lawrence erlbaum Associates.
Wood, P.K. (1983). Inquiring systems and problem structure: implications for cognitive development. Human Development, 26, 249-265.
Yang, Y.-T.C. (2008). A catalyst for teaching critical thinking in a large university class in Taiwan: Asynchronous online discussions with the facilitation of teaching assistants. Education Technology Research and Development, 56, 241-264.
Yarrow, F., & Topping, K.J. (2001). Collaborative writing: The effects of metacognitive prompting and structured peer interaction. British Journal of Educational Psychology, 71, 261-282.
Zimmerman, B.J. (1989). A social cognitive view of self-regulated academic
These references have been extracted automatically and may have some errors. Signed in users can suggest corrections to these mistakes.
Suggest Corrections to References