You are here: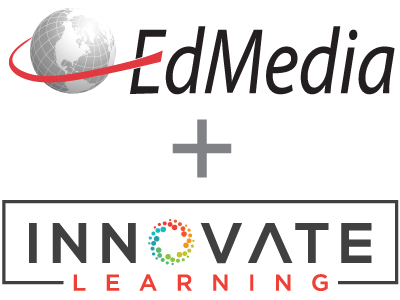 Review on the Roles of Agent in Collaborative e-Learning environment
PROCEEDINGS
EdMedia + Innovate Learning, in Montreal, Canada ISBN 978-1-880094-56-3 Publisher: Association for the Advancement of Computing in Education (AACE), Waynesville, NC
Abstract
Collaborative learning is one of the learning approaches that promote interactions and complementary roles among learners in order to maximize achievement of individual learners' and groups' goals. The current research inquired the collaborative e-learning models and behaviors that can improve cognitive and social interactions demanded in the various platforms such as personal computing, mobile computing, and digital TV environments. Furthermore, it suggested the roles of collaborative learning agent.
Citation
Lee, I., Leem, J.H., Kyung Ae, M., Heejun, S. & Jang, H.W. (2005). Review on the Roles of Agent in Collaborative e-Learning environment. In P. Kommers & G. Richards (Eds.), Proceedings of ED-MEDIA 2005--World Conference on Educational Multimedia, Hypermedia & Telecommunications (pp. 3388-3394). Montreal, Canada: Association for the Advancement of Computing in Education (AACE). Retrieved May 17, 2021 from https://www.learntechlib.org/primary/p/20606/.
Keywords
References
View References & Citations Map
Barrows, H. (1994). Practice-based learning: Problem-based learning applied to medical education. Springfield, IL: Southern Illinois.
Beyer, B. (1971). Inquiry in the social studies classroom: Strategies for teaching. Columbus, OH: Charles E. Merrill Publishing company.
Bianchini, J.A.(1997). Where knowledge construction, equity, and context interest: student learning of science in small groups. Journal of research in science teaching. 34(10), 1039~1065.
Blackler, F.(1995). Knowledge, knowledge work and organizations: An overview and interpretation. Organization Studies. 16(6), 1021~1046.
Bridges, E. & Hallinger, P. (1995). Implementing problem-based learning in leadership development. Eugene, OR: ERIC.
Bridges, E. (1992). Problem-based learning for administrators. OR: ERIC
Buck Institute for Education (2000). Project based learning. [Online document] available: http://www.bie.org/pbl Chard, S.C. (1999). The Project approach: The second practical guide for teachers.
Cooper, C.R.(1980). Development of collaborative problem solving among preschool children. Developmental Psychology, 16(5), 433-440.
Delisle, R. (1997). How to use problem-based learning in the classroom. Alexandria, VA: ASCD. Fischer, F. Bruhn, J., Grasel, C., & Mandel, H.(2002). Fostering collaborative knowledge construction with visualization tools. Learning and Instruction. 12, 2130~2232.
Harris, J. (1995). Organizing and facilitating telecollaborative projects. The Computing Teacher. 22(5), 46-50.
Johnson, D.W. & Johnson, R.T. (1986). Computer-assisted cooperative learning, Educational Technology, 25(1), 12-18
Johnson, D.W. & Johnson, R.T. (1992). Cooperation and competition: Theory and Research. Minnesota: Interact Book Co.
Johnson, D.W. & Johnson, R.T. (1999). Structuring academic controversy. In S. Sharan (ed.) Handbook of cooperative learning methods. Westport, CT: Praeger Publishers.
Kang, M., & Bynn, H.P.(2001). A conceptual framework for a web-based knowledge construction support system. Educational technology, 41(4), 48-53.
Kilpatrick, W.H. (1918). The Project method. Teachers College Record. 19, 319-335. Laffey, J. Tupper, T., Musser, D., & Wedman, J. (1998). A computer-mediated support system for project-based learning, Educational Technology Research and Development, 46(1), 73-86.
Linn, M.C., & Burbules, N.C.(1993). Construction of knowledge and group learning. In K. Tobin(Ed.). The Practice of Constructivism in Science Education(pp. 91-119). Washington, DC: AAAS Press.
Massialas, B. & Cox, B. (1966). Inquiry in social studies. New York: McGraw-Hill Book Co.
Mckenna, J., & Carroll, J.(1999). Collaborative problem solving: Financial education for youth. Journal of Extension. 37(5)
Nelson, L.M. (1999). Collaborative problem solving. In C.M. Reigeluth(Ed.), Instructional-design theories and models Volume?: A new paradigm of instructional theory. Pp. 241-267. Mahwah, NJ: Lawrence Erlbaum.
Oliver, R., Omari, A., & Herrington, J.(1998). Exploring student interactions in collaborative worldwide web computer-based learning environment. Journal of Educational Multimedia and Hypermedia, 7(2/3), 263~287.
Rahman, S.S.A., & Salim, S.S. (2001). Web-based collaborative knowledge construction space. Proceedings of NSF workshop(P. 1-5). Kuala Lumpur.
Savery, J. & Duffy, T. (1994). Problem-based learning: An instructional media and its constructivist framework. Educational Technology, 34(7), 1-16.
Steeples, C.(1993). A computer mediated learning environment for adult learners: supporting collaboration and self direction. Journal of Educational Multimedia and Hypermedia. 2(4), 443~454.
Steipen, W.J., Senn, P.R. & Steipen, W.C. (2000). The Internet and problem-based learning: Developing solutions through the web. Tucson, AZ: Zephyr press.
Wellington, J.J. (1994). Pro-co cooperative group strategy structuring academic controversy within the social studies classroom. In Cooperative learning in social studies: A handbook for teachers, edited by R.J. Stahl, NY: Addison Wesley Publishing Company, 306~331.
These references have been extracted automatically and may have some errors. Signed in users can suggest corrections to these mistakes.
Suggest Corrections to References