You are here: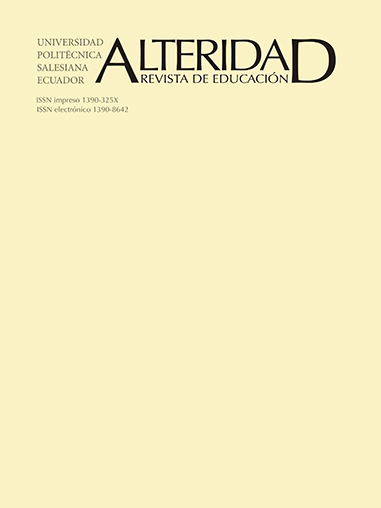 Manifestations of violence among students of higher education: The uses of WhatsApp
Español/Spanish

Manifestaciones de violencias entre alumnos de educación superior: Los usos del WhatsApp
Português/Portuguese

Manifestações de violências entre alunos de educação superior: os usos do WhatsApp

Alteridad Volume 13, Number 1, ISSN 1390-8642 Publisher: Universidad Politécnica Salesiana of Ecuador, Quito, Ecuador
Abstract
In this article we present the results of an investigation regarding violence demonstration through WhatsApp among students of Higher Education, carried out in 11 educational programs. To learn the new types of mistreatment that faculty students enrolled in a public university in the city of Guadalajara, Jalisco, Mexico do and suffer through WhatsApp. 541 students were surveyed as part of a probabilistic sample of a population of 17 000 students, working with a 95% confidence level to estimate a proportion by means of a bilateral interval with a conservative approach obtaining an error limit of. 041 (4.1%). Among the most relevant results, we found that 48% of the sample has felt uncomfortable and disgusted by pornographic photographs that their contacts have sent without their consent; the same happened with 37.4% of the sample of students to whom pornographic videos were sent. These types of messages constitute new abuses that offend those who receive them, which is also the case for 18.7% of the students who have been targets of seemingly harmless memes, however, those who appear in them suffer ridiculing. Another important finding was the one related to indifference and how it has become a new type of violence suffered by 77.8% of students.
Español/Spanish:
En este artículo se presentan resultados de una investigación sobre algunas manifestaciones de violencia a través de WhatsApp entre alumnos de Educación Superior, realizada en 11 programas educativos. Conocer los nuevos tipos de maltratos que hacen y sufren a través de WhatsApp los alumnos de facultad inscritos en una universidad pública de la ciudad de Guadalajara, Jalisco, México. Fueron encuestados 541 alumnos(as) en una muestra probabilística de una población de 17 000 estudiantes, trabajando con un 95% de nivel de confianza para estimar una proporción por medio de un intervalo bilateral con un enfoque conservador obteniendo un límite de error de .041 (4.1%). Entre los resultados más relevantes encontramos que un 48% de la muestra se ha sentido incómodo y disgustado por fotografías pornográficas que le han enviados sus contactos sin haberlas solicitado y sin que le notificaran del envío de estas imágenes; los mismo ocurre con un 37.4% de la muestra con alumnos(as) a los que enviaron videos pornográficos. Este tipo de mensajes constituyen nuevos maltratos que ofenden a quienes los reciben, como ocurre además con un 18.7% del alumnado a quienes les han hechos memes aparentemente inofensivos, pero que hacen sufrir a quienes en ellos aparecen al ser ridiculizados. Otro hallazgo importante, fue el relacionado con la indiferencia y cómo está se ha convertido en nuevo tipo de violencia que sufren un 77.8% de alumnos.
Português/Portuguese:
Neste artigo apresentamos os resultados de uma investigação sobre algumas manifestações de violência via WhatsApp, entre alunos de Educação Superior, realizada em 11 programas educativos. O objetivo é o de conhecer os novos tipos de abusos, realizados e sofridos, por alunos inscritos em uma universidade pública da cidade de Guadalajara, Jalisco, México. Foram pesquisados 541 estudantes em uma amostra probabilística de uma população de 17.000 estudantes, com um nível de confiança de 95%, para estimar uma proporção por meio de um intervalo bilateral com um enfoque conservador, obtendo um limite de erro de .041 (4.1%). Entre os resultados mais relevantes encontramos que 48% dos alunos da amostra se manifestam incomodados e desgostosos de fotografias pornográficas que seus contatos lhes enviaram sem que eles as tenham solicitado e sem que fossem notificados do envio de tais imagens; o mesmo ocorre entre os 37.4% da amostra de alunos para os quais foram enviados vídeos pornográficos. Esses tipos de mensagem constituem-se em um novo tipo de abuso que ofende a quem as recebe, como ocorre com os 18,7% dos alunos para os quais foram enviados memes aparentemente inofensivos, porem que fazem sofrer a quem esses memes entendem ridicularizar. Outro aspecto importante foi o relacionado com a indiferença e como esta se converteu em um novo tipo de violência da qual sofrem 77,8% dos alunos.
Citation
Lucio-López, L., Prieto Quezada, M. & Carrillo Navarro, J. (2018). Manifestations of violence among students of higher education: The uses of WhatsApp. Alteridad, 13(1), 204-213. Quito, Ecuador: Universidad Politécnica Salesiana of Ecuador. Retrieved January 24, 2020 from https://www.learntechlib.org/p/195272/.