You are here: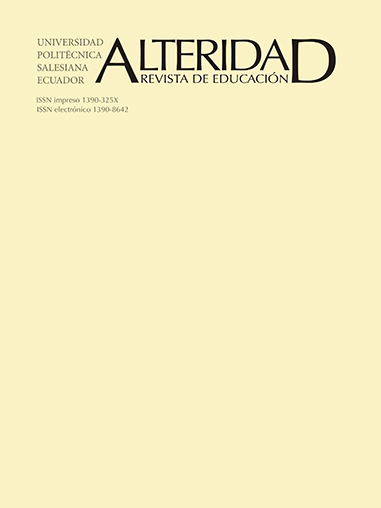 Gender equity as a learning unit in the university
Español/Spanish

Equidad de géneros como unidad de aprendizaje en la universidad
Português/Portuguese

Equidade de gêneros como unidade de aprendizagem na universidade

Alteridad Volume 13, Number 1, ISSN 1390-8642 Publisher: Universidad Politécnica Salesiana of Ecuador, Quito, Ecuador
Abstract
This research describes an educational experience on the subject of gender equity, with a learning unit aimed at university students from various areas, in the online mode, in a semester period. This learning unit that is taught for the first time in the university, is a way to promote gender equity and combat the problem of violence by denaturing it and understanding the responsibility that every student has in the reproduction of inequality, and also as a change promoter. The objective of this work was to analyze the learning reflections carried out by the 18 students who participated in the course, through three inductive categories: patriarchy, violence and equity, built on the basis of the units of the course. To achieve this, a collection of the final sections of their tasks was carried out. The analysis of these sections, identified as "learning reflections", indicates that students consider that patriarchy is a historical construction, that we have learned to see gender violence as something natural and that equality and equity are not same. Likewise, it was found that the students were able to link these concepts with situations from their immediate contexts, and were able to recognize themselves as factors of change.
Español/Spanish:
En esta investigación se describe una experiencia educativa en el tema de equidad de géneros, con una unidad de aprendizaje dirigida a estudiantes universitarios de diversas áreas, en la modalidad en línea, en un período semestral. Esta unidad de aprendizaje que se imparte por primera vez en la universidad, es una manera de promover la equidad entre los géneros y combatir el problema de la violencia por medio de la desnaturalización de la misma y del entendimiento del propio papel tanto en la reproducción de la desigualdad como en el cambio. El objetivo de este trabajo fue el de analizar las reflexiones de aprendizaje llevadas a cabo por los 18 estudiantes que participaron en el curso, a través de tres categorías inductivas: patriarcado, violencia y equidad, construidas con base en las unidades del curso. Para lograr esto, se llevó a cabo una recolección de los apartados finales de sus tareas. El análisis de dichos apartados, identificados como "reflexiones de aprendizaje", nos indica que los estudiantes consideran que el patriarcado es una construcción histórica, que hemos aprendido a ver la violencia de género como algo natural y que la igualdad y la equidad no son lo mismo. Asimismo, se encontró que los estudiantes fueron capaces de vincular estos conceptos con situaciones de sus contextos inmediatos, y fueron capaces de reconocerse como factores de cambio.
Español/Spanish PDF
Português/Portuguese:
Nesta pesquisa descreve-se uma experiência educativa em base ao tema de equidade de gêneros, com uma unidade de aprendizagem dirigida a estudantes universitários de diversas áreas, na modalidade linear, no período de um semestre. Esta unidade de aprendizagem que se inicia pela primeira vez na universidade. É uma maneira de promover a equidade entre os gêneros e combater o problema da violência por meio da desnaturalização da mesma e do entendimento do próprio papel, tanto na reprodução da desigualdade como na mudança. O objetivo deste trabalho foi de analisar as reflexões de aprendizagem realizadas por 18 estudantes que participaram do curso, mediante três categorias indutivas: patriarcado, violência e equidade, construídas com base nas unidades do curso. Para conseguir tal objetivo, realizou-se uma coleta dos resultados finais de suas tarefas. A análise de tais destaques identificados como "reflexões de aprendizagem" nos indica que os estudantes consideram que o patriarcado é uma construção histórica, no qual aprendemos a ver a violência de gênero como algo natural, e onde igualdade e equidade acabam sendo a mesma coisa. Além do mais encontrou-se que os estudantes foram capazes de vincular estes conceitos com situações de seus contextos imediatos, e foram capazes de reconhecerem-se como fatores de mudança.
Citation
Salinas Boldo, C. (2018). Gender equity as a learning unit in the university. Alteridad, 13(1), 180-191. Quito, Ecuador: Universidad Politécnica Salesiana of Ecuador. Retrieved January 19, 2020 from https://www.learntechlib.org/p/195271/.
References
View References & Citations Map
Álvarez-Gayou, J.L. (2011). Sexoterapia integral. México: Manual Moderno.

Bolaños, C. (2003). Curriculum universitario género sensitivo e inclusivo. Revista de Ciencias Sociales, 4(102), 71-78. Recuperado de https://goo.gl/jy4iDE

Buquet, A.G. (2011). Transversalización de la perspectiva de género en la educación superior. Problemas conceptuales y prácticos. Perfiles educativos, 33, 211-225. Recuperado de https://goo.gl/GRmpKE

Butler, Judith (2006). Deshacer el género. Barcelona: Paidós.

Bustos, O. (2008). Los retos de la equidad de género en la educación superior en México y la inserción de mujeres en el mercado laboral.

INEGI (2016). Encuesta Nacional Sobre la Dinámica de las Relaciones en los Hogares (ENDIREH). De Género. (2007). Glosar io Recuperado de https://goo.gl/5Y7wsi

Mingo, A., & Moreno, H. (2015). El ocioso intento de tapar el sol con un dedo: violencia de género en la universidad. Perfiles Educativos, 37(148), 138-155. Recuperado de https://goo.gl/ruYAd6

Montané, A., & Pessoa, M.E. (2012). Diálogo sobre género: justicia, equidad y políticas de igualdad en educación superior (Brasil y España). Revista Lusófona de Educacão, 21, 97-120.

Ramírez, C., & Núñez, D. (2010). Violencia en la relación de noviazgo en jóvenes universitarios: un estudio exploratorio. Enseñanza e Investigación en Psicología, 15(2), 273-283.

UPS (2017). Sistema Gestión Académica. Cuenca: UPS.

Vázquez, V., Regalado, J., Garzón, B., Torres, V., & Juncosa, J. (2012). La presencia salesiana en Ecuador. Perspectivas históricas y sociales. Quito: Abya-Yala.

Vélez, C. (2008) Trayectoria de la Educación Intercultural Bilingüe en el Ecuador. Revista Educación y Pedagogía, 20(52), 103-112.

Villagómez, M.S. (2016). Práctica de la interculturalidad, descolonización y formación docente: el Programa Académico Cotopaxi del Ecuador.

Walsh, C. (2009). Interculturalidad, Estado, sociedad. Luchas (de) coloniales de nuestra época.
These references have been extracted automatically and may have some errors. Signed in users can suggest corrections to these mistakes.
Suggest Corrections to References