You are here: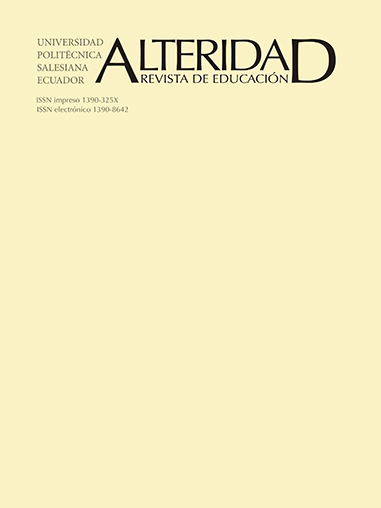 Academic performance and experiences of Mayan university students on Yucatan, Mexico
Español/Spanish

Desempeño académico y experiencias de estudiantes universitarios mayas en Yucatán, México
Português/Portuguese

Desempenho acadêmico e experiências de estudantes universitários mayas em Yucatán, México

Alteridad Volume 13, Number 1, ISSN 1390-8642 Publisher: Universidad Politécnica Salesiana of Ecuador, Quito, Ecuador
Abstract
This research was performed under a qualitative methodology, using the collective case study. It describes the academic experiences that have been characterized with outstanding academic performance, college students emphasizing their difficulties and strategies used to weigh such situations. The participants were three Mayan University students of a public University in Yucatan, Mexico. The semi-structured interview and the field journal as data collection techniques was used. Apparently, all three cases is facing economic issue as a main problem in their vocational training; the difficulty of using the equipment and technological resources, criticism of the personal appearance by others, and the lack of support and credibility by parents for prepare professionally were identified like obstacles. Despite this, students considered that a proper organization of the time, a proper communication with professors, personal self-management, as well as the frequent use of the institutional mentoring and scholarship programs it excellence, allow them to lessen the difficulties and achieve good results as University students. Many of the findings were similar in the literature that had been reported in previous years and it is regrettable to still observe today.  
Español/Spanish:
Esta investigación fue realizada bajo una metodología cualitativa, empleando el estudio de caso colectivo. Se describen las experiencias académicas que han tenido los estudiantes universitarios mayas caracterizados con un desempeño académico sobresaliente, enfatizando en sus dificultades y las estrategias empleadas para sopesar tales situaciones. Los participantes fueron tres estudiantes universitarios mayas de una universidad pública en Yucatán, México. Se utilizó la entrevista semiestructurada y el diario de campo como técnicas de recolección. Al parecer, los tres casos se enfrentan al asunto económico como principal problema ante su formación profesional; la dificultad para emplear los equipos y recursos tecnológicos, la crítica a la imagen por parte de los demás, y la falta de apoyo y credibilidad por parte de los padres para formarse profesionalmente fueron otros obstáculos identificados. A pesar de ello, los estudiantes consideran que una correcta organización del tiempo, una adecuada comunicación con los profesores, una autogestión personal, así como el empleo frecuente de la tutoría institucional y los programas de becas a la excelencia, les permiten aminorar las dificultades y conseguir buenos resultados como universitarios. Mucho de los hallazgos fueron similares a la literatura que había sido reportada en años anteriores siendo lamentable observarlos en la actualidad.
Español/Spanish PDF
Português/Portuguese:
A presente pesquisa foi realizada segundo uma metodologia qualitativa, empregando o estudo de caso coletivo. Descrevem-se as experiências acadêmicas vividas pelos estudantes universitários mayas, caracterizados com um destacado desempenho acadêmico, enfatizando suas dificuldades e as estratégias empregadas para enfrentar tais situações. Os participantes foram três estudantes universitários mayas de uma universidade pública em Yucatán, México. Utilizou-se a entrevista semiestruturada e o diário de campo como técnicas de coleta dos dados. Os três casos indicam a questão econômica como principal problema diante da formação profissional dos estudantes: a dificuldade para utilizar as equipes e recursos tecnológicos, a crítica à imagem por parte dos demais, e a falta de apoio e credibilidade por parte dos pais diante da formação profissional dos filhos foram outros obstáculos identificados. Apesar de tudo os estudantes consideram que uma correta organização do tempo, uma adequada comunicação com os professores, uma autogestão pessoal, assim como o emprego frequente da tutoria institucional e os programas de bolsas de excelência, permite-lhes diminuir as dificuldades e conseguir bons resultados acadêmicos. Muitos dos resultados foram semelhantes à literatura que tinha sido referenciada nos anos anteriores, sendo lamentável observa-los na atualidade.
Citation
Peniche Cetzal, R. & Ramón Mac, C. (2018). Academic performance and experiences of Mayan university students on Yucatan, Mexico. Alteridad, 13(1), 120-131. Quito, Ecuador: Universidad Politécnica Salesiana of Ecuador. Retrieved January 23, 2020 from https://www.learntechlib.org/p/195264/.