You are here: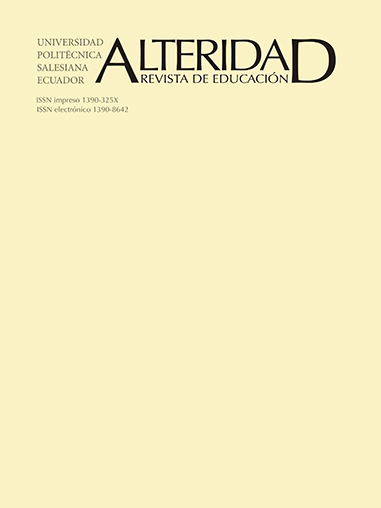 Higher Intercultural Education in Tabasco. A history in construction
Español/Spanish

La educación superior intercultural en Tabasco. Una historia en construcción
Português/Portuguese

A Educação superior intercultural em Tabasco. Uma história em construção.

Alteridad Volume 13, Number 1, ISSN 1390-8642 Publisher: Universidad Politécnica Salesiana of Ecuador, Quito, Ecuador
Abstract
This paper presents the educative experience called: Universidad Intercultural del Estado de Tabasco (UIET) and data comprehends a period of ten years (2005 to 2015). Text shows, from a critical view, the University's historical development and the diverse kinds in which intercultural education is conceived in this Higher Education Institution (IES for its Spanish acronym). The process of UIET's formation is analyzed here as well as the actors who have been involved, the different building steps in the process, complications and challenges faced. Selection of sources was addressed to two kinds of data, one referred to official documents in this university and another related to the use of searching methodology and techniques to identify, through the teachers and students experience, the position of these actors about development and future at UIET.
Español/Spanish:
En el escrito se expone la experiencia educativa denominada: Universidad Intercultural del Estado de Tabasco (UIET) y los datos referidos abarcan un periodo de diez años (2005-2015).1 El texto refleja, desde una mirada crítica, el devenir histórico de la Universidad y las diversas maneras en la que se entiende a la educación intercultural en esta Institución de Educación Superior (IES). Se analiza el proceso de formación de la uiet y los actores que en ella se han involucrado, las diferentes etapas de construcción por las que ha atravesado, los obstáculos y retos a los que se ha enfrentado. La selección de fuentes se orientó bajo la búsqueda de dos tipos de insumos: documentos oficiales de la Universidad y mediante el uso de diversos métodos y técnicas de investigación en las que se reconoció, a partir de experiencias de profesores y estudiantes, la visión de los actores al respecto del devenir de la UIET.
Español/Spanish PDF
Português/Portuguese:
O artigo expõe a experiência educativa denominada "Universidade Intercultural do Estado de Tabasco" (UIET), situada no vilarejo de Oxolotán, no município de Tacotalpa. Os dados referidos dizem respeito a dez anos (de 2005 a 2015) e são parte do projeto "Significação e influência da educação intercultural na vida quotidiana dos estudantes da UIET", realizado entre 2009 e 2011, como parte da linha de pesquisa: Pesquisa e Interculturalidade. O texto reflete, a partir de uma visão crítica, o devir histórico da Universidade e a forma em que é concebida a educação intercultural nesta Instituição de Educação Superior (IES). Analisa-se o processo de formação da UIET e os atores que nela ingressaram, as diferentes etapas de construção que atravessou, os obstáculos e desafios que enfrentou. A seleção de fontes orientou-se primeiramente em base à busca dos tipos de gastos, primeiramente a partir de documentos oficiais da Universidade: informações de Gestão da Reitoria, base de dados históricos da matricula e de docentes da Instituição. Em segundo lugar a seleção de fontes foi feita mediante o uso de métodos e técnicas de pesquisa (método etnográfico, observação participante, entrevistas e grupos de discussão) nos quais se reconheceu, a partir de experiências de professores e estudantes, a visão dos atores em relação ao futuro da UIET.
Citation
Rojas Lozano, V., Navarro Martínez, S. & Escobar Potenciano, A. (2018). Higher Intercultural Education in Tabasco. A history in construction. Alteridad, 13(1), 72-82. Quito, Ecuador: Universidad Politécnica Salesiana of Ecuador. Retrieved January 17, 2020 from https://www.learntechlib.org/p/195263/.