You are here: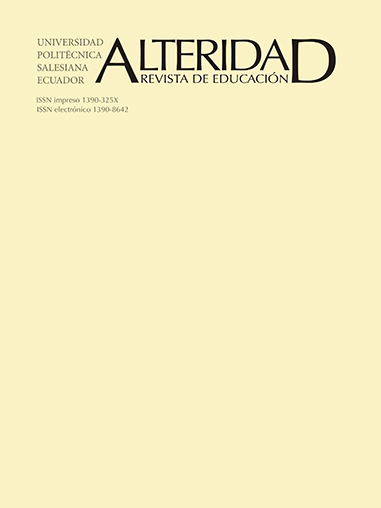 Access and desertion in universities. Financing alternatives
Español/Spanish

Acceso y deserción en las universidades. Alternativas de financiamiento
Português/Portuguese

Acesso e desistência nas universidades. Alternativas de financiamento

Alteridad Volume 13, Number 1, ISSN 1390-8642 Publisher: Universidad Politécnica Salesiana of Ecuador, Quito, Ecuador
Abstract
At present, the dynamics of accessing to the universities in Ecuador is growing. From the implementation of the Organic Law of Higher Education, changes were introduced to favor this process and influence the increase of quality; nevertheless, barriers continue to exist. The purpose of this article is to analyze the causes that hinder access and cause desertion and financing alternatives, which could contribute to mitigate these. The deduction induction method was mainly used, collecting information from primary and secondary sources; for this, a sample was selected based on the student population of the universities located in Cuenca, (6854). The size was 364 and the technical questionnaire was applied to 383 students. Information was complemented with interviews and documentary reviews. As main results the causes that originate the problem are validated, these are the high costs of tuition and the loss of materials, which are identified ways to decrease the dropout. It is evident that these are few and a little diverse, which is aggravated by the ignorance of the students about the benefits offered by these institutions; in response to this, a proposal to establish policies linked to the increase of these alternatives and improve the communication process between the various institutions that offer financial services and/or scholarships to students is given.
Español/Spanish:
En la actualidad la dinámica de acceso a universidades en Ecuador es creciente. A partir de la puesta en práctica de la Ley Orgánica de Educación Superior, se introdujeron cambios que favorecen este proceso e influyen en el incremento de la calidad; no obstante, continúan existiendo barreras; el propósito del presente artículo, consiste en analizar las causas que dificultan el acceso y provocan deserción y las alternativas de financiamiento, que pudieran contribuir a atenuar éstas. Se utilizó principalmente el método de inducción deducción, recopilando información a partir de fuentes primarias y secundarias; para ello se seleccionó una muestra en base a la población de estudiantes de las universidades ubicadas en Cuenca, (6854). El tamaño asciende a 364 y se aplicó la técnica de  cuestionario a 383 estudiantes; se complementó la información con entrevistas y revisión documental. Como principales resultados se validan las causas que originan el problema, éstas son los altos costos de colegiatura y la pérdida de materias y se identifican vías para la disminución de la deserción, se evidencia que éstas son pocas y poco diversas, lo que se agrava por el desconocimiento de los estudiantes acerca de los beneficios que ofrecen estas instituciones; en atención a ello, se propone instaurar políticas vinculadas al incremento de estas alternativas y mejorar el proceso de comunicación entre las diversas instituciones que ofrecen servicios financieros y/o becas a los estudiantes.
Español/Spanish PDF
Português/Portuguese:
A dinâmica de acesso às universidades no Equador tem se manifestado um fenômeno crescente. A partir da vigência da Lei Orgânica de Educação Superior, foram introduzidas mudanças que tendem a favorecer esse processo e influem no aumento da qualidade. No entanto, continuam existindo obstáculos. O propósito do presente artigo consiste em analisar as causas que dificultam o acesso e provocam a desistência, e por outro lado, as alternativas de financiamento que poderiam contribuir para atenuar tais desistências. Foi utilizado principalmente o método de indução-dedução, recolhendo informações a partir de fontes primárias e secundárias. Para tal foi selecionada uma amostra em base à população de estudantes das universidades situadas em Cuenca. Foi aplicada a técnica do questionário a 383 estudantes. As informações foram complementadas a partir de entrevistas e revisão documental. Como resultados principais foram validadas as causas que originam o problema, identificadas nos altos custos das mensalidades e na perda de disciplinas; são identificadas também maneiras para reduzir a desistência. Observa-se que tais benefícios protetivos à desistência universitária são poucos. Fato agravado pelo desconhecimento por parte dos estudantes, a respeito dos benefícios que tais instituições oferecem. Propõe-se instaurar políticas vinculadas ao aumento destas alternativas e melhorar o processo de comunicação entre as diferentes instituições que oferecem serviços financeiros e/ou bolsas de estudo para os estudantes
Citation
Sinchi, E. & Gómez Ceballos, G. (2018). Access and desertion in universities. Financing alternatives. Alteridad, 13(1), 274-287. Quito, Ecuador: Universidad Politécnica Salesiana of Ecuador. Retrieved January 25, 2020 from https://www.learntechlib.org/p/195258/.
References
View References & Citations Map
Álvarez, C., Silió, G. & Fernández, E. (2012). Planificación, colaboración, innovación: tres claves para con DASHDASH

Ley General de Educación. (2013). Ley General de Educación. Última Publicación 20/05/2014.

Ortiz, F.G., & García, M.P. (2016). Metodología de

Secretaría de Educación Pública (2006). Orientaciones

Tardif, M. (2004). Los saberes del docente y su desarrol-lo profesional. Madrid: Narcea.

Tenorio, S. (2011). Formación inicial docente y necesidades educativas especiales.
These references have been extracted automatically and may have some errors. Signed in users can suggest corrections to these mistakes.
Suggest Corrections to References