You are here: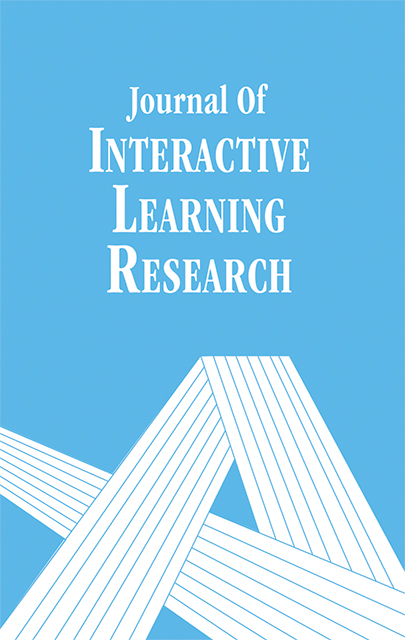 Hands Across the Pond: Transatlantic Collaboration Through a Mobile Phone App
article
Clarice Moran, Kennesaw State University, United States
Journal of Interactive Learning Research Volume 28, Number 4, ISSN 1093-023X Publisher: Association for the Advancement of Computing in Education (AACE), Waynesville, NC
Abstract
Preservice teachers need opportunities to understand the special needs of English Language Learners (ELLs) before they begin to teach them, yet frequently their exposure is limited to a journal article or college lecture. This collective case study aimed to explore the experiences of 17 American, native English-speaking preservice teachers as they collaborated with 28 middle-grades ELLs in Madrid, Spain, on a video remix through a mobile phone app. The participants communicated exclusively through the free messaging app, WhatsApp, to build relationships and generate ideas for a digital composition on the themes of Edgar Allan Poe's "The Tell-Tale Heart" short story. Data analysis revealed that participants experienced enhanced cultural understandings and connections, as well as favorable views on the use of digital composition as a means to engage English Language Learners (ELLs). Data also indicated that the app was an essential component in collaboration and relationship-building. The findings have implications for international collaboration and applications for preservice teachers and teacher educators working with ELLs.
Citation
Moran, C. (2017). Hands Across the Pond: Transatlantic Collaboration Through a Mobile Phone App. Journal of Interactive Learning Research, 28(4), 417-437. Waynesville, NC: Association for the Advancement of Computing in Education (AACE). Retrieved June 5, 2023 from https://www.learntechlib.org/primary/p/178260/.
References
View References & Citations Map
Ahmed, K., & Nasser, O. (2015). Incorporating iPad technology: Creating more effective language classrooms. TESOL Journal, 6(4), 751-765.
Baecher, L., Schieble, M., Rosalia, C., & Rorimer, S. (2013). Blogging for academic purposes with English language learners: An online fieldwork initiative. Contemporary Issues in Technology and Teacher Education, 13(1), 1-21.
Carr, N. (2016). Pre-Service teachers teaching about and across cultures using digital environments: The case of eTutor. Educational Media International, 53(2), 103-117.
Chue, K.L., & Nie, Y. (2016). International students' motivation and learning approach: A comparison with local students. Journal Of International Students, 6(3), 678-699.
Creswell, J.W. (2012). Qualitative inquiry& Research design: Choosing among five approaches. Thousand Oaks, CA: Sage.
Deed, C., Edwards, A., & Gomez, V. (2015). Questions from afar: The influence of outsideness on web-based conversation. Technology, Pedagogy and Education, 24(1), 117-133.
DeJong, E.J., & Harper, C.A. (2005). Preparing mainstream teachers for English language learners: Is being a good teacher good enough? Teacher Education Quarterly, Spring, 101-124.
DelliCarpini, M., & Alonzo, O. (2014). Teacher education that works: Preparing secondary-level math and science teachers for success with English language learners through content-based instruction. Global Education Review, 1(4), 155-178.
DelliCarpini, M., & Gulla, A. (2009). Success with ELLs. English Journal, 98(4), 133-137. Diaz, E., and B. Flores. 2001. Teacher as socio-cultural, socio-historical mediator. In The best for our children: Critical perspectives on literacy for Latino students, eds. M. Reyes and J. Halcón, 29–47. New York: Teachers College Press.
Ge, Z-G. (2012). Cyber asynchronous versus blended cyber approach in distance English learning. Educational Technology& Society, 5(2), 286-297.
Glaser, B., & Strauss, A. (1967). Grounded theory: The discovery of grounded theory. Sociology The Journal Of The British Sociological Association, 12, 27-49.
Greenhow, C., Robelia, B., & Hughes, J.E. (2009). Learning, teaching, and scholarship in a digital age: Web 2.0 and classroom research: What path should we take now? Educational Researcher 38(4), 246-259.
Gutiérrez, K. (2008). Developing a sociocritical literacy in the ThirdSpace. Reading Research Quarterly, 43(2), 148-164.
Harper, B., & Calero, D. (2013). The tell-tale heart (Edgar Allan Poe graphic novels). North Mankato, MN: Stone Arch Books.
Jackson, J. (2010). Remarks of the Reverend Jesse L. Jackson, Sr., founder and president, the Rainbow-Push Coalition at the inauguration of the Renaissance Monument Dakar, Senegal. Retrieved from http://www.rainbowpush.org/news/single/rev._jesse_l._jackson_sr_the_inauguratio_of_the_renaissance_ Monument.
Jenkins, H. (2010). Multiculturalism, appropriation, and the new media literacies: Remixing Moby Dick. Mashup cultures, 98-119.
Kearsley, G. & Shneiderman, B. (1998). Engagement theory: A framework for technology-based teaching and learning. Educational Technology, 38 (5), 20-23.
Kessler, G. (2013). Teaching ESL/EFL in a world of social media, mashups, and hyper-collaboration. TESOL Journal, 4(4), 615-632.
Ladson-Billings, G. (1995). Toward a theory of culturally relevant pedagogy. American Educational Research Journal, (3), 465.
Manfra, M.M., & Lee, J.K. (2012). "You have to know the past to (blog) the present:" Using an educational blog to engage students in U.S. History. Computers in the Schools, 29(1-2), 118-134.
Marshall, P.L. (1994). Four misconceptions about multicultural education that impede understanding. Action in Teacher Education, XVI(3), 19-27.
Medina-Jerez, W., Clark, D.B., Medina, A., Ramirez-Marin, F. (2007). Science for ELLs: Rethinking our approach. National Science Teachers Association. Retrieved from http://www.nsta.org/publications/news/story.aspx?id=53492 Merriam, S.B. (1998). Qualitative research and case study applications in education: Revised and expanded from "Case study research in education." San Francisco: Jossey-Bass.
Moran, C.M. (2014). Active learning in the flipped English language arts classroom. In J. Keengwe, G. Onchwari, & J. Oigara (Eds.), Promoting active learning through the flipped classroom model. Hershey, PA: IGI Global.
National Center for Education Statistics. (2016). Racial/Ethnic enrollment in U.S. Public schools. Retrieved from https://nces.ed.gov/programs/coe/indicator_cge.asp
Oliver, K., & Stallings, D. (2014). Preparing teachers for emerging blended learning environments. Journal of Technology and Teacher Education, 22(1), 57-81.
Sleeter, C. (2008). Preparing White teachers for diverse students. In M. CochranSmith, S. Feiman-Nemser, & D.J. McIntyre (Eds.), Handbook of research on teacher education (3rd ed., pp. 559-582). New York: Routledge.
Sleeter, C.E., & Bernal, D.D. (2004). Critical pedagogy, critical race theory, and antiracist education: Implications for multicultural education. Handbook of research on multicultural education, 2, 240-258.
Stake, R.E. (1995). The art of case study research. Thousand Oaks, CA: SAGE Publications.
Stephens, G. (2016). Digital liminality and cross-cultural re-integration in the Middle East. CEA Forum, 45(1), 20-50.
Thomas, W.P., & Collier, V.P. (2002). A national study of school effectiveness for language minority students' long-term academic achievement. Washington, D.C.: Office of Educational Research and Improvement.
U.S. Department of Labor. (2016). Employed persons by detailed occupation, sex, race, and Hispanic or Latino ethnicity. Retrieved from https://www.bls.gov/cps/cpsaat11.pdf.
Vygotsky, L.S. (1980). Mind in society: The development of higher psychological processes. Harvard University Press.
Warren, C.A. (2015). Conflicts and contradictions: Conceptions of empathy and the work of good-intentioned early career White female teachers. Urban Education, 50(5), 572-600.
White, J.W., & Hungerford-Kresser, H. (2014). Character journaling through social networks: Exemplifying tenets of the new literacy studies. Journal Of Adolescent& Adult Literacy, 57(8), 642-654.
These references have been extracted automatically and may have some errors. Signed in users can suggest corrections to these mistakes.
Suggest Corrections to References