You are here: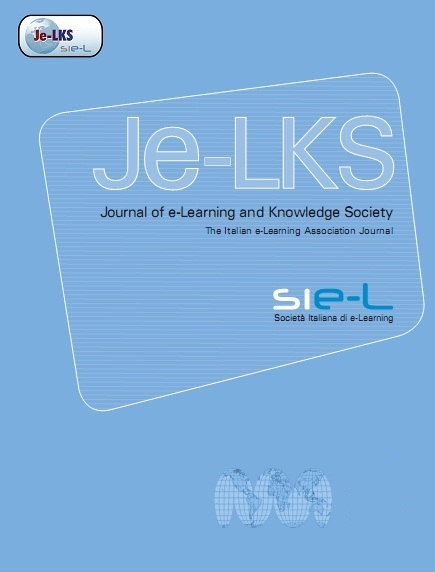 Digital Competence for the improvement of Special Education Teaching
ARTICLE
Journal of e-Learning and Knowledge Society Volume 12, Number 4, ISSN 1826-6223 e-ISSN 1826-6223 Publisher: Italian e-Learning Association
Abstract
The increasing digitization and globalization of the media, the broad diversification of media products, with the value-and ethical issues that it raises, proposes and confirms the reasons why media education is to be considered as an indispensable task for anyone involved in education. Thanks to specific educational interventions and appropriate evaluation tools for self-assessment, future educators should be helped to acquire the appropriate media skills necessary to develop the capacity to responsibly and autonomously choose proper media to design their media education courses. The media competence enhances teachers' ability to creatively modify learning spaces and to design a variety of stimulating activities in order to promote their pupils' independent and aware work. This paper describes the research for the development of three digital skills, in the Academic Year 2014/2015 with 91 in service teachers attending their special education teaching qualification course at the University of Palermo. Teachers have been involved for 75 hours in experiencing a training methodology for the promotion of media skills necessary to design paths of media education.
Citation
Compagno, G., Cappuccio, G. & Pedone, F. (2016). Digital Competence for the improvement of Special Education Teaching. Journal of e-Learning and Knowledge Society, 12(4),. Italian e-Learning Association. Retrieved April 9, 2020 from https://www.learntechlib.org/p/173669/.
Keywords
References
View References & Citations Map
Admiraal, W., Hoeksma, M., van de Kamp, M.T., & Van Duin, G. (2011), Assessment of teacher competence using video portfolios: Reliability, construct validity, and consequential validity. Teaching and Teacher Education,27(6), 1019-1028.

Calvani A., Fini A., & Ranieri M. (2009), Valutare la competenza digitale. Modelli teorici e strumenti applicativi. TD-Tecnologie Didattiche, 48(3), 39-46.

Calvani A., Fini A., & Ranieri M. (2011), Valutare la competenza digitale. Prove per la scuola primaria e secondaria. Trento: Erickson.

Delandshere, G., & Arens, S.A. (2003), Examining the quality of evidence in preservice teacher portfolios. Journal of Teacher Education, 54, 57-73.

Drent, M. & Meelissen, M. (2008), Which factors obstruct or stimulate teacher educators to use ICT innovatively? Computers& Education, 51, 187-199.
Ferrari, A. (2012), Digital Competence in practice: An analysis of frameworks. Sevilla: Joint Research Centre of the European Commission IPTS.

Jenkins, H. (2010), Convergence Culture: Where old and new media collige. New York: University Press.

Harris, J., Mishra, P., & Koehler, M. (2009), Teachers' technological pedagogical content knowledge and learning activity types: Curriculum-based technology integration reframed. Journal of Research on Technology in Education, 41(4), 393-416.
Instefjord,E. & Munthe, E. (2016), Preparing pre-service teachers to integrate technology: an analysis of the emphasis on digital competence in teacher education curricula, European Journal of Teacher Education, 39:1, 77-93,

Koehler, M., & Mishra, P. (2009), What is technological pedagogical content knowledge (TPACK)?. Contemporary issues in technology and teacher education, 9(1), 60-70.

Kirschner, P., Wubbels, T., & Brekelmans (2008), Benchmarks for teacher education programs in the pedagogical use of ICT. In J. Voogt& G. Knezek (Eds.), International handbook of information technology in primary and secondary education (pp. 435–477). New York: Springer Science/Business Media

Kress, G. (2010), Multimodality: a social semiotic approach to contemporary communication. NY: Routledge.

Krumsvik, J.R. (2008), Situated Learning and Teachers' Digital Competence. Education and Information Technologies, 13 (4): 279–290

Krumsvik, J.R. (2014), Teacher educators' digital competence, Scandinavian Journal of Educational Research, 58:3, 269-280, DOI:10.1080/00313831.2012.726273
Lambe, J. And Bones, R. (2008), The impact of a special school placement on student teacher beliefs about inclusive education in Northern Ireland. British Journal of Special Education, 35: 108–116.

Lambe, J., McNair, V. & Smith, R. (2013), Special educational needs, e-learning and the reflective e-portfolio: implications for developing and assessing competence in pre-service education, Journal of Education for Teaching, 39:2, 181-196 DOI:1 0.1080/02607476.2013.765191.

Rossi, P.G., Magnoler, P., & Giannandrea, L. (2008), From an e-portfolio model to e-portfolio practices: some guidelines. Campus-Wide Information Systems, 25(4), 219-232.

Trinchero, R. (2006), Valutare l'apprendimento nell'e-learning. Dalle abilità alle competenze. Trento: Erickson.

Trinchero, R. (2012), Costruire, valutare, certificare competenze. Proposte di attività per la scuola. Milano: Franco Angeli.
These references have been extracted automatically and may have some errors. Signed in users can suggest corrections to these mistakes.
Suggest Corrections to References