You are here: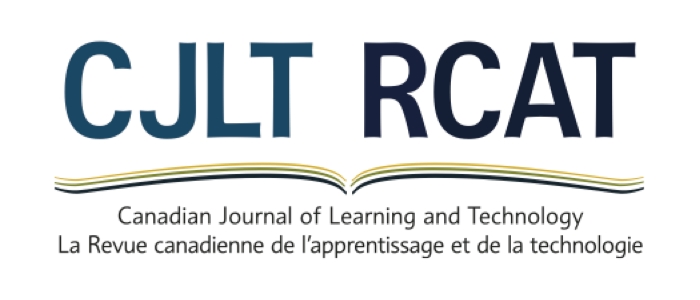 Shifting Views: Exploring the Potential for Technology Integration in Early Childhood Education Programs
ARTICLE
français, langue française/French

Changement d'opinion: Exploration du potentiel d'intégration de la technologie dans les programmes d'éducation de la petite enfance

CJLT Volume 39, Number 4, ISSN 1499-6677 e-ISSN 1499-6677 Publisher: Canadian Network for Innovation in Education
Abstract
Using technology with children in play-based early learning programs creates questions for some within the Early Childhood Education (ECE) community. This paper presents how two faculty who teach in ECE-related degree programs integrated educational technology into their teaching pedagogy as a way to model to their students how it can be used to support children's play and learning opportunities. The authors identify how collegial dialogue helped them to use various technologies and social media in their teaching, which transformed their curriculum and pedagogical philosophy. The paper argues that if technology creates connections between learning in the college or university classroom and is effective practice, it is worthy of further exploration.
français, langue française/French:
L'utilisation de la technologie avec des enfants dans des programmes préscolaires d'apprentissage basé sur le jeu suscite des questions pour plusieurs au sein de la communauté de l'Éducation de la petite enfance (EPE). Cet article présente la façon dont deux professeurs enseignant dans des programmes d'études liés à l'EPE ont intégré la technologie éducative dans leur pédagogie d'enseignement comme un moyen de démontrer à leurs étudiants comment elle peut être utilisée pour soutenir le jeu des enfants et les possibilités d'apprentissage. Les auteurs montrent comment un dialogue collégial les a aidés à utiliser diverses technologies et médias sociaux dans leur enseignement, ce qui a eu pour effet de transformer leur programme et leur philosophie pédagogiques. L'article fait valoir que si la technologie crée des liens entre l'apprentissage en milieu postsecondaire et une pratique efficace, elle est par conséquent digne d'une exploration plus poussée.
Citation
Dietze, B. & Kashin, D. (2013). Shifting Views: Exploring the Potential for Technology Integration in Early Childhood Education Programs. Canadian Journal of Learning and Technology / La revue canadienne de l'apprentissage et de la technologie, 39(4),. Canadian Network for Innovation in Education. Retrieved June 24, 2021 from https://www.learntechlib.org/p/153315/.
Keywords
References
View References & Citations Map
Banaji, S., Burn, A., & Buckingham, D. (2010). The rhetorics of creativity: A literature review (2nd ed.), London: Creativity, Culture and Education.

Burnett, C. (2010). Technology and literacy in early childhood educational settings: A review of the research. Journal of Early Childhood Literacy, 10(3), 247-270.

Chang, Y., Morales-Arroyo, M., Than, H., Tun, Z., & Wang, Z. (2010). Collaborative learning in wikis. Education for Information, 28, 291-303.

Clifton, A., & Mann, C. (2011). Can YouTube enhance student nurse learning? Nurse Education Today, 31, 311-313.

Crews, T., & Stitt-Gohdes, W. (2012). Incorporating facebook and twitter in a service-learning project in a business communication course. Business Communication Quarterly, 75(1), 76-79.

Copple, C., & Bredekamp, S. (Eds.) (2009). Developmentally Appropriate Practice in Early Childhood Programs Serving Children from Birth Through Age 8 (3rd ed). Washington, DC: NAEYC. Shifting Views:

Dewey, J. (1938). Experience and education. New York: Collier Books.

Dietze, B. (2006). Foundations of early childhood education: Learning environments and childcare in Canada. Toronto, ON: Pearson.

Dietze, B., & Kashin, D. (2012). Playing and learning in early childhood education. Toronto, ON: Pearson.

Downing, J., & Dyment, J. (2013). Teacher educators' readiness, preparation, and perceptions of preparing preservice teachers in a fully online environment: An exploratory study. The Teacher Educator, 48(2), 96-109.

Doyle, T. (2008). Helping students learn in a learning centred environment: A guide to facilitating learning in higher education. Sterling, VA: Stylus Publishing. Elkind, D. (2007, November/December). Preschool academics, learning that comes naturally. The Early Childhood Leaders' Magazine, 170, 6-9.

Harsell, D. (2010). Wikis in the classroom: Faculty and student perspective. Journal of Political Science Education, 6(3), 310-314.

Hawkins, D. (2002). The informed vision: Essay on learning and human nature. New York: Algora Publishing

Helsper, E.J., & Eynon, R. (2009) Digital Natives: Where is the evidence? British Educational Research Journal, 36(3), 503-520.
Junco, R. (2011). The relationship between frequency of Facebook use, participation in Facebook activities, and student engagement. Computers& Education, 58, 162-171.

Laffey, J. (2004). Appropriation, mastery and resistance to technology in early childhood preservice teacher education. Journal of Research on Technology in Education, 36(4), 361382.

MacNaughton, G. (2009). Shaping early childhood: Learners, curriculum and contexts. Berkshire, UK: Open University Press.

McCarrick, K. & Xiaoming, L. (2007). Buried treasure: The impact of computer use on children's social, cognitive, language development and motivation. AACE Journal, 15(1), 73-95.

McNierney, D. (2004). One teacher's odyssey through resistance and fear. TechTrends, 48(5), 66-71.

Mishra, P., & Koehler, M. (2009). Using the TPACK framework: You can have your hot tools and teach with them, too. Learning& Leading with Technology, 36(7), 15-18.

Mitra, B., Lewin-Jones, J., Barrett, H., & Williamson, S. (2010). The use of video to enable deep thinking. Research in Post-Compulsory Education, 15(4), 405-414.

NAEYC (2012) Technology and Interactive Media as Tools in early childhood programs Serving Children from Birth through Age 8. Joint position statement of the National Association for the Education of Young Children and the Fred Rogers Center for Early Learning and Children's Media at Saint Vincent College, approved January 2012. Retrieved from http://www.naeyc.org/files/naeyc/file/positions/PS_technology_WEB2.pdf Oppenheimer, T. (2003). The flickering mind: Saving education from the false promise of technology. New York, NY: Random House.

Parnell, W., & Bartlett, J. (2012). IDocument. How smartphones and tablets are changing documentation in preschool and primary classrooms. Young Children, 67(3), 50-57.

Parikh, M. (2012). Technology and young children. New tools and strategies for teachers and learners. Young Children, 67(3), 10-13.

Plowman, L., McPake, J., & Stephen, C. (2010). "The technologisation of childhood? Young children and technology in the home." Children& Society, 24(1), 63-74

Plowman, L., & Stephen, C. (2005). Children, play, and computers in pre-school education. British journal of educational technology, 36(2), 145-157.

Roblyer, M.D., & Doering, A.H. (2010). Integrating Educational Technology into Teaching (5th ed.). New York: NY: Allyn & Bacon.

Scarlett, W.G., Naudeau, S., Salonius-Pasternak, D.E., & Ponte, I.C. (2005). Children's play. Thousand Oaks, CA: Sage.

Shifflet, R., Toledo, C., & Mattoon, C. (2012). Touch tablet surprises. A preschool teacher's story. Young Children, 67(3), 36-41.

Simon, F., & Nemeth, K. (2012). Digital decisions. Choosing the right technology tools for early childhood education. Lewisville, NC: Gryphon House Publishing.

Singer, D., Golinkoff, R., & Hirsh-Pasek, K. (Eds.) (2006). Play=learning. How play motivates and enhances children's cognitive and social-emotional growth. New York, NY: Oxford University Press. Shifting Views:

Turja, L., Endepohls-Ulpe, M., & Chatoney, M. (2009). A conceptual framework for developing the curriculum and delivery of technology education in early childhood. International Journal of Technology and Design Education, 19(4), 353-365,
Underwood, J., & Dillon, G. (2011). Chasing dreams and recognizing realities: teachers' responses to ICT. Technology, Pedagogy and Education. 20(2), 317-330.

Vygotsky, L.S. (1978). Mind in society: The development of higher psychological processes. Cambridge, MA: Harvard University Press.

Weimer, M.E. (2010). Inspired college teaching. San Francisco, CA: Jossey-Bass. Authors
These references have been extracted automatically and may have some errors. Signed in users can suggest corrections to these mistakes.
Suggest Corrections to References