You are here: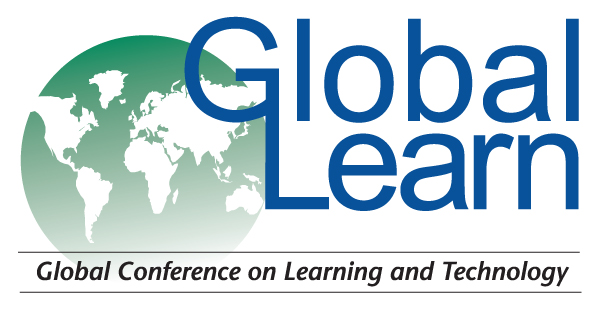 Domestication of E-Learning in Higher Learning Institutions in South Africa
PROCEEDINGS
Rabelani Dagada, University of the Witwatersrand, South Africa
Global Learn, in Melbourne, Australia ISBN 978-1-880094-85-3 Publisher: Association for the Advancement of Computing in Education (AACE)
Abstract
While the belief that e-learning can enhance teaching and learning at higher learning institutions is becoming commonplace, we conducted this study to establish how far the platform has been integrated into pedagogical processes and the individual lives of lecturers in some higher learning institutions in South Africa. We want to understand the factors that affect the integration of the platform into curriculum delivery and instructions in the institutions. The study used a qualitative research approach whereby interviews with eighteen snowball sampled participants were the data collection technique. Analysis has shown that few academics have domesticated the platform while the majority still needs professional development for e-learning to successfully integrate the technology in their curriculum delivery. That is, the majority are not yet in a position to make informed judgments on the teaching and learning platform to support their pedagogy.
Citation
Dagada, R. (2011). Domestication of E-Learning in Higher Learning Institutions in South Africa. In S. Barton, J. Hedberg & K. Suzuki (Eds.), Proceedings of Global Learn Asia Pacific 2011--Global Conference on Learning and Technology (pp. 2285-2293). Melbourne, Australia: Association for the Advancement of Computing in Education (AACE). Retrieved May 22, 2019 from https://www.learntechlib.org/primary/p/37519/.
References
View References & Citations Map
Bingimlas, K.A. (2009) Barriers to the Successful Integration of ICT in Teaching and Learning Environments: A Review of the Literature. Eurasia Journal of Mathematics, Science& Technology Education, 2009, 5(3), 235-245
Britzman, D. (1991). Practice Makes Practice: A Critical Study of Learning to Teach. Albany, NY: State University of New York Press.
Compeau, D.R., & Higgins, C.A. (1995) Computer Self-Efficacy: Development of a Measure and Initial Test,. MIS Quarterly 19 (2), 189-211
Dagada, R. (2009) Time Space and Pace: Computer integrated learning incorporate South Africa. Pretoria: Unisa Press
Damoense, M.Y. (2003) Online learning: Implications for effective learning for higher education in South Africa. Australian Journal of Educational Technology 19(1), 25-45.
Dawes, L. (2001) What stops teachers using technology? In M. Leask (ed), Issues in teaching using ICT. London: Routledge pp.61-79
Govindasamy, T. (2002) Successful implementation of e-learning pedagogical considerations. Internet and Higher Education. 4: 287-299.
Habib, L. (2005). ' Domesticating learning technologies in a higher education institution: a tale of two virtual learning environments. ADIS Virtual Multi Conference on Computer Science and Information Systems 2005 pp.8388
Habib, L. (2004). Domesticating learning technology in a higher education institution: a state of two virtual learning environments. Centre for Educational Research and Development, Oslo University College
Haddon, L. (2006). The Contribution of Domestication Research to In-Home Computing and Media Consumption. The Information Society 22 195–203 ‐ 2292 ‐
Hazzani, N.S. (2010) E-learning deanship. Http://www.ksu.edu.sa/Students/Female%20Students/OlyashahCenter/Deanships/Pages/E-learningDeanship.aspx
Holweg, M. & Pieter van Donk, D. (2010) When is a conceptual framework also a theoretical contribution. Available at www.jbs.cam.ac.uk/research/faculty/.../holweg_when_conceptual.pdf
Karsten, R. & Roth, R.M. (1998) Computer Self-Efficacy: A Practical Indicator of Student Computer Competency in Introductory IS Courses. Informing Science Vol. 1 (3) 61-68
Kinuthia, W. & Dagada, R. (2008) E-Learning Incorporation: An exploratory study of three South African Higher Education Institutions. International Journal on E-Learning 7(4) 623-639
Lau B.T. & Sim, C.H. (2008). Exploring the extent of ICT adoption among secondary school teachers in Malaysia. International Journal of Computing and IT Research, Vol. 2 (2) 19-36
Madiba, M. (2009) Investigating Design Issues in E-learning. Unpublished PhD Thesis. University of the Western Cape: Cape Town
Manson, C. (2000). Schools with a future– A model for IT investment effectiveness. Paper presented at ACEC 2000 conference. Melbourne.
Mapuva, J. (2009) Confronting challenges to e-learning in Higher Education Institutions. International Journal of Education and Development using Information and Communication Technology (IJEDICT), 2009, Vol. 5, Issue 3. Available at http://ijedict.dec.uwi.edu//viewarticle.php?id=732
Margaret, L. (2005). Towards A Definition of The Integration of ICT in The Classroom. In AARE 2005lutions, Parramatta, New South Wales., AARE, Eds. Proceedings AARE '05 Education Research-Creative Dissent: Constructive So
Miles, M.B. & Huberman, A.M. (1994): Qualitative Data Analysis: An expanded sourcebook. London: SAGE publications
Mishra, P. & Koehler, M.J. (2006).Technological Pedagogical Content Knowledge: A Framework for Teacher Knowledge Teachers College Record Vol. 108, No. 6, 1017–1054
Pulkkinen, J. (2007) Cultural globalization and integration of ICT in education. In: Kumpulainen, K (editor) Educational technology: Opportunities and challenges. University of Oulu: Finland (pp. 13-23)
Silverstone, R. & Hirsch, E. (1994): Consuming technologies: Media and information in domestic space. London: Routledge
Song, S. & Song, J. (2002) Collaborative electronic media usage for information sharing: technology competence and social ties. Eighth Americas Conference on Information Systems. Human-Computer Interaction Studies in MIS
Slaouti, D. & Barton, A. (2007). Opportunities for practice and development: newly qualified teachers and the use of information and communication technologies in teaching foreign languages in English secondary school contexts. Journal of In-service Education, 33(4), 19
Zemsky, R. & Massy, W. (2004) Thwarted innovation: What happened to e-learning and why. The learning alliance at the University of Pennsylvania. Available at http://www.irhe.upenn.edu/weatherStation.html
These references have been extracted automatically and may have some errors. Signed in users can suggest corrections to these mistakes.
Suggest Corrections to References