You are here:
Does Teaching Presence Change Over Time?
PROCEEDINGS
Petrea Redmond, University of Southern Queensland, Australia ; Jennifer V. Lock, University of Calgary, Canada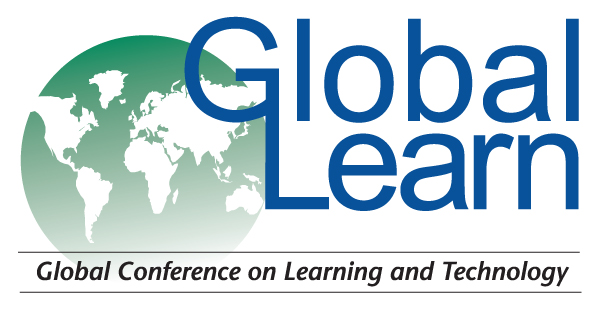 Global Learn, in Melbourne, Australia ISBN 978-1-880094-85-3 Publisher: Association for the Advancement of Computing in Education (AACE)
Abstract
This paper investigates ways in which pedagogical practice or teaching presence changes over time by sharing the experiences of two instructors as they move from teaching face-to-face to teaching online within a collaborative project. A self-study methodology provides the theoretical background where two instructors share their stories describing their perspectives and teaching presence based on five iterations of an international online collaborative project. Reflecting on their collaborative teaching and changes in their teaching presence, resulting student outcomes, and feedback from critical friends, the authors share their learning, impact of this work on learners, educators and the educational field, and subsequent implications.
Citation
Redmond, P. & Lock, J.V. (2011). Does Teaching Presence Change Over Time?. In S. Barton, J. Hedberg & K. Suzuki (Eds.), Proceedings of Global Learn Asia Pacific 2011--Global Conference on Learning and Technology (pp. 2231-2240). Melbourne, Australia: Association for the Advancement of Computing in Education (AACE). Retrieved April 25, 2019 from https://www.learntechlib.org/primary/p/37472/.
View References & Citations Map
References
Berge, Z.L., & Collins, M.P. (2000). Perceptions of E-Moderators about their roles and functions in moderating electronic mailing lists. Distance Education, 21(1), 81-100.
Garrison, D.R., Anderson, T., & Archer, W. (2000). Critical inquiry in a text-based environment: computer conferencing in higher education. Internet and Higher Education, 2(2-3), 87-105.
Garrison, D.R., Cleveland-Innes, M., & Fung, T.S. (2010). Exploring causal relationships among teaching, cognitive and social presence: Student perceptions of the community of inquiry framework. The Internet and Higher Education, 13(1-2), 31-36.
Goodyear, P., Salmon, G., Spector, J., Steeples, C., & Tickner, S. (2001). Competences for online teaching: A special report. Educational Technology Research and Development, 49(1), 65-72.
Jackson, J.B. (1984). Discovering the vernacular landscape. New Haven, CT: Yale University Press.
Jonassen, D., Peck, K.L., & Wilson, B. (1999). Learning with technology: A constructivist perspective. Upper Saddle River: Prentice Hall, Inc.
Jones, P., Naugle, K., & Kolloff, M.A. (2008). Teacher Presence: Using Introductory Videos in Online and Hybrid Courses. Learning Solutions Magazine. Retrieved from https://www.learningsolutionsmag.com/articles/107/teacher-presence-using-introductory-videos-in-onlineand-hybrid-courses/print
Laurillard, D. (2000). The Impact of Communications and Information Technology on Higher Education. In P. Scott (Ed.), Higher education reformed (pp. 133-153). London: Falmer Press.
Lock, J.V., & Redmond, P. (2006). International Online collaboration: Modeling Online Learning and Teaching. Journal of Online Learning and Teaching, 2(4), 233-247.
Lock, J.V., & Redmond, P. (2009). Working Collaboratively On The Digital Global Frontier. In J. Salmons & W.L (Eds.), Handbook of Research on Electronic Collaboration and Organizational Synergy (pp. 177-191).
Mehan, H. (1998). Microcomputers in Classrooms: Educational technology or social practice? Anthropology& Education Quarterly, 20(1), 4-22.
Meloncon, L. (2007). Exploring Electronic Landscapes: Technological Communication, Online Learning, and Instructor Preparedness. Technical Communication Quarterly, 16(1), 31-53.
Morris, L.V., Xu, H., & Finnegan, C.L. (2005). Roles of faculty in teaching asynchronous undergraduate courses. Journal of Asynchronous Learning Networks, 9(1), 65-82.
Nixon, J. (1996). Professional identity and the restructuring of higher education. Studies in Higher Education, 21(1), 5-16.
Oliver, R. (2001). Assuring the quality of online learning in Australian higher education. In M. Wallace, A. Ellis& D. Newton (Eds.), Proceedings of Moving Online II Conference (pp. 222-231). Southern Cross University,
Palloff, R.M., & Pratt, K. (2003). The virtual student: A profile and guide to working with online learners. San Francisco, CA: Jossey-Bass Inc Pub.
Redmond, P., & Lock, J.V. (2008). Investigating Deep and Surface Learning in Online Collaboration. Paper
Shea, P., & Bidjerano, T. (2010). Learning presence: Towards a theory of self-efficacy, self-regulation, and the development of a communities of inquiry in online and blended learning environments. Computers& Education, 55(4), 1725-1731.
Shea, P., Hayes, S., & Vickers, J. (2010). Online instructional effort measured through the lens of teaching presence in the community of inquiry framework: Are-examination of measures and approach. The International Review of Research in Open and Distance Learning, 11(3), 127-154.
Swan, K. (2005). A constructivist model for thinking about learning online. In J. Bourne & J.C. Moore (Eds.),
Volery, T., & Lord, D. (2000). Critical success factors in online education. International Journal of Educational Management, 14(5), 216-223.
Yang, Y., & Cornelious, L.F. (2005). Preparing instructors for quality online instruction. Online Journal of Distance Learning Administration, 8(1), 1– 16.
These references have been extracted automatically and may have some errors. If you see a mistake in the references above, please contact info@learntechlib.org.