You are here:
e-Learning Policy: Supporting Learners in Higher Education?
PROCEEDINGS
Sharon Oake, Brock University, Canada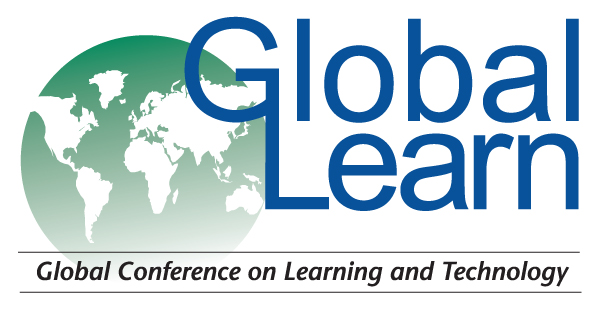 Global Learn, in Penang, Malaysia ISBN 978-1-880094-79-2 Publisher: Association for the Advancement of Computing in Education (AACE)
Abstract
Despite the existence or lack of strategic plans, objectives and educational priorities, e-learning policies exist in different forms in Higher Education (HE), and vary in terms of meeting the requirements of faculty and students. Distance education has changed, and even restructured education, though as Simonson et al (2006) suggest, although different, distance and traditional education have many commonalities. Czerniewicz and Brown (2009) suggest that it is the policy makers in their roles as e-learning advocates who are critical and integral to developing policy that can embed new information and communication technologies (ICT) teaching and learning practices required to ensure a new "…culture that fosters innovation and a multiplicity of varied and responsive learning practices" (p. 130) are discussed and written. While distance implies the separation of teacher and learner, the Internet has no border, and has created a need for education policy that reflects a diverse environment.
Citation
Oake, S. (2010). e-Learning Policy: Supporting Learners in Higher Education?. In Z. Abas, I. Jung & J. Luca (Eds.), Proceedings of Global Learn Asia Pacific 2010--Global Conference on Learning and Technology (pp. 708-713). Penang, Malaysia: Association for the Advancement of Computing in Education (AACE). Retrieved April 23, 2019 from https://www.learntechlib.org/primary/p/34253/.
View References & Citations Map
References
Abrami, P., Bernard, R., Wade, A., Schmid, R., Borokhovski, E. & Tamim, R. (2007). The Review of e-Learning In Canada: a Rough Sketch of the Evidence, Gaps and Promising Direction. Canadian Journal of Learning& Technology, 33, 1 – 70.
Arnott, K. (2007). Ontario's Education Goes ONLINE. Education Today. 19, 28 – 30. Association of Universities and Colleges of Canada (AUCC). (2007). Trends in higher education. Volume 1. Enrolment. Ottawa, Ontario: The Association of Universities and Colleges of Canada. Athabasca University Annual Report for the period ended March 31, 2008.
Ball, S. (1993). What is Policy? Texts, Trajectories, and Toolboxes. Discourse, Vol. 13, No. 2, 10-17.
Ball, S. (1998). Big policies/small world: an introduction to international perspectives in education policy. Comparative Education, Vol. 34, No. 2, 119-130.
Brown, M., Anderson, B. & Murray, F. (2007). E-learning Policy Issues: Global Trends, Themes and Tensions. ASCILITE (Australasian Society for Computers in Learning in Tertiary Education), Singapore 2007. Retrieved September 27, 2009, from http://www.ascilite.org.au/conferences/singapore07/procs/brown.pdf Clark, H. (2003). Growth and Governance of Canadian Universities. An Insider's View. Vancouver, B.C.: UBC Press
Coburn, C. (2005). The role of nonsystem actors in the relationship between policy and practice: The case of reading instruction in California. Educational Evaluation and Policy Analysis, 27, 1, 23 – 52.
Conole, G. (2007). An International Comparison of the Relationship between Policy and Practice in E-learning. In R. Andrews& C. Haythornthwaite (Eds). The Sage Handbook of E-learning Research (pp. 286-310).
Delanty, G. (2003). The University and Modernity: A History of the Present. In K. Robins& F. Webster, The Virtual University? Knowledge, Markets, and Management (pp. 31-48). Oxford, UK: Oxford University
Fowler, C. (2004). Policy Studies for Educational Leaders, Second Edition. Upper Saddle River, New Jersey: Pearson Merrill Prentice Hall.
Friedman, T. (2005). The World is Flat. A Brief History of the Twenty-First Century. New York, New York: Farrar, Straus and Giroux.
Greenfield, T. (1993). Theory About Organization: A new Perspective and its Implications for Schools. In T. Greenfield& P. Ribbins (Eds). Greenfield on Educational Administration, pp. 1-25, London& New York:
RoutledgeHursh, D. (2004). No Child Left Behind: The Rise of Educational Markets and the decline of Social Justice. In J.O'Donnell, M. Pruyn, & R. Chavez Chavez, Social Justice in These Times (pp. 173-190), USA:
Kolb, D. (1984). Experiential Learning; Experience as the Source of Learning and Development. Englewood Cliffs, NJ: Prentice Hall.
Lewis, B., Massey, C. & Smith, R. (2001). The Tower Under Siege. Technology, Power, and Education. Montreal, Quebec: McGill-Queen's University Press.
Mayadas, A., Bourne, J. & Bacsich, P. (2009). Online Education Today. Journal of Asynchronous Learning Networks, 13, 49-56.
Mitrano, T. (2003). Resolving Information Technology Policy Issues on the Networked Campus. In P. McClure (Ed.), Organizing and Managing Information Resources on Your Campus (pp. 77-92). San Francisco, CA:
Schwandt, T. (2007). The SAGE Dictionary of Qualitative Inquiry (3rd Ed.). Thousand Oaks, California: Sage Publications Inc.
Weaver-Hightower, M. (2008). An Ecology Metaphor for Educational Policy Analysis: A Call to Complexity. Educational Researcher, Vol. 37, No. 3, pp.153-167.
Zhang, D., Zhao, J., Zhou, L. & Nunamaker, J. (2004). Can e-learning Replace Classroom Learning? Communications of the ACM, May 2004, 47, No. 5.
These references have been extracted automatically and may have some errors. If you see a mistake in the references above, please contact info@learntechlib.org.