You are here:
Pod-cast Implementation in English Listening Facilitation
PROCEEDINGS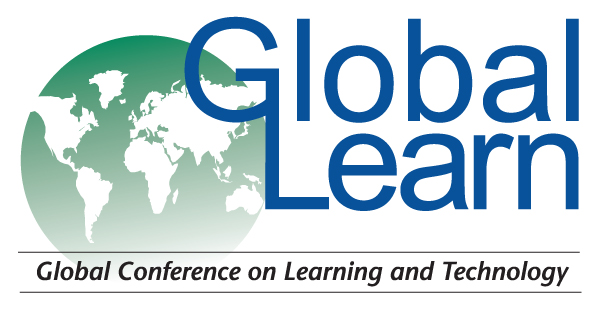 Global Learn, in Penang, Malaysia ISBN 978-1-880094-79-2 Publisher: Association for the Advancement of Computing in Education (AACE)
Abstract
With the advent of new technology, pod-cast has brought opportunity to education and training, in particular through on-line instruction. Pod-cast dedicates itself as a powerful audio tool for practicing listening in terms of more portable and more accessible. This work-in-progress study aims to facilitate the development of students' English listening skill with pod-cast. By doing so, the paper contributes to the knowledge based of pod-cast effectiveness and raises the question of evaluation a new teaching methodology. Undergraduates are participants for listening activities in the study. The findings of the first phase in this study showed that most of students were less-skilled in English listening. To improve the listening skill, they agreed that on-line materials motivated them in practicing English listening, especially when pod-cast was firstly implemented and used for facilitating English listening. Through the use of pod-cast, learners were familiar with authentic sound and real world circumstances, and that yielded positive results in facilitating their listening skills.
Citation
Suetrong, A. & Chongapiratanakul, B. (2010). Pod-cast Implementation in English Listening Facilitation. In Z. Abas, I. Jung & J. Luca (Eds.), Proceedings of Global Learn Asia Pacific 2010--Global Conference on Learning and Technology (pp. 368-373). Penang, Malaysia: Association for the Advancement of Computing in Education (AACE). Retrieved April 25, 2019 from https://www.learntechlib.org/primary/p/34200/.
Keywords
View References & Citations Map
References
Blau, E.K. (1990). The effect of syntax, speed, and pauses in listening comprehension. TESOL Quarterly, 24, 746-753.
Brittain, S., Glowacki, P., Ittersum, J.V., & Johnson, L. (2006). Podcasting lectures [Electronic version]. EDUCAUSE Quarterly, 3, 24-31.
Cambell, G. (2005). There's something in the air: Podcasting in education [Electronic version]. EDUCAUSE Review, 40 (6), 32-47.
Carrier, K. (1999). The social environment of second language listening: Does status play a role in comprehension?. The Modern Language Journal, 83, 65-79.
Cebeci, Z., & Tekdal, M. (2006). Using podcasts as audio learning objects [Electronic version]. Interdisciplinary Journal of Knowledge and Learning Objects, 2, 47-57.
Chirdchoo, O., & Wudthayagorn, J. (2001). Beliefs about learing EFL: A study of Thai female high school students. PASAA, 32, 82-92.
Fernandez, V., Simo, P., & Sallan, J.M. (2009). Podcasting: A new technological tool to facilitate good practice in higher education. Computers& Education, 53, 385-392.
Ferris, D. (1998). Students' views of academic aural/oral skills: A comparative needs analysis. TESOL Quarterly, 32, 289-318.
Feyten, C.M. (1991). The power of listening ability: An overlooked dimension in language acquisition. Modern Language Journal, 75, 173-180.
Griffiths, R. (1990). Speech rate and nonnative speaker comprehension: A preliminary study in the time-benefit analysis. Language Learning, 40, 311-336.
Hadley, A.O. (2000). Teaching language in context. USA: Heinle & Heinle.
Jaiyote, S. (2008). A study of relationship between overall English achievement and English listening achievement of seventh graders. Master's thesis, Naresuan University, Phitsanulok, Thailand.
Krashen, S. (1985). The input hypothesis: Issues and implications. Harlow: Longman.
Lee, J.F., & VanPatten, B. (1995). Making communicative language teaching happen. New York: McGraw Hill.
Major, R.C., Fitzmaurice, S.F., Bunta, F., & Balasubramanian, C. (2002). The effects of nonnative accents on listening comprehension: Implications for ESL assessment. TESOL Quarterly, 36 (2), 173-190.
Major, R.C., Fitzmaurice, S.F., Bunta, F., & Balasubramanian, C. (2005). Testing the effects of regional, ethnic, and international dialects of English on listening comprehension. Language Learning, 55 (1), 37-69.
Morley, J. (2001). Aural comprehension instruction: Principles and practices. Teaching English as a Second or Foreign Language. Boston: Heinle & Heinle.
Murphy, J.M. (1991). Oral communication in TESOL: Integrating speaking, listening, and pronunciation. TESOL Quarterly, 25, 51-75.
Nunan, D.(1997). Listening in
Tauroza, S., & Luk, J. (1997). Accent and second language listening comprehension. RELC Journal, 28, 54-71.
Taylor, S.E. (1964). Listening: What research says to the teacher. Washington, DC: National Education Association.
Thanajaro, M. (2000). Using authentic materials to develop listening comprehension in the English as a second language classroom. Retrieved from Information Resources on Web. (9974216)
Vogely, A.J. (1998). Listening comprehension anxiety: Students' reported sources and solutions. Foreign Language Annals, 31, 67-80.
These references have been extracted automatically and may have some errors. If you see a mistake in the references above, please contact info@learntechlib.org.