You are here:
Disruptive or compliant? The impact of two educational technologies on pedagogy
PROCEEDINGS
AACE Award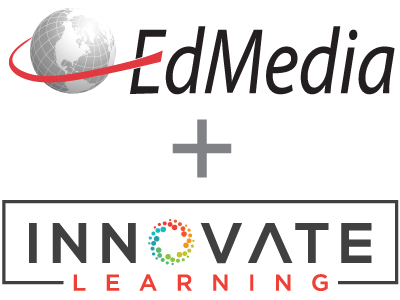 EdMedia + Innovate Learning, in Vancouver, Canada ISBN 978-1-880094-62-4 Publisher: Association for the Advancement of Computing in Education (AACE), Waynesville, NC
Abstract
In this paper, we discuss the 'fit' between educational technologies and teacher views and pedagogies in light of two recently completed research projects. These studies focused on observed pedagogies associated with the classroom-based use of two learning technologies: (student-generated) digital video, and interactive whiteboards (IWBs). The paper considers the use of these two learning technologies from a socio-cultural perspective that recognizes that the nature of tools and the nature of societal use of these tools are mutually dependent. We raise questions of how the inherent nature of different technologies might shape different learning experiences and outcomes, and whether certain technologies 'fit' better with some pedagogical approaches than others.
Citation
Schuck, S. & Kearney, M. (2007). Disruptive or compliant? The impact of two educational technologies on pedagogy. In C. Montgomerie & J. Seale (Eds.), Proceedings of ED-MEDIA 2007--World Conference on Educational Multimedia, Hypermedia & Telecommunications (pp. 2619-2626). Vancouver, Canada: Association for the Advancement of Computing in Education (AACE). Retrieved April 18, 2019 from https://www.learntechlib.org/primary/p/25741/.
Keywords
View References & Citations Map
References
Ayersman, D. (1996). Reviewing the research on hypermedia-based learning. Journal of Research on Computing in Education, 28 (4), 500-525.
BECTA (2003). What the research says about interactive whiteboards. British Educational Communications and Technology Agency.
Bogdan, R., & Biklen, S. (1998). Qualitative research for education. An introduction to theory and methods. Boston: Allyn and Bacon.
Bonk, C., & Graham, C. (Eds.) (2006). Handbook of blended learning environments. San Francisco: Pfeiffer
Clarke, C. (2004). Secretary of State for Education and Skills Opening Address, BETT Conference, Olympia, 7 January 2004. Accessed 11 December 2006 from http://www.teachernet.gov.uk/community/webcasts/bett2004/transcripts/clarke7jan04/.
Glassman, M. (2001). Dewy and Vygotsky: Society, experience and inquiry in education practice. Educational Researcher, 30 (4), 3-14.
Erickson, F. (1986). Qualitative methods in research on teaching. In M. Wittrock (Ed.), Handbook of research on teaching, (3rd ed. Pp. 119-161). New York: Macmillan.
Hedberg, J. (2006). E-learning futures? Speculations for a time yet to come. Studies in Continuing Education, 28 (2), 171-183.
Kearney, M., & Schuck, S. (2006). Spotlight on authentic learning: Student developed digital video projects. Australasian Journal of Educational Technology, 22 (2), 189-208.
Kennewell, S. (2006). Reflections on the interactive whiteboard phenomenon: a synthesis of research from the UK. Paper presented at the AARE conference, Adelaide, Australia, 26-30 November 2006.
Kent, P. (2004). E-teaching and interactive whiteboards. The Richardson experience. The Practising Administrator, 26 (1).
Koehler, M., & Mishra, P. (2005). What happens when teachers design educational technology? The development of technological pedagogical content knowledge. Journal of Educational Computing Research, 32 (2), 131-152.
Levin, H. (2003). Making history come alive: Students interview Holocaust survivors on camera and publish their stories on the web. Learning and Leading with Technology, 31 (3), 22-27.
Lincoln, Y., & Guba, E. (1985). Naturalistic inquiry. Newbury Park: Sage Publications.
Mehan, H. (1982). The structure of classroom events and their consequences for student performance. In P. Gilmore& A.A. Glatthorn (Eds.), Children in and out of school. (pp. 59-87). Washington, DC: Center for Applied
Papert, S. (1993). Children's machine: Rethinking school in the age of the computer. New York: Basic.
Papert, S. (2004). Technology in schools: To support the system or render it obsolete. Milken Family Foundation. Accessed 17 December 2006 from http://www.mff.org/edtech/article.taf?_function=detail & Content_uid1=106
Potter, J. (2005). 'This brings back a lot of memories': A case study in the analysis of digital video production by young learners. Education, Communication& Information, 5 (1), 5-23.
Reeves, T., Herrington, J., & Oliver, R. (2002). Authentic activities and online learning. In A. Goody, J. Herrington& M. Northcote (Eds.), Quality Conversations: Research and Development in Higher Education, 25, 562-567.
Rychen, D.S. (2002). Key Competencies for the Knowledge Society: A Contribution from the OECD Project Definition and Selection of Competencies. Stuttgart: UNESCO.
Salomon, G. & Perkins, D. (1998). Individual and Social Aspects of Learning. Review of Research in Education, 23, 1-24.
Schuck, S., & Kearney, M. (2004). Students in the Director's Seat: Teaching and Learning with Student-generated Video. A Research Report. Sydney: UTS. Accessed 17 December 2006 from http://www.eddev.uts.edu.au/teachered/research/dvproject/home.html
Vrasidas, C., & Glass, G. (Eds.) (2005). Preparing teachers to teach with technology. Greenwich, CT: Information Age Publishing.
These references have been extracted automatically and may have some errors. If you see a mistake in the references above, please contact info@learntechlib.org.