You are here: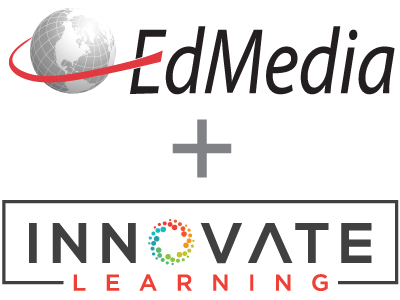 Distributed Learning: Making Systems that Work
PROCEEDINGS
Patricia McGee, The University of Texas at San Antonio, United States ; Colleen Carmean, Arizona State University, United States ; Ali Jafari, Indiana University-Purdue University Indianapolis, United States
EdMedia + Innovate Learning, in Vancouver, Canada ISBN 978-1-880094-62-4 Publisher: Association for the Advancement of Computing in Education (AACE), Waynesville, NC
Abstract
Distributed learning has become a mainstay of course delivery for many if not most universities. However, the course management systems used to deliver academic programs have been designed as information communication tools that manage teaching rather than interactive and collaborative tools that support learning. This panel presents the findings of three experts in next generation e-learning systems who have identified functionalities that must be developed if systems are to support relevant and deep learning in distributed learning. Attendees will share their own understanding of issues related to systems architecture, pedagogical capabilities, and user needs and suggest strategies for capturing and examining such issues in an ever changing environment.
Citation
McGee, P., Carmean, C. & Jafari, A. (2007). Distributed Learning: Making Systems that Work. In C. Montgomerie & J. Seale (Eds.), Proceedings of ED-MEDIA 2007--World Conference on Educational Multimedia, Hypermedia & Telecommunications (pp. 1360-1364). Vancouver, Canada: Association for the Advancement of Computing in Education (AACE). Retrieved December 6, 2019 from https://www.learntechlib.org/primary/p/25553/.
Keywords
References
View References & Citations Map
American Psychological Association. (1997). Learner-centered psychological principles: A framework for school redesign and reform. Retrieved on July7, 2003 from http://www.apa.org/ed/lcp.html
Dabbagh, N. (2003). The Intersection and Alignment of Learner-Centered Instructional Strategies in Online Learning and their implementation using Course Management Systems. Presentation at NLII Next Generation CMS, Tucson, AZ. Retrieved on April 10, 2003 from http://www.educause.edu/asp/doclib/abstract.asp?ID=NLI0330 Educational Marketer. (2003). Colleges increase use of course management systems. Educational Marketer 34 (8) 4–5.
Carmean, C., & Haefner, J. (2002). Mind over matter: Transforming course management systems into effective learning environments. EDUCAUSE Review, 37 (6), 26.
Carmean, C. (2003). Learner-centered principles for higher education. Retrieved July 30, 2006 from http://www.west.asu.edu/ccarmean/learning/ Creswell, J.W. (2005). Educational research: Planning, conducting, and evaluating quantitative and qualitative research (2nd ed.). Upper Saddle River, N.J.: Merrill.
Jafari, A., McGee, P., & Carmean, C. (2006). Managing courses, defining learning: What faculty, students, and administrators want. EDUCAUSE Review, 41 (July/August), 50–71.
Jensen, J.L. & Rodgers, R. (2001). Cumulating the intellectual gold of case study research. Public Administration Review 61 (2): 236-246.
Lynch, B.P., & Smith, R.S. (2001). The nature of work in academic libraries. College& Research Libraries 62 (5), 407–20
Maeroff, G. (2004). A classroom of one: How online learning is changing our schools and colleges. NY: Palgrave Macmillan.
McGee, P., Carmean, C., & Jafari, A. (2005). Course management systems for learning: Beyond accidental pedagogy. Hershey PA: Information Science Pub.
Markowitz, M, & Russel, A. (2006). Policy matters: Addressing the needs of adult learners. American Association of state colleges and universities. Retrieved April 18, 2007 from http://www.aascu.org/publications/default.htm.
Morgan, G. (2003). Faculty use of course management systems. EDUCAUSE Centre for Applied Research (ECAR). Nissi, M. (Ed). (2003). Making sense of learning specifications& Standards: A decision maker's guide to their adoption (2nd ed.). The Masie Center, Learning Technology& E-Lab Thinktank. Available at http://www.masie.com/standards/s3_2nd_edition.pdf Norris, D., Mason, J., & Lafere, P. (2003). Transforming e-Knowledge: A revolution in the sharing of knowledge. Society for College& University Planning.
O'Reilly, T. (2005). What is Web 2.0: Design patterns and business models for the next generation of software. Retrieved January 22, 2007 from http://www.oreillynet.com/pub/a/oreilly/tim/news/2005/09/30/what-isDASHDASHweb-20.html
Siemens. G (2004). Connectivism: A learning theory for the digital age. ELearnspace. Retrieved October 25, 2005 from http://www.elearnspace.org/Articles/connectivism.htm.
Tapscott, D. (2000). Growing up digital: The rise of the net generation. New York: McGraw Hill.
Weigel, V. (2002). Deep learning for a digital age: Technology's untapped potential to enrich higher education. New York: Jossey-Bass.
Yin, R. (1994). Case study research: Design and methods (2nd ed.). Beverly Hills, CA: Sage Publishing.
These references have been extracted automatically and may have some errors. Signed in users can suggest corrections to these mistakes.
Suggest Corrections to References