You are here: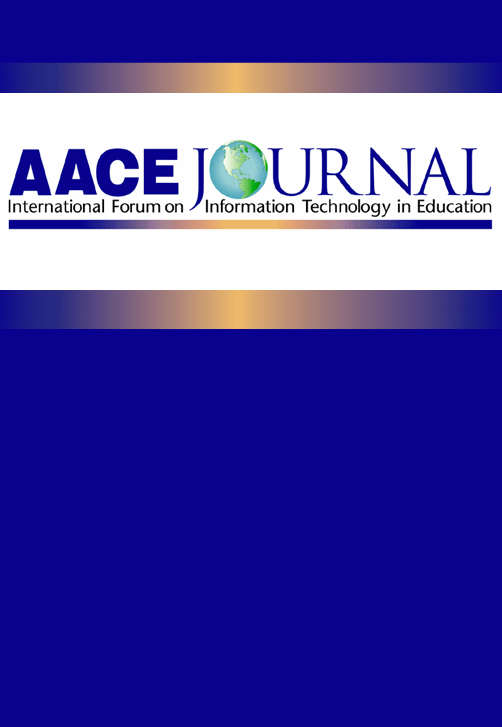 Educating the Web-Savvy Urban Teacher: Website Evaluation Tips and Internet Resources for Secondary Educators
Article
Immaculee Harushimana, Lehman College, City University of New York, United States
AACE Journal Volume 16, Number 3, ISSN 1065-6901 Publisher: Association for the Advancement of Computing in Education (AACE), Chesapeake, VA
Abstract
This article, The Web-Savvy Urban Teacher, addresses the question of what educational technology educators and scholars can do to close the pedagogical mismatch, which exists today between "digital native" secondary students and their predigital educators. The infrequent use of the Internet as a resource in urban schools is detrimental for today's generation of students, the majority of whom consider the World Wide Web as the source of all knowledge. The purpose of his article is to: (a) introduce and establish the rationale that the Internet is an appropriate medium by means of which differentiated instruction and multiple intelligences can help foster content literacy among struggling and reluctant adolescent learners, (b) provide secondary educators with teacher-specific website criteria that will facilitate the website selection process, and (c) supply a sampling of timeless websites for students and teachers interested in working in a self-regulated environment.
Citation
Harushimana, I. (2008). Educating the Web-Savvy Urban Teacher: Website Evaluation Tips and Internet Resources for Secondary Educators. AACE Journal, 16(3), 275-291. Chesapeake, VA: Association for the Advancement of Computing in Education (AACE). Retrieved May 22, 2019 from https://www.learntechlib.org/primary/p/24379/.
Keywords
References
View References & Citations Map
Adams, N. (2004 , Spring). Digital intelligence fostered by technology. The Journal of Technology Studies, 30, 93-97.
Gardner, H. (1999). Intelligence reframed. Multiple intelligences for the 21st century. New York: Basic Books.
Hennessy, J. (2006). New wonder no. Five: The internet. ABCNews. Retrieved December 15 , 2006 , from http://abcnews.go.com /GMA /7Wonders /s tory? id=2654425&page=1
Hertzog, N., & Klein, M. (2005, June). Beyond gaming: A technology explosion in early childhood. Gifted Child Today Magazine, 28, 24-31.
Jordanov, W. (2001 , November). An examination of there la t ionsh ip between learnings ty le and technology use. Paper presented at the Annual
Leblanc, P. (1994). The politics of literacy in secondary school classrooms. In C. Selfe& S. Hilligoss (Eds.) , Literacy and computers in technology (pp. 22-36). New York: Modern language Association of America.
Lerman, J. (2005). 101 best websites for secondary teachers. Eugene, OR: International Society for Technology in Education. Retrieved October
Levin, M. (2002). A mind at a time. New York: Simon & Schuster.
Prensky, M. (2001). Digital natives, digital immigrants. On the Horizon, 9(5). Retrieved August 25, 2006, from http://www.marcprensky.com/writing/Prensky%20- %20Digital%20Natives,%20Digital%20Immigrants%20-%20Part1.pdf
Rogers, D. (2000). A paradigm shift: Technology integration for higher education in the new millennium. AACE Journal, 1(13), 19-33. Retrieved January 7, 2007, from http://www.editlib.org/INDEX.CFM?fuseaction=Reader.ViewAbstract&paper_id=8058
Sandholtz, J., & Reilly, B. (2004). Teachers, not technicians: Rethinking technical expectations for teachers. Teachers College Record, 106, 487-512. Retrieved November 25, 2005, from http://www.tcrecord.org/Content.asp?ContentId=11525
Schrock, K. (1999, January). Teaching media literacy in the age of the internet. Classroom Connect, 4-6. Retrieved November 6, 2005, from http://
Veneema, S., & Gardner, H. (1996, November-December). Multimedia and multiple intelligences. The American Prospect, 7(29). Retrieved March 25, 2007, from http://www.prospect.org/cs/articles?article=multimedia_and_multiple_intelligences
These references have been extracted automatically and may have some errors. Signed in users can suggest corrections to these mistakes.
Suggest Corrections to References