You are here:
Gesture and Space for Teaching, Learning and Communicating Science Fiction
PROCEEDINGS
Michael Sisley, Telopea Park High School, Australia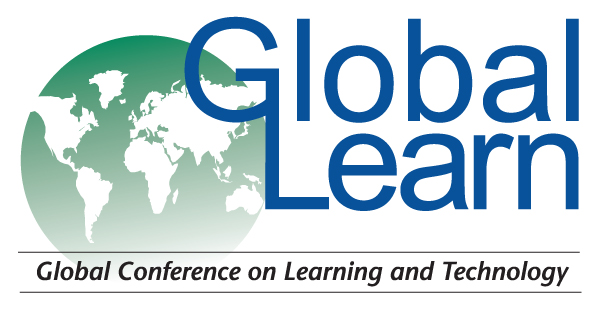 Global Learn, in Berlin, Germany Publisher: Association for the Advancement of Computing in Education (AACE)
Abstract
Use of the Microsoft Kinect sensor for teaching and student learning relates to the importance given to multimodalities in the Australian Curriculum. Trials of Kinect applications were focused on genre studies for secondary students at a government school in the Australian Capital Territory. Kinect-generated digital videos in a flipped classroom require further research to evaluate their impact on student learning outcomes and to meet new teaching standards. Following the TPACK model for subverting business systems for pedagogical ends, Kinect applications are recommended for secondary teaching and learning, with room for careful critiquing of the sensor itself and its purposes.
Citation
Sisley, M. (2015). Gesture and Space for Teaching, Learning and Communicating Science Fiction. In Proceedings of Global Learn Berlin 2015: Global Conference on Learning and Technology (pp. 675-680). Berlin, Germany: Association for the Advancement of Computing in Education (AACE). Retrieved March 20, 2019 from https://www.learntechlib.org/primary/p/150917/.
Keywords
View References & Citations Map
References
ACARA (2013). English Glossary. Senior Secondary Australian Curriculum. Australian Curriculum Assessment and Reporting Authority. Retrieved 20/01/13 from http://www.australiancurriculum.edu.au/Static/docs/senior %20secondary/English%20Glossary.pdf.
ACTA (2010). Response to the Draft National Professional Standards for Teachers from the Australian Council of TESOL Associations (ACTA). AITSL. Retrieved 20/01/13 from http://www.aitsl.edu.au/verve/_resources/Australian_Council_of_TESOL_Associations.pdf.
AITSL (2012). Overview. Australian Professional Standards for Teachers. Australian Institute for Teaching and School Leadership. Retrieved 21 April, 2013 from http://www.teacherstandards.aitsl.edu.au/OrganisationStandards/Organisation
Anstey, M. & Bull, G. (2010). Helping Teachers to Explore Multimodal Texts. Curriculum Leadership: an electronic journal for leaders in education. Volume 8, Issue 16, 4 June 2010. Retrieved 14/10/11 from http://www.curriculum.edu.au/leader/helping_teachers_to_explore_multimodal_texts,31522.html
Blitz Games Studios. (2011). YouStar 2. YouStar Entertainment Group. Colla, R. (Director). (1978). Saga of a Star World. Battlestar Galactica. Season 1, Episode 1. Screenplay by Glen A. Larson.
Gallagher, R. (2013). German Official: Xbox One Spying Capabilities a "Twisted Nightmare". Future Tense. Slate. Tuesday, May 28, 2013. Accessed 29 August 2013 from http://www.slate.com/blogs/future_tense/2013/05/28/germany_privacy_chief_peter_schaar_calls_xbox_one_a_twisted_nightmare_for.html
George, M.A. (2011). Preparing teachers to teach adolescent literature in the 21st century. Theory Into Practice. 50 (3), 182-189.
Gurses, S. & Berendt, B. (2010). 19.3.4: The Performative Perspective on Surveillance. PETs in the Surveillance Society: A Critical Review of the Potentials and Limitations of the Privacy as Confidentiality. Data Protection in a Profiled World. Edited by Gutwirth, S., Poullet, Y. And De Hert, P. Springer.
Harris, J & Hofer, M. (2011). Secondary English Language Arts. Learning Activity Types Wiki. College of William and Mary School of Education. Accessed 6/05/13 from http://activitytypes.wmwikis.net/file/view/SecEngLangArtsLearningATsFeb2011.pdf/206706952/SecEngLangArtsLearningATs-Feb2011.pdf
Hughes, J. & Scharber, C. (2008) Leveraging the development of English TPACK with the deictic nature of literacy. Chapter 4. Handbook of Technological Pedagogical Content Knowledge (TPCK) for Educators. Edited by AACTE Committee on Innovation and Technology. New York: Routledge.
Kereluik, K., Mishra, P. & Koehler, M.J. (2011). On Learning to Subvert Signs: Literacy, Technology and the TPACK Framework. California Reader, 44, (2), P.12-18
LucasArts (2012). Kinect Star Wars. Developed by Terminal Reality.
Laurent, J. (2008). Interview: Rafael Lozano-Hemmer. Recorders. Manchester City Gallery. Manchester City Council, UK.
McGrath, J. (2004). Loving Big Brother: Surveillance Culture and Performance Space. Taylor and Francis: London.
Miles, C. (2013). XBox 1: Why the Kinect and Always-On Features Are So Scary. Culture. PolicyMic. Accessed 22 August 2013 from http://www.policymic.com/articles/47877/xbox-1-why-the-kinect-and-always-on-features-are-soscary
Mishra, P., & Koehler, M.I. (2006). Technological pedagogical content knowledge: A framework for integrating technology in teacher knowledge. Teachers College Record, 108(6), 1017-1054.
Moyle, K. (2006). Leadership and Learning with ICT: Voices from the Profession. Teaching Australia, August 2006. AITSL. Retrieved 20/01/13 from http://www.aitsl.edu.au/verve/_resources/Leadership_and_Learning_with_ICT_-_Voices_from_the_Profession.pdf.
Lozano-Hemmer, R. (2011). Tape Recorders installation. Recorders. Museum of Contemporary Art, Sydney. Scott, R. (Director). (1979). Alien. Written by Ridley Scott. Twentieth Century Fox.
Sheehy, C., & Clemmons, K.R. (2012). Beyond the language arts classroom: The dynamic intersection of young adult literature and technological, pedagogical, and content knowledge. In Hayn, J.A., & Kaplan, J.S. (Eds.), Teaching young adult literature today: Insights, considerations, and perspectives for the classroom teacher (pp. 225-240). Blue Ridge Summit, PA: Rowman & Littlefield Publishers.
Smith, G. (2012). Surveillance as (Life) & [Art Form]: A sociological reflection on Recorders. Lecture. Museum of Contemporary Art, Sydney. February 2, 2012.
Washington, M. (2013). ISTE 2012: How a Flipped Classroom Model Can Change the World. Ed-Tech: Focus on K-12. EdTech Magazine. Accessed 9 May 2013 from http://www.edtechmagazine.com/k-12/video/iste-2012-howflipped-classroom-model-can-change-world
Yates, F. (1966). The Art of Memory. London: Routledge and Kegan Paul.
These references have been extracted automatically and may have some errors. If you see a mistake in the references above, please contact info@learntechlib.org.