You are here: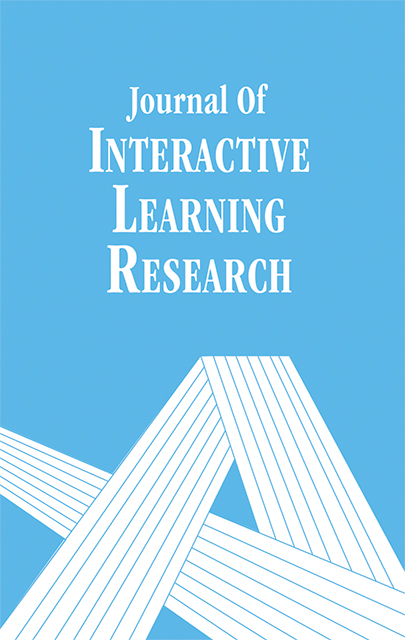 Learning at the Mental Gym: How to Get Mentally Fit for the Task You Have at Hand
Article
Journal of Interactive Learning Research Volume 11, Number 3, ISSN 1093-023X Publisher: Association for the Advancement of Computing in Education (AACE), Waynesville, NC
Abstract
Learning is as necessary a process for the psyche as is exercise for the body. It is an ongoing activity that takes place with every movement or word said. But at times we can control it by submitting ourselves to a controlled environment, which would bombard us with information that restructures our world model and how we deal with that particular aspect of life. The theories that exist in learning are based on two alternative approaches: Constructionism versus Instructionism (Papert, 1990b). However, why should we have to choose between them when, in fact, we could take the best of both worlds by interleaving them (Lawler & Yazdani, 1997)? Or better still, why don't we have both approaches simultaneously where the student is surrounded by a constructive Virtual Reality environment with a specific training target at hand, coupled with enough abstraction to enable him to react to positive as well as negative expertise (Minksy, 1994) through adaptation of thinking processes rather than just memorizing. This paper proposes an interactive Virtual Reality environment that allows learning to occur through virtual experience and experimentation.
Citation
Alkhalifa, E.M. & Pain, H. (2000). Learning at the Mental Gym: How to Get Mentally Fit for the Task You Have at Hand. Journal of Interactive Learning Research, 11(3), 313-331. Charlottesville, VA: Association for the Advancement of Computing in Education (AACE). Retrieved November 22, 2019 from https://www.learntechlib.org/primary/p/8382/.
Keywords
References
View References & Citations Map
Brna, P., & Aspin, R. (1997). Collaboration in a virtual world: Support for conceptual learning? In D. Dicheva & I. Stanchev (Eds.), Human-Computer Interaction and Educational Tools. Proceedings of the IFIP WG 3.3 Working Conference (pp. 113-123). Sophia: VirTech.
Burton, R.R. (1998) The environment module of intelligent tutoring systems. In M. Polson & J. Richardson, (Eds.) Intelligent tutoring systems, Hillsdale, NJ: Lawrence Erlbaum.
Clancey, W.J. (1991). Why today's computers don't learn the way people do. In P.A. Flach & R.A. Meersman (Eds.), Future directions in artificial intelligence. Amsterdam: Elsevier, pp. 53-62.
Clancey, W.J. (1995). Practice cannot be reduced to theory: Knowledge, representations and change in the workplace. In S. Bagnara, C. Zuccermaglio, & S. Stucky, (Eds.) Organizational learning and technological change. Papers from the NATO workshop, Siena, Italy September 2226, 1992. Berlin: Springer (pp.16-46).
Dede, C., & Lewis, M. (1995) Assessment of emerging educational technologies that might assist and enhance school-to-work transitions, Report prepared for the Office of Technology Assessment, United States Congress, National Information Service, Washington, DC.
Dede, C., Salzman, M., & Loftin, R. (1996). ScienceSpace: Research on using virtual reality to enhance science education. In P. Carlson & F. Makedon, (Eds.), Proceedings of the 1996 ED-MEDIA Conference, AACE: Charlottsville, VA. Pp.172-177.
Dillenbourg, P., Jermann, P., Schneider, D., Traum, D., & Buiu, C. (1997). The Design of MOO agents: Implications from an empirical CSCW study. In B.
Gentner, D., Ratterman, M.J., & Forbus, K. (1993). The roles of similarity in transfer separating retrievability from inferential soundness, Cognitive 330 Alkhalifa and Pain
Greenwald, A., & Banaji, M. (1995). Implicit social cognition: Attitudes, selfesteem, and stereotypes, Psychological Review, 102(1), 4-27.
Hutchins, E. (1995). Cognition in the wild. MIT Press.
Jaffa, S. (1997). Great financial scandals. Robson Books, London.
Lawler, R., & Yazdani, M. (Eds.) (1987). A convergence of interests: The possible synergy between intelligent tutoring systems and computerbased microworlds, Instructional Science, AI&ED. Vol. 1.
Lewicki, P., Hill, T., & Czyzewska, M. (1992). Nonconscious acquisition of Information. American Psychologist, 47(6), 796-801.
McKendree, J., Stenning, K., Mayes, T., Lee, J., & Cox, R. (1998). Why observing a dialogue may benefit learning. Journal of Computer Assisted Learning, 14(2), 110-119.
Minsky, M. (1994). Negative expertise. International Journal of Expert Systems, 7(1), 13-19.
Niedenthal, P. (1990). Implicit perception of affective information. Journal of Experimental Psychology, 26, 505-507.
Negroponte, N., Resnick, M., & Cassell, J. (1997). Creating a learning revolution. Opinion Article No. 8 at the MIT Media Lab.
Resnick, M. (1996). Beyond the centralized mindset. Journal of The Learning Sciences, 5(1), 1-22.
Resnick, M. (1995). New paradigms for computing, new paradigms for thinking. In A. DiSessa, C. Hoyles, & R. Noss (Eds.), Computers and exploratory learning. Springer-Verlag.
Resnick, M. (1994). Learning about life. Artificial Life, 1(1-2).
Rickel, J., & Johnson, L. (1997). Intelligent tutoring in virtual reality: A preliminary report. In B. Du Boulay & R. Mizoguchi (Eds.), Artificial intelligent in education. IOS Press.
Whitelock, D., Brna, P., & Holland, S. (1996). What is the value of virtual reality for conceptual learning? Towards a theoretical framework.
These references have been extracted automatically and may have some errors. Signed in users can suggest corrections to these mistakes.
Suggest Corrections to References