You are here: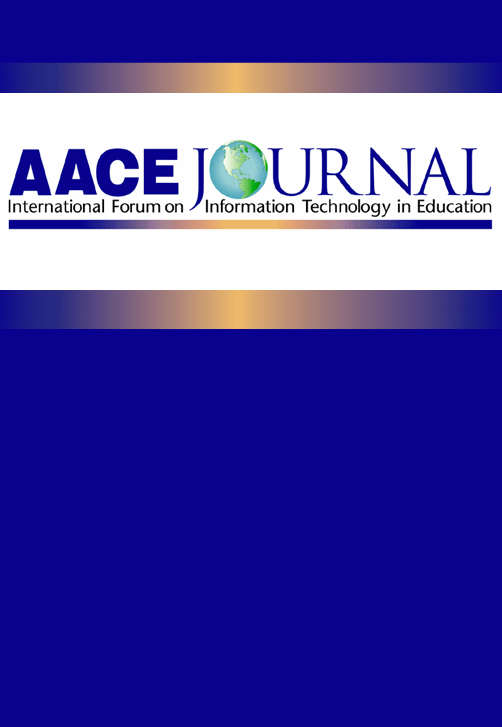 Interaction in Distance Education: The Critical Conversation
Article
Angie Parker, Gonzaga University, United States
AACE Journal Volume 1, Number 12, ISSN 1065-6901 Publisher: Association for the Advancement of Computing in Education (AACE), Chesapeake, VA
Abstract
In 1897, with a series of shorthand lessons delivered by postal service, Anna Tickner changed the way instruction was presented forever. The early days of distance education witnessed the inclusion of the old passive/lecture para- digm, which was even more deadly from a distance than in person. Today™s students who consistently iosurf the worldlt with the Internet will not tolerate this non-interactive style of instruction and will quickly search for a more ioHollywood stylely course that provides active conversation with the instructors, experts, and other students. Interactivity has been defined in numerous ways ranging from irpressing the remoteli to activate the VCR to iCtwo-way conversationlv provided by satellite up links. Regardless of how interaction is defined, history has shown it to be an essential component in the learning process. Research has supported this inclusion but stops short of application due to the mediation between instructor and student provided by a wide range of technologies. Distance education is made up of a network of learners and teachers who travel electronic highways and meet in virtual classrooms. The new media for delivery brings with it a challenge and an opportunity. The challenge lies in the refocusing of the instruction to embody a component of lively interaction. The opportunity lies in the access to education for a worldwide coalition of students.
Citation
Parker, A. (1999). Interaction in Distance Education: The Critical Conversation. AACE Journal, 1(12), 13-17. Charlottesville, VA: Association for the Advancement of Computing in Education (AACE). Retrieved July 24, 2019 from https://www.learntechlib.org/primary/p/8117/.
Keywords
References
View References & Citations Map
Barnard, R. (1995). Interactive Learning: A key to successful distance delivery, The American Journal of Multimedia, 12, 45-67.
Carlson, H. (1991). Learning styles and program design in interactive multimedia, Educational Technology: Research and Technology, 39(3), 41-48.
Carver, R. (1982). Optimal rate of reading prose. Reading Research Quarterly, 18(1), 56-88.
Clark, R. (1983). Reconsidering research on learning from media. Review of Educational Research, 53,445-460.
Daniel, J., & Marquis, C. (1983). Independence and interaction: Getting the mix right, Teaching at a Distance, 15, 29-44.
Fulford, C. (1993). Can learning be more efficient? Using compressed speech audio tapes to enhance systematic designed text. Educational Technology, 33(2), 51-59.
Gross, R., Muscarella, D., & Pikl, R. (1994). New connections: A college president's guide to distance education. The Instructional Council, Washington, D.C.
Hackman, M., & Walker, K. (1990). Instructional communication in the televised classroom: The effects of system design and teacher immediacy on student learning and satisfaction. Communication Education, 39, 196-206.
Kiesler, J., & McGuire, H. (1987). Aspects of computermediated communication. InternationalPsychologist, 32(10), 45-67.
Markwood, R., & Johnstone, S. (1994). New Pathways to a degree: Technology opens the college. Western Cooperative for Educational Telecommunications, Western Interstate Commission for Higher Education, Boulder, CO. Interaction in Distance Education: The Critical Conversation
Moore, M. (1992). Three types of interaction. The American Journal of Distance Education, 3(2), 1-6.
Naisbitt, J., & Aburdene, P. (1990). Megatrends 2000, New York: Avon Books.
Pea, R. (1994). Seeing what we build together. Journal of Learning Sciences, 3(3),285-299.
Perkins, D. (1991). Technology meets constructivism: Do they make a marriage? Educational Technology, 31(5), 18-23.
Phillips, D. (1995). The good, the bad, and the ugly: The many faces of constructivism. Educational Researcher, 24(7), 5-12.
Roblyer, M. (1996). Is research giving us the answers (and the questions) we need? Learning and Leading with Technology, 24,(1), 14-18.
Romiszowski, A. (1988). The selection and use of instructional media. London: Kogan Page.
Ross, S., Sullivan, H., & Tennyson, R. (1992). Educational technology; Four decades of research and theory, Educational Technology: Research and Development, 40(2), 5-15.
Schaffer, L., & Hannafin, D. (1993). The effects of progressive interactivity on learning from interactive video, Educational Communication and Technology Journal, 34(2) 89-96.
Summers, J. (1991). Effect of interactivity upon student achievement completion intervals and affective perceptions. Journal of Educational Technology Systems, 19(1), 53-57.
Taylor, S. (1965). Eye movement in reading: Facts and fallacies. American Educational Research Journal, 2, 187-202.
Wagner, J. (1994). Learning from a distance. The International Journal of Multimedia, 19,(2), 12-20.
These references have been extracted automatically and may have some errors. Signed in users can suggest corrections to these mistakes.
Suggest Corrections to References