You are here: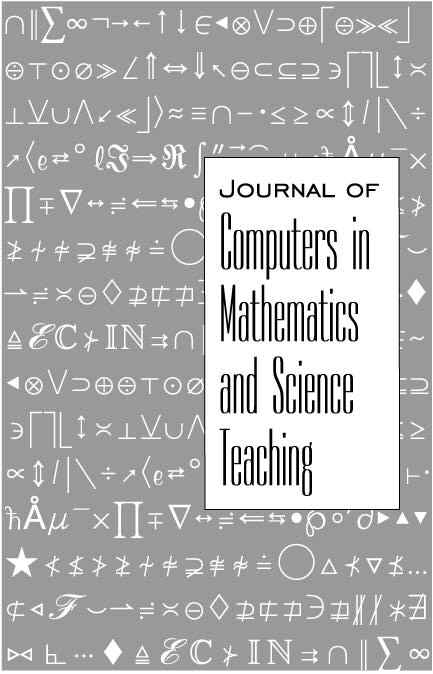 Under the Microscope: Factors Influencing Student Outcomes in a Computer Integrated Classroom
Article
JCMST Volume 19, Number 3, ISSN 0731-9258 Publisher: Association for the Advancement of Computing in Education (AACE), Waynesville, NC USA
Abstract
Researchers continue to argue that more research is needed con-cerning how teachers actually integrate instructional technology into their curriculum. This qualitative study examined the incor-poration of interactive multimedia science software into a grade two classroom over a six-week period. There was growth in vari-ous social and thinking skills that were developed and reinforced within the computer-supported learning environment. Several factors that contributed to these outcomes are identified: the software's instructional design, enthusiasm, on-task behavior, cooperation and collaboration among the students, improved cognitive learning outcomes, attitudes toward science, the teach-er's pedagogical approach and attitudes toward incorporating technology into the curriculum, and an integrated curriculum. In addition, the results indicated increased positive attitudes to-wards science by the girls after using the software. Implications for computer integration are provided.
Citation
ESHET, Y., KLEMES, J. & HENDERSON, L. (2000). Under the Microscope: Factors Influencing Student Outcomes in a Computer Integrated Classroom. Journal of Computers in Mathematics and Science Teaching, 19(3), 211-236. Charlottesville, VA: Association for the Advancement of Computing in Education (AACE). Retrieved October 16, 2019 from https://www.learntechlib.org/primary/p/8070/.
Keywords
References
View References & Citations Map
Bennet, N., & Dunne, E. (1991). The nature and quality of talk in cooperative classroom groups. Learning and Instruction, 1(2), 103-118.
Brown, J., Collins, A., & Duguid, S. (1989). Situated cognition and the culture of learning. Educational Researcher, 18(1), 32-42.
Brush, T. (1997) The effects of group composition on achievement and time on
Drazdowski, T.A. (1997). Multimedia in teacher education: A small college approach. [CD-ROM]. Paper presented at ED-MEDIA 97, Calgary, June 1016.
Ellsworth, J. (1994). Education on the Internet. Indianapolis, IN: Sam 's Publishing.
Gallimore, R., & Tharp, R. (1990). Teaching mind in society: Teaching, schooling, and literate discourse. In L. Moll (Ed.), Vygotsky and education: Instructional implications and applications of sociohistorical psychology (pp. 175-205). Cambridge: Cambridge University Press.
Glenna, T.K., & Melmed, A. (1996). Fostering the use of educational technology: Elements of a national strategy . A Rand Report. Santa Monica , CA:
Gregoire, R., Bracewell, R., & Laferriere, T. (1996). The contribution of new technologies to learning and teaching in elementary and secondary schools.
Haugland, S., & Wright, J. (1997). Young children and technology: A world of discovery. Boston: Allyn and Bacon.
Henderson, L. (1996). Instructional design of interactive multimedia: A cultural critique. Educational Technology Research & Development, 44(4), pp.85-104.
Howland, J., Laffey, J., & Espinosa, L. (1997). A computing experience to motivate children to complex performances. Journal of Computing in Childhood Education, 8(4), 291-313.
Inkpen, K. (1997). Three important research agendas for educational multimedia:
Inkpen, K., Booth, K., Gribble, S., & Klawe, M. (1995). Give and take: Children 's collaboration on one computer. Proceedings of CHI '95, Conference Companion (pp. 258-259). ACM Press.
Johnson, D., & Johnson, R. (1985) Co-operative learning: One key to computer assisted learning. The Computing Teacher, 13(2), 11-14.
Levine, T. (1994). A computer-based program can make a difference: The case of the rediscover science program. Studies in Education Evaluation 20(4), 293-296.
Maddux, C., Johnson, D., & Willis, J. (1997). Educational computing: Learning with tomorrow 's technologies . Boston: Allyn & Bacon.
McLellan, H. (1994). Interactions of student partners in a high school astronomy computer lab. Computers in the Schools, 11(1), 30-41.
Nastasi, B., & Clements, D. (1993). Motivational and social outcome of cooperative computer education environments. Journal of Computing in Childhood Education, 4(1) 15-43.
Norman, D. (1993). Things that make us smart. Reading, MA: Addison-Wesley.
Papert, S. (1993). The children 's machine: Rethinking school in the age of the computer. New York:Basic Books.
Reeves, T. (1993). Research support for interactive multimedia: Existing foundations and new directions. In C. Latchem, J. Williamson, & L. HendersonLancett (Eds.), Interactive multimedia: Practice and promise (pp. 79-96). London: Kogan Page.
Reeves, T. (1997). Pseudoscience in qualitative research. [Online]. Available: ITFORUM listserv. Access date: March 17.
Rieber, L. (1996). Seriously considering play: Designing interactive learning environments based on the blending of microworlds, simulations, and games. Educational Technology Research & Development, 44(2), 43-58.
Rowe, H. (1993). Learning with personal computers. Hawthorn, Vic: Australian Council for Educational Research.
Salomon, G. (1998). Novel constructivist learning environments: Some issues to be concerned with. Paper presented at Thinking in Teaching and Learning Conference, Jerusalem, January, 5-6.
Selwyn, N. (1997). The continuing weaknesses of educational computing research. British Journal of Educational Technology, 28(4), 305-307.
Shapiro, B. (1994). What children bring to light: A constructivist perspective on children's learning in science . Columbia: Teachers College Press
Slavin, R. (1996). Research on cooperative learning and achievement: What we know, what we need to know. Contemporary Educational Psychology, 21 , 43-69.
Temple, C. (1997). Developmental cognitive neuropsychology. Hove, UK: Psychology Press.
Thurman, R. (1993). Instructional simulation from a cognitive psychology viewpoint. Educational Technology Research & Development, 41(4), 75-79.
Upitis, R., & Koch, C. (1996). Is equal computer time fair for girls? Potential Internet inequities. Paper presented at 6th Annual Conference of the Internet Society, INET '96, Montreal.
U.S. Congress Office of Technology Assessment. (1995). Teachers and technology: Making the connections. OTA-HER-616. Washington: US Government Printing Office.
These references have been extracted automatically and may have some errors. Signed in users can suggest corrections to these mistakes.
Suggest Corrections to References