You are here: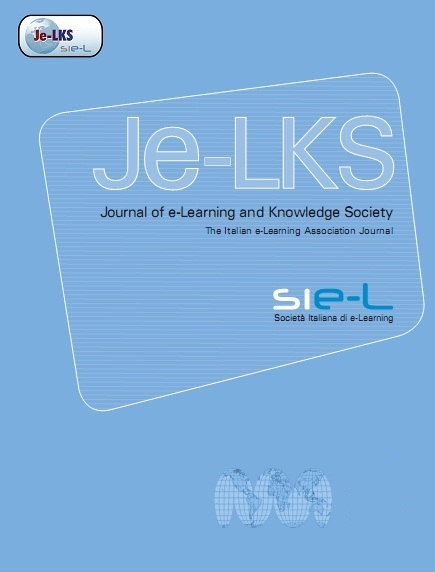 Case study investigation of CMC with young language learners
ARTICLE
Journal of e-Learning and Knowledge Society Volume 8, Number 3, ISSN 1826-6223 e-ISSN 1826-6223 Publisher: Italian e-Learning Association
Abstract
By providing authentic experiences with the world outside the classroom, CMC seems to enhance the learning potential of conventional lessons (Pritchard et al., 2010, p. 211). The assumption underlying the use of videoconferencing to teach and learn a second language is that it will help learners develop their oral and socio-cultural skills. However, when using CMC with young language learners, primary teachers' relatively limited expertise both in the linguistic and technological fields represents some of the challenges they have to face. Following Pritchard et al. (Ibidem), who show that students who have experienced video-conferenced lessons have more confidence to experiment with language and, in general, produce language of a higher quality, our work examines the impact of CMC on students' communicative skills and teachers' actions in primary education. In this paper, we analyse a bi-national session that involves videoconferencing between young learners of French and English as a foreign language as they play a well-known game Cluedo. In our analysis, we first examine some of the constraints teachers have to face when using videoconferencing to teach an L2. Secondly, we present a few extracts that aim to probe the impact of CMC on the way students use both L1 and L2 and on its possible effect on the development of their linguistic repertoires.
Citation
Gruson, B. & Barnes, F. (2012). Case study investigation of CMC with young language learners. Journal of e-Learning and Knowledge Society, 8(3), 79-90. Italian e-Learning Association. Retrieved February 25, 2020 from https://www.learntechlib.org/p/43276/.
Keywords
References
View References & Citations Map
Bueno M.C. (2010), Synchronous-Voice Computer-Mediated Communication: Effects on Pronunciation. CALICO Journal, 28(1), 1–20.

Chevallard Y. (1992), Concepts fondamentaux de la didactique: perspectives apportées par une approche anthropologique. Recherches en Didactique des mathématiques, 12 (1), 73-112, Grenoble: La pensée sauvage. Comber C., Lawson T., Gage J., Cullum-Hanshaw A., Allen T., Hingley P., Boggon

Dejean-Thircuir C., Guichon N., Nicolaev V. (2010), Compétences interactionnelles des tuteurs dans des échanges vidéographiques synchrones, Distances et savoirs, 3, 8, 377-393.

Egbert J.L. (2005), Conducting research on CALL. In J.L. Egbert & G.M. Petrie (Eds.), CALL research perspectives (pp. 3–8), Mahwah, NJ, Lawrence Erlbaum.

Gruson B. (2006), L'enseignement d'une langue étrangère à l'école et au collège: vers une meilleure compréhension des situations didactiques mises en oeuvre, Thèse de doctorat, Université Rennes 2.

Gruson B. (2009), Etude de la dialectique contrat-milieu dans l'enseignement-| Peer Reviewed Papers-Vol. 8, N. 3, September 2012 apprentissage de l'anglais en CM2 et en 6è. Revue Suisse Des Sciences De l'Éducation, 31, 641-659.

Gruson B. (2010), Analyse comparative d'une situation de communication orale en classe ordinaire et lors d'une séance en visioconférence, Distances et Savoirs, 3, 8, 395-423.

Gruson B., Forest D. (2011), Cross-analyses of Teaching and Learning Situations in foreign Language Teaching: A Step Forward in the Production of Resources for Educational Research and Teacher Education, in Hudson, B. & Meyer, M-A. (Eds.), Beyond Fragmenation: Didactics, Learning and Teaching. Verlag Barbara Budrich, Opladen, Germany, and Farmington Hills, USA, (pp. 302-318),

Kern R. (2006), Perspectives on Technology in Learning and Teaching Languages. TESOL Quarterly, 40 (1), 183-210.

Macedo-Rouet M. (2009), La visioconférence dans l'enseignement. Ses usages et effets sur la distance de transaction In Revue Distances et savoirs, 7, 65-91.

Moore M.G. (1993), Theory of transactional distance. In Keegan D. (Ed.), Theoretical principles of distance education, 22-38, New York, Routledge.

ParkE.S. (2002), On three potential sources of comprehensible input for second language acquisition. Teachers College, Columbia University Working Papers in TESOL& Applied Linguistics, 2 (1), 1-21.

Pritchard A., Hunt M., Barnes A. (2010), Case study investigation of a videoconferencing experiment in primary schools, teaching modern foreign languages, The Language Learning Journal, 38 (2), 209-220.

Sensevy G., Mercier A. (2007), Agir ensemble. L'action conjointe du professeur et des élèves dans le système didactique, Rennes, PUR. Sensevy G. (2011a), Overcoming fragmentation: Towards a joint action theory in didactics. In B. Hudson& M. Meyer (Eds.), Beyond Fragmentation: Didactics, Learning and Teaching in Europe (pp. 60-76), Opladen and Farmington Hills,

Springer C. (2003), Dix questions didactiques essentielles pour les TPE, Les Langues Modernes, 2, 58-69.
These references have been extracted automatically and may have some errors. Signed in users can suggest corrections to these mistakes.
Suggest Corrections to References