You are here:
Sharing and collaborating between an online community of novice teachers: CMC in language teacher education
ARTICLE
Elaine Riordan, University of Hull, United Kingdom ; Liam Murray, University of Limerick, Ireland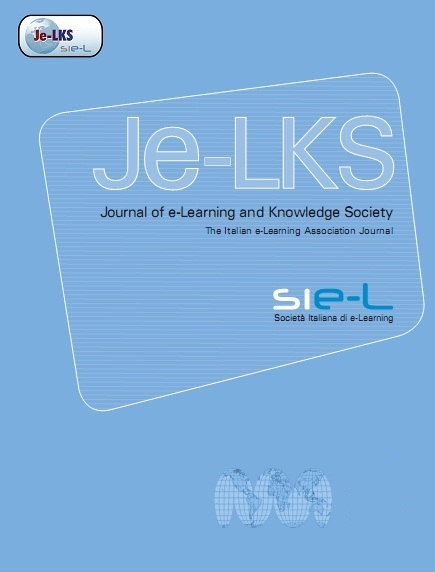 Journal of e-Learning and Knowledge Society Volume 8, Number 3, ISSN 1826-6223 e-ISSN 1826-6223 Publisher: Italian e-Learning Association
Abstract
New and emerging technologies have transformed the classroom (Mishra and Koehler, 2006) and continue to do so, and it has been reported that teachers and teacher educators now work in ever evolving environments (Elliott, 2009). Research indicates that varied forms of CMC can be implemented to foster collaborative and social learning (Arnold and Ducate, 2006), and the formation of communities of practice (CoPs) (Arnold et al., 2005). Therefore, this paper investigates the implementation of online and face-to-face (F2F) communication in an English Language Teaching (ELT) teacher education programme, with the aim of illuminating the potential such modes have for sharing and collaborating, for providing a space for situated learning and open communication. Results are analysed using a corpus-based methodology, drawing on three aspects of community membership, namely a joint enterprise, mutual engagement and a shared repertoire (Wenger, 1998). This paper closes with a discussion of the implications of such data for Language Teacher Education (LTE) in a technologically-oriented world.
Citation
Riordan, E. & Murray, L. (2012). Sharing and collaborating between an online community of novice teachers: CMC in language teacher education. Journal of e-Learning and Knowledge Society, 8(3),. Italian e-Learning Association. Retrieved March 21, 2019 from https://www.learntechlib.org/p/43262/.
Keywords
View References & Citations Map
References
Ahmad K., Al-Sayed R. (2006), Communities of practice and the special language 'ground', in: Coakes, E. & Clarke, S. (eds), Encyclopedia of Communities of Practice in Information and Knowledge Management. 77-88 , London, Idea Group.
Altman D., Burton N., Cuthill I., Festing M., Hutton J., Playle L. (2006), Why do a pilot study?. NC3Rs Experimental Design Working Group, URL: http://www.nc3rs.org.uk/downloaddoc.asp?id=400 (accessed on 7th February 2012).
Arnold N., Ducate L. (2006), Future foreign language teachers' social and cognitive collaboration in an online environment, Language Learning and Technology, 10 (1), 42-66.
Arnold N., Ducate L., Lomicka L., Lord G. (2005), Using Computer-mediated communication to establish social and supportive environments in teacher education, CALICO Journal, 22 (3), 537-565.
Clarke M. (2008), Language Teacher Identities. Co-constructing Discourse and Communities, Clevedon, Multilingual Matters.
Davies B.L. (2005), Communities of practice: Legitimacy not choice, Journal of Sociolinguistics, 9 (4), 557-581.
Elliott D. (2009), Internet technologies and language teacher education, in: Thomas M. (ed), Handbook of Research on Web 2.0 and Second Language Learning. 432450, Hershey, IGI Global.
Farr F., Murphy B., O'Keeffe A. (2004), The Limerick corpus of Irish English: Design, description and application, Teanga, 21, 5-29.
Healy M. (2012), A corpus-based exploration of building repertoire, linguistically shared and specific, in the hotel management training sector, Inter-Varietal Applied Corpus Studies (IVACS) Conference, UK, Leeds, 21st-22nd June.
Kamhi-Stein L.D. (2000), Looking to the future of TESOL teacher education: Web-Elaine Riordan, Liam Murray-Sharing and collaborating between an online community of novice teachers: CMC in language teacher education based bulletin board discussions in a methods course, TESOL Quarterly, 34 (3), 423-455.
Kern R.G. (1995), Restructuring classroom interaction with networked computers: Effects on quantity and characteristics of language production, The Modern Language Journal, 79 (4), 457-476.
Lapadat J.C. (2002), Written interaction: A key component in online learning, Journal of Computer-Mediated Communication, 4.
Mishra P., Koehler, M. (2006), Technological pedagogical content knowledge: A framework for teacher knowledge, Teachers College Record, 108 (6), 1017-1054.
Nachmias R., Mioduser D., Oren A., Ram J. (2000), Web-supported emergen tcollaboration in higher education courses, Educational Technology& Society, 3 (3), 94-104.
Riordan E., Murray L. (2010), A corpus-based analysis of online synchronous and asynchronous modes of communication within language teacher education, Classroom Discourse, 1 (2), 181-198.
Scott M. (2004), Wordsmith Tools Version 4.0, Oxford, Oxford University Press.
Szabo Z., Schwartz J. (2011), Learning methods for teacher education: The use of online discussions to improve critical thinking, Technology, Pedagogy and Education, 20, 79-94.
Van Teijlingen E.R., Hundley V. (2001), The importance of pilot studies, Social Research Update, Department of Sociology, University of Surrey (Winter), URL: http://sru.soc.surrey.ac.uk/SRU35.html (accessed on 7th February 2012).
Vaughan E. (2010), Just say something and we can all argue then: Community and identity in the workplace talk of English language teachers, PhD Dissertation, Mary Immaculate College, Limerick, Ireland.
Wenger E. (1998), Communities of Practice. Learning, Meaning, and Identity, Cambridge, Cambridge University Press.
Wenger E. (2001), Supporting communities of practice. A survey of community-oriented technologies, Report to the Council of CIOs of the US Federal Government, URL: http://www.ewenger.com/tech/ (accessed on 10th April 2008).
These references have been extracted automatically and may have some errors. If you see a mistake in the references above, please contact info@learntechlib.org.