You are here: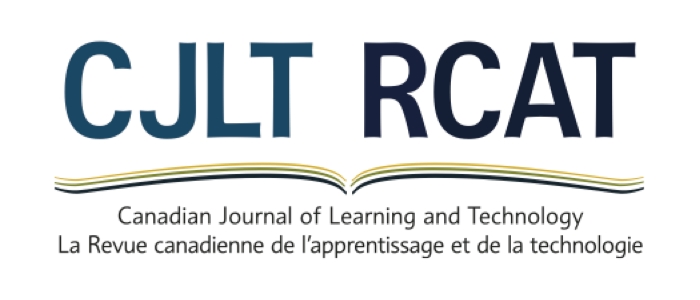 Describing and Enhancing Collaboration at the Computer
ARTICLE
CJLT Volume 28, Number 2, ISSN 1499-6677 e-ISSN 1499-6677 Publisher: Canadian Network for Innovation in Education
Abstract
Computer-based learning materials differ from classroom practice in that they seldom explicitly offer opportunities for collaboration. Despite this, students do collaborate, helping one another through the content and affordances of computer materials. But, in doing so, students meet with challenges. Paradoxically, these challenges can either inspire or discourage learning and second-language acquisition. This paper, based on research with twenty Hong Kong university students in a controlled experiment, evaluates challenges to collaboration at the computer as evidenced by discourse. The students were videotaped and their discourse transcribed and evaluated both qualitatively and quantitatively, according to a set of discourse markers created to describe collaborative, non-collaborative and ambiguous strategies. The paper begins by exploring the differences between collaboration and similar terms such as teamwork and cooperative learning then goes on to define collaboration in the context of computer-assisted learning. It ends by presenting practical suggestions for software designers, teachers and students to enhance collaboration at the computer.
Citation
Beatty, K. & Beatty, K. (2002). Describing and Enhancing Collaboration at the Computer. Canadian Journal of Learning and Technology / La revue canadienne de l'apprentissage et de la technologie, 28(2),. Canadian Network for Innovation in Education. Retrieved April 4, 2020 from https://www.learntechlib.org/p/43158/.
References
View References & Citations Map
Atkins, M.J. (1993). Theories of learning and multimedia applications: an overview. Research in Education, 8

Barnes, D. (1971). Language in the secondary classroom. In D. Barnes, J. Britton& H. Rosen (Eds.), Language, the learner and the school (Revised Edition). Harmondsworth (pp. 9-78). Harmondsworth,

Biggs, J. & Moore, P. (1993). The process of learning. (3rd ed.). New York: Prentice Hall.

Breen, M. (1998). Navigating the discourse: on what is learned in the language classroom. In W.A. Renandya & G. Jacobs (Eds.), Learners and Language Learning Vol. 39, (pp. 115-144). Singapore: SEAMEO Regional

Cazden, C.B. (1988) Classroom discourse: the language of teaching and learning. Portsmouth, N.H.: Heinemann.

Chandler, D. (1984). Young learners and the microcomputer. Milton Keynes: Open University Press.

Crook, C. (1994). Computers and the collaborative experience of learning. London: Routledge.

Cummins, J. & Sayers, D. (1995). Brave new schools: Challenging cultural illiteracy through global learning networks. New York: St. Martin's Press.

Derycke, A.C., Smith, C. & Hemery, L. (1995). Metaphors and interactions in virtual environments for open and distance education. Proceedings of the ED-MEDIA 95: World Conference on Educational Multimedia and Hypermedia, (pp. 181-186). Charlottesville, VA: Association for the Advancement of Computer Education.

Dillenbourg, P. (1999). What do you mean by "collaborative learning"? In P. Dillenbourg (Ed.), Collaborative learning: Cognitive and computational approaches, (pp. 1-20). Amsterdam: Pergamon.

Dillenbourg, P., Baker, M., Blaye A. & O'Malley, C. (1996). The evolution of research on collaborative learning. In P. Reimann& H. Spada (Eds). Learning in humans and machines. Towards an interdisciplinary learning science (pp. 189-211). London: Pergamon.

Dunkel, P. (1991). The effectiveness research on computer-assisted instruction and computer assisted language learning. In P. Dunkel (Ed.), Computer-assisted language learning and testing: Research issues and practice. New York: Newbury House.

Ellis, R. (1994). The study of second-language acquisition. Oxford: Oxford University Press.

Ellis, R. (1997). SLA research and language teaching. Oxford: Oxford University Press.

Gould, J.S. (1996). A constructivist perspective on teaching and learning in the language arts. In C.T. Fosnot (Ed.), Constructivism: Theory, perspectives and practice (pp. 92-102). New York: Teachers College Press.

Hannafin, M.J. (1984). Guidelines for using locus of instructional control in the design of computer-assisted

Hoogeveen, M. (1995). Towards a new multimedia paradigm: Is multimedia assisted instruction really effective? (pp. 348-353). Graz, Austria: Ed-Media 95.

Jacobs, G. (1998). Co-operative learning or just grouping students: The difference makes a difference. In W.A. Renandya & G. Jacobs (Eds.), Learners and Language Learning Vol. 39 (pp. 172-193). Singapore: SEAMEO

Kohonen, V. (1992). Experiential language learning: Second-language learning as co-operative learner education. In D. Nunan (Ed.), Collaborative language learning and teaching (pp. 14-39) Cambridge: Cambridge

Logan, R.K. (1995). The fifth language. Toronto: Stoddart Publishing.

McConnell, D. (1994). Implementing computer supported cooperative learning. London: Kogan Page. Murillo, D. Maximizing CALL effectiveness in the classroom. CAELL, 2 (2), 20-25.

Nunan, D. & Lamb, C. (1996) The self-directed teacher: Managing the learning process. Cambridge: Cambridge University Press.

Nunan, D. (Ed.) (1992). Collaborative language learning and teaching. Cambridge: Cambridge University Press. O'Neil Jr., H.F. (1994). Measurement of teamwork processes using computer simulation. Los Angeles: National Center for Research on Evaluation Standards and Student Testing.

Richards, J.C. (1997). Preparing language teachers for tomorrow's language classrooms. In G.M. Jacobs (Ed.), Language Classrooms of Tomorrow: Issues and Responses Vol. 38 (pp. 195-208). Singapore: SEAMEO

Seaton, W.J. (1993). Computer-mediated communication and students self-directed learning. Open Learning, 8 (2), 49-54.

Susman, E.B. (1998). Cooperative learning: A review of factors that increase the effectiveness of cooperative computer-based instruction. Educational Computing Research, 18 (4), 303-322.

Wegerif, R. & Dawes L. (1998). Encouraging exploratory talk Around computers. In M. Monteith (Ed.), IT for learning enhancement. (pp. 10-29). Exeter: England: Intellect.

Weizenbaum, J. (1976). Computer power and human reason: From judgment to calculation. San Francisco: W.H. Freeman.
These references have been extracted automatically and may have some errors. Signed in users can suggest corrections to these mistakes.
Suggest Corrections to References