You are here: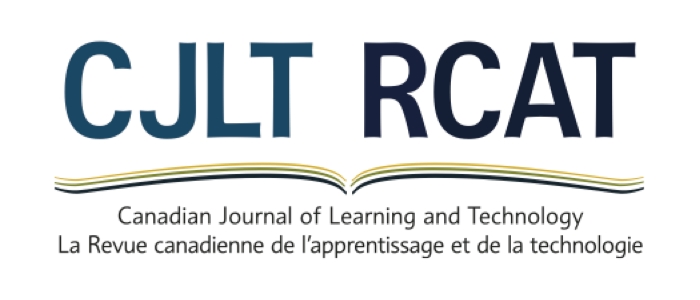 From ePortfolios to iPortfolios: The find, refine, design, and bind model
ARTICLE
Sebastian Foti, University of North Florida ; Gail Ring, Clemson University
CJLT Volume 34, Number 3, ISSN 1499-6677 e-ISSN 1499-6677 Publisher: Canadian Network for Innovation in Education
Abstract
During the past two decades, educational institutions around the world began formalizing the process of collecting student work as a means of showcasing student accomplishments and ultimately providing students a forum for reflecting on their accomplishments. In this article, the authors propose a redefinition of the electronic portfolio development process in a way that supports 21st century learning in which students FIND, REFINE, DESIGN, and BIND materials in the virtual "cloud". The authors believe that by incorporating Web 2.0 tools educators will have the opportunity to technologically integrate the students' school work into their general work flow, their entertainment flow, and ultimately into their web-based curricular work flow. Integration will hopefully reduce student resistance to portfolio development as an add-on activity and allow portfolios to become more personal, providing a richer connection between the students' lives, their education, and their paths to knowledge. Résumé : Au cours des deux dernières décennies, les établissements d'enseignement à travers le monde ont commencé à formaliser le processus de collecte des travaux des élèves comme moyen de présenter leurs réalisations et, à terme, de fournir aux élèves un forum leur permettant de réfléchir sur leurs réalisations. Dans cet article, les auteurs proposent de redéfinir le processus d'élaboration du portfolio électronique de manière à ce qu'il soutienne l'apprentissage du 21e siècle au sein duquel les élèves TROUVENT et AFFINENT les matériaux, CONÇOIVENT une présentation et LIENT les éléments ensemble dans le « nuage » virtuel. Les auteurs estiment qu'incorporer les outils Web 2.0 donnera aux éducateurs l'occasion d'intégrer technologiquement les travaux scolaires des élèves dans leur flux de travaux général, leur flux de divertissement et, enfin, dans leur flux de travaux scolaires en ligne. Cette intégration, nous l'espérons, permettra de diminuer la réticence des étudiants à l'égard des portfolios en présentant leur élaboration comme une activité complémentaire; les portfolios pourraient ainsi devenir plus personnels et constituer un lien plus riche entre la vie des élèves, leur éducation, et leurs chemins vers la connaissance.
Citation
Foti, S., Ring, G. & Ring, G. (2009). From ePortfolios to iPortfolios: The find, refine, design, and bind model. Canadian Journal of Learning and Technology / La revue canadienne de l'apprentissage et de la technologie, 34(3),. Canadian Network for Innovation in Education. Retrieved April 18, 2021 from https://www.learntechlib.org/p/42938/.
References
View References & Citations Map
Avraamidou, L., & Zembal-Saul, C. (2003). Exploring the influence of web-based portfolio development on learning to teach elementary science. Journal of Technology& Teacher Education, 11(3), 415-442.

Barrett, H. (2008). Lifelong, life wide ePortfolios. Keynote address at ePortfolio Montreal, May 7, 2008. PDF Version of Presentation (5.5 MB)

Batson, T. (2008). EPortfolios: Hot once again. Retrieved May 22, 2008, from http://campustechnology.com/articles/60933/

Becta (2007) Impact study of e-Portfolios on learning. [White paper, electronic version] June, 2007. Retrieved November 22, 2008 from http://partners.becta.org.uk/upload-dir/downloads/page_documents/research/impact_study_eportfolios.pdf

Brown, J.S., & Duguid, P. (2002). The social life of information. Boston, MA: Harvard Business School Press.

Cole, M. (2008) Using Wiki technology to support student engagement: Lessons from the trenches. Computers in Education. Retrieved October 18, 2008 from http://www.citeulike.org/user/drakkos69/article/3244230

Cych, L. (2006). Social networks. Emerging technologies for learning (March), 32–40.

Jafari, A., McGee, P., & Carmean, C. (2006). A research study on current CMS & Next generation eLearning environment. [White paper, electronic version] Retrieved November 22, 2008 from Next Generation Course Management System Group website: http://ngcmsgroup.epsilen.com/ Groups/PublicHome.aspx

Kain, D. (2003). Teacher centered versus student centered: Balancing constraint and theory in the composition classroom. Pedagogy. 3(1), 104-108.

King, I.C. (2003). Examining middle school inclusion classrooms through the lens of learner-centered principles. Theory into Practice. 42(2), 151-158.

McLoughlin, C., & Luca, J. (2002). Experiential learning online: The role of asynchronous communication tools. In P. Barker& S. Rebelsky (Eds.), Proceedings of the World Conference on Educational Multimedia. Denver.

Milman, N.B. (2005). Web-based digital teaching portfolios: fostering reflection and technology competence in preservice teacher education students. Journal of Technology and Teacher Education, 13(3), 373.

O'Reilly, T. (2005). What is Web 2.0: Design patterns and business models for the next generation of software. Retrieved May 15, 2008 from http://www.oreillynet.com/pub/a/oreilly/tim/news/2005/09/30/what-is-web-20.html?page=1

Paulson, F.L., Paulson, P.R., & Meyer, C. (1991). What makes a portfolio a portfolio? Educational Leadership, 48(5), 60-63.

Pierson, M.E., & Kumari, S. (2000). Web-based student portfolios in a graduate instructional technology program. New York: ERIC Clearinghouse. (ERIC No. ED444515)

Reinhold, S. (2006). WikiTrails: Augmenting wiki structure for collaborative, interdisciplinary learning. Proceedings of the 2006 International Symposium on Wikis, Odense, Denmark: August 21–23, 47–58.

Sigala, M. (2007). Integrating Web 2.0 in e-learning environments: a socio-technical approach. International Journal of Knowledge and Learning, 3(6), 628–648.

Schön, D. (1995). The reflective practitioner: How Professionals Think in Action. New York: Basic Books.

Shulman, L. (1998). Teacher portfolios: A theoretical act. In N. Lyons (Ed.), With portfolio in hand: Validating the new teacher professionalism. New York: Teachers College Press.

Waters, J. (2008). In the driver's seat. THE Journal. Retrieved November 16, 2008 from http://www.thejournal.com/articles/22735_7

Wieseman, K. (2004). Mandated standards-based electronic portfolio assessment for measuring preservice teacher quality. Paper presented at the annual conference of the American Educational Research Association, San Diego, CA.

Wikipedia (2008). Social software. Retrieved November 22, 2008 from: http://en.wikipedia.org/wiki/Social_software

Woodward, H., & Nanlohy, P. (2004). Digital portfolios factor fashion? Assessment and Evaluation in Higher Education, 29(2), 227-238.
These references have been extracted automatically and may have some errors. Signed in users can suggest corrections to these mistakes.
Suggest Corrections to References
Cited By
View References & Citations Map
Jennifer Munday

International Journal of ePortfolio Vol. 7, No. 2 (2017) pp. 175–185

Juliana Chau, Gary Cheng & Gary Cheng

Australasian Journal of Educational Technology Vol. 26, No. 7 (Jan 01, 2010)
These links are based on references which have been extracted automatically and may have some errors. If you see a mistake, please contact info@learntechlib.org.