You are here: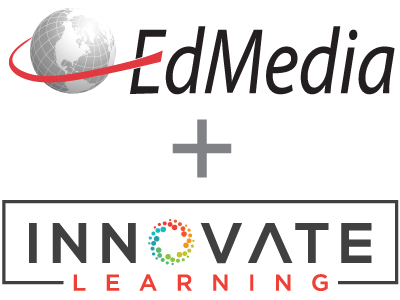 Transforming Learning Using ICT- A Time to Move Away From Integration Models
PROCEEDINGS
EdMedia + Innovate Learning, in Vienna, Austria ISBN 978-1-880094-65-5 Publisher: Association for the Advancement of Computing in Education (AACE), Waynesville, NC
Abstract
A key focus in Australian schools and higher education settings has been on the use of e-Learning tools and information and communication technology (ICT) integration using authentic assessment. The implementation of these approaches challenges us to use ICT as a tool for change. Much of what is referred to as integration is more accurately described by Finger, Russell, Jamieson-Proctor and Russell (2007), as transformation. However, there is a critical difference between ICT transformation that demonstrates change and its reasons, and ICT integration. Each comes from differing paradigms with varying outcomes and directions. This paper critically examines practices and strategies for ICT use in the classroom and explores the differences between the two paradigms, namely the integrative and transformative models from a higher education perspective. This paper challenges the 'integrative' model of technology use that encourages the acquisition of skills in contrast to the 'transformational' model where ICT is used to enhance the curriculum content.
Citation
Tanti, M. & Matekja, D. (2008). Transforming Learning Using ICT- A Time to Move Away From Integration Models. In J. Luca & E. Weippl (Eds.), Proceedings of ED-MEDIA 2008--World Conference on Educational Multimedia, Hypermedia & Telecommunications (pp. 3079-3084). Vienna, Austria: Association for the Advancement of Computing in Education (AACE). Retrieved May 25, 2019 from https://www.learntechlib.org/primary/p/28808/.
Keywords
References
View References & Citations Map
Agostinho, S., Oliver, R., Harper, B., Hedberg, J., & Wills, S. (2002). Tool to evaluate the potential for an ICT-based learning design to foster "high-quality learning". Paper presented at the ASCILLITE 2002.
Australian Catholic University. (2007). Strategic plan for online teaching and learning 2007-2009: Australian Catholic University.
Boud, D., & Prosser, M. (2001). Key principles for high quality student learning in higher education from a learning perspective. Paper presented at the AUTC funded project: Information and Communication Technologies and Their Role in Flexible Learning. From http://www.autc.gov.au/index.htm
Bransford, J. (2000). How people learn: brain, mind, experience and school. Washington, D.C.: National Academy Press.
Bullen, M., & Janes, D. (2007). Making the transition to e-learning: strategies and issues. Hershey, PA: Information Science.
Coupal, L. (2004). Constructivist learning theory and human capital theory: shifting political and educational frameworks for teachers' ICT professional development. British Journal of Educational Technology, 35(5).
De la Harpe, B., Kulski, M., & Radloff, A. (1999). How best to document the quality of our teaching and our students' learning? Paper presented at the 8th Annual Teaching Learning Forum. From http://lsn.curtin.edu/tlf/tlf1999/delaharpe.html
Dias, L., & Atkinson, S. (2001). Technology integration-best practices-Where do teachers stand? International Electronic Journal for Leadership in Learning, 5(10).
Finger, G., Russell, G., Jamieson-Proctor, R., & Russell, N. (2007). Transforming Learning with ICT. Sydney: Pearson Education Australia.
Fluck, A. (2003). Integration or Transformation? Across-national study of information and communication technology in school education., University of Tasmania, Tasmania.
Jonassen, D. (2000). Computers in the classroom: mindtools for critical thinking. Columbus, OH: Merrill Prentice Hall.
Khan, B. (2006). The People–Process–Product Continuum in E-Learning: The E-Learning P3 Model. Educational Technology, 44(5).
Lloyd, M. (2006). Towards a definition of the integration of ICT in the classroom. Brisbane: Queensland University.
Margules, D. (1996). Instructivism or Constructivism: which end of the continuum? Paper presented at the Academic Conference 'From Virtual to Reality'. From http://auc.uow.edu.au/conf/Conf96/Papers/MarguleD.html
MCEETYA. (2005). Learning in an online world. Carlton South: Victoria: Ministerial Council on Education, Employment, Training and Youth Affairs.
Newhouse, P., Trinidad, S., & Clarkson, B. (2002). Teacher Professional ICT Attributes-A Framework. Perth: Western Australian Department of Education.
Reimann, P., & Goodyear, P. (2004). ICT and pedagogy stimulus paper. Sydney: University of Sydney.
Roblyer, M.D. (2003). Integrating Educational Technology into Teaching (Third ed.). Upper Saddle River, NJ: Merrill Prentice Hall.
Somekh, B. (2007). Pedagogy and learning with ICT: researching the art of innovation London: Merrill Prentice Hall.
Weert, T., & Tatnall, A. (2005). Information and communication technologies and real-life learning: new education for the knowledge society. New York: International Federation for Information Processing.
These references have been extracted automatically and may have some errors. Signed in users can suggest corrections to these mistakes.
Suggest Corrections to References