You are here:
El liderazgo directivo en la hermenéutica micropolítica de la escuela
Spanish
Managerial leadership in the micro hermeneutics school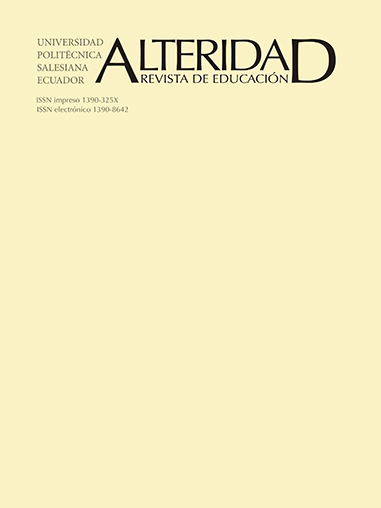 Alteridad Volume 11, Number 1, ISSN 1390-8642 Publisher: Universidad Politécnica Salesiana of Ecuador, Quito, Ecuador
Abstract
El presente trabajo analiza la micropolítica de la escuela para conocer, con singularidad, la organización de cada centro, así como los conflictos que se generan entre sus miembros. En este escenario, el liderazgo directivo cobra mayor importancia, pues permite fomentar el diálogo y la búsqueda de consensos. Esta dinámica política guarda estrecha relación con la estructura macro de orden jerárquico, racional y lineal. Por tanto, estudiarla es llegar al núcleo de la vida institucional, desvelar los motivos ocultos que originan sus conflictos, descubrir su base constitutiva, sus juegos de intereses, la manera en que el poder se nutre bajo el paraguas de las normativas y es matizado por sus protagonistas. No obstante, las luchas de poder por intereses comunes o particulares dan lugar a la formación de grupos o coaliciones en defensa de sus objetivos. Considerando lo expuesto, la revisión bibliográfica  se complementa con datos obtenidos en entrevistas realizadas en profundidad a un grupo heterogéneo, formado por directores,  profesores, padres de familia, jefes de estudios y estudiantes de tres centros escolares públicos de la ciudad de Zaragoza (España) como parte de una investigación en curso. Esta confrontación entre las fuentes consultadas y  las opiniones obtenidas revela que el liderazgo del director, si lo tiene, juega un papel importante para impulsar el diálogo en los centros, porque propicia canales de participación y busca consensos de beneficio colectivo, sin que esto suponga blindar la democracia.
English/English:
In the present work, we analyze in a theoretical way the micropolitics of the centers for understand the singularity in the school organization. The literature review leads to the conclusion, that while the struggle comply an important role in the political arena of the schools, this can be manage through the executive leadership, it's a necessary role but not ever assumable by the school principals, on the other hand, the reflection around the issue put the conflict and leadership as a factor that influence in the social fabric of an educational community. The first is inherent in the daily dynamics of every organization, including the school, because emerges from the interaction between people, each one with ideologies and ways to read the reality in different way. Situation that gives rise to diversity of goals on which we must agree. Therefore, the negotiation that leads to the parties to reach agreement requires the exercise of a leadership from the management function to avoid polarization of ideas and eventually work for the common good. That is to say the leadership in the managerial function is an important role for promote dialogue in the centers, for motivate to the members of the educational community to participate in future changes, in benefit of all and not a few, and achieve consensus without this implying shield the democracy. 
Citation
Rodriguez, E. (2016). El liderazgo directivo en la hermenéutica micropolítica de la escuela. Alteridad, 11(1), 231-239. Quito, Ecuador: Universidad Politécnica Salesiana of Ecuador. Retrieved April 22, 2019 from https://www.learntechlib.org/p/195385/.