You are here: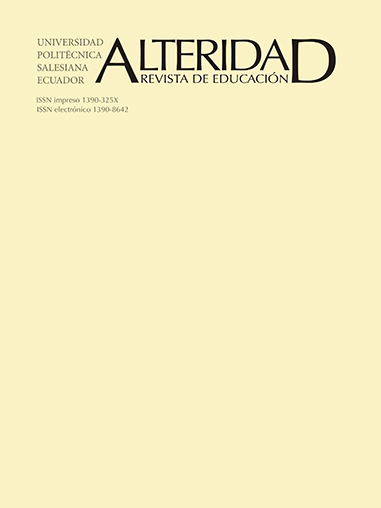 Service-learning as a strategy to educate in citizenship
Español/Spanish

El aprendizaje-servicio (APS) como estrategia para educar en ciudadanía
Português/Portuguese

A aprendizagem – serviço (ApS) como estratégia para educar à cidadania

Alteridad Volume 12, Number 1, ISSN 1390-8642 Publisher: Universidad Politécnica Salesiana of Ecuador, Quito, Ecuador
Abstract
Educate to be an active part of citizenship means that everyone has the possibility to be part of public matters and to acquire the civic competencies. Because of this, it is essential to promote the participation of children and teenagers (NNA) in public and community matters, generating a genuine, authentic and committed involvement. Regarding this issue, the Learning Services Projects, happen to be a methodology that promotes and stimulates the participation of the NNA, putting together the learning based on the experience, the curricula and the social commitment, letting them be the protagonists who change and improve their environment. Therefore, an application of the APS Project was made with the objective to analyze the ways and levels of participation of a group of 3rd grade students (12 women and 8 men) of a middle school in the metropolitan area of Queretaro, Mexico. To gather the information we used field observation and a diary to keep a register of every event; we also used an Evaluation Rubric for APS Projects. The results showed that the students participated in a genuine manner, this being a projective participation, because they become responsible agents of the project, making relevant decisions, activities that are the basis for an active citizenship.
Español/Spanish:
Formar para la ciudadanía activa implica la posibilidad de participar en los asuntos públicos para adquirir las competencias ciudadanas. Por ello resulta indispensable promover la participación de los niños, niñas y adolescentes (NNA) en asuntos públicos comunitarios, generando una participación genuina y comprometida. A este respecto, los proyectos de Aprendizaje – Servicio (APS) resultan ser una metodología que promueve y estimula la participación de los NNA, uniendo el aprendizaje basado en la experiencia, contenidos curriculares y el compromiso social, permitiéndoles ser protagonistas activos al implicarse en las necesidades de su entorno con la finalidad de mejorarlo. A partir de lo anterior, se realizó la aplicación de un proyecto de APS con el objetivo de analizar las formas y grados de participación que muestran los alumnos de un grupo de tercer grado (12 mujeres y 18 hombres) de una escuela secundaria de la zona metropolitana de Querétaro, México, al implicarse en un proyecto de APS. Se recopiló la información utilizando la observación participante y el diario de campo para registrar lo acontecido durante el proyecto así como la aplicación de una rúbrica de evaluación de proyectos de APS. Los resultados mostraron que los estudiantes participaron de manera genuina, siendo un tipo de participación proyectiva puesto que intervinieron en todas sus fases, tomando decisiones sobre todos los aspectos relevantes del mismo, acciones que son consideradas base para la construcción de la ciudadanía activa.
Español/Spanish PDF
Português/Portuguese:
Formar para a cidadania ativa implica a possibilidade de participar nos assuntos públicos para adquirir as competências cidadãs. Por isso resulta indispensável promover a participação das crianças e adolescentes em assuntos públicos comunitários, gerando uma participação genuína e comprometida. A este respeito, os projetos de Aprendizagem – Serviço (ApS) resultam ser uma metodologia que promove e estimula a participação das crianças e adolescentes, unindo a aprendizagem baseada na experiência, conteúdos curriculares e o compromisso social, permitindo-lhes ser protagonistas ativos ao preocupar-se com as necessidades do seu entorno com a finalidade de melhorá-lo. A partir do anterior, se realizou a aplicação de um projeto de ApS com o objetivo de analisar as formas e graus de participação demonstrados por alunos de um grupo de terceiro ano (12 mulheres e 18 homens) de uma escola média da zona metropolitana de Querétaro, México, ao envolver-se em um projeto de ApS. A informação foi sintetizada utilizando-se a observação participante e o diário de campo para registrar o acontecido durante o projeto assim como a aplicação de uma rubrica de avaliação de projetos de ApS. Os resultados mostraram que os estudantes participaram de maneira genuína, sendo um tipo de participação projetiva, visto que interviram em todas suas fases, tomando decisões sobre todos os aspectos relevantes do mesmo, ações que são consideradas base para a construção da cidadania ativa.
Citation
Pérez Galván, L. & Ochoa Cervantes, A. (2017). Service-learning as a strategy to educate in citizenship. Alteridad, 12(1), 175-187. Quito, Ecuador: Universidad Politécnica Salesiana of Ecuador. Retrieved April 9, 2020 from https://www.learntechlib.org/p/195294/.