You are here: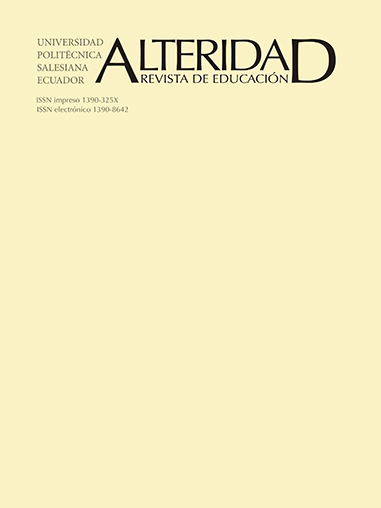 The reading teacher as a trainer of citizens
Español/Spanish

El docente lector como formador de ciudadanos
Português/Portuguese

O professor leitor como formador de cidadãos

Alteridad Volume 12, Number 1, ISSN 1390-8642 Publisher: Universidad Politécnica Salesiana of Ecuador, Quito, Ecuador
Abstract
The present is a qualitative study by theorizing; from the approach of the problem of reading as a basic resource for the formation of citizens through education. It starts from the definition of the readingcapacity; followed by the revision of the general characteristics of the reading brain proposed by Stalisnas Dehaene (2014); as well as the revolutions in the materials and devices used for the writing; besides the changes in the form of reading; from Sumerian tablets to digital technologies. The process of Education for Development and the distinctive features of digital citizenship are presented; which are: immediacy in the production; transmission and reception of messages; interactivity between receiver and producer; the multiauthoritarian; which gives birth to "the prosumers"; the accessibility of the environment; freedom of expression; the democratization of access and the appropriation of a public space. All this allows contextualizing new forms of reading and new profiles of readers; as well as thegeneration of virtual reading spaces where communities of dialogue and exchange are formed.The study reaches the teachers and their reading biographies; which largely define their competence to encourage reading among their students and their ability to mobilize them towards citizen responsibility through reading.
Español/Spanish:
El presente es un estudio cualitativo por teorización, que discurre desde el planteamiento del problema de la lectura como recurso básico para la formación de ciudadanos a través de la educación. Se parte de la definición de la capacidad lectora, seguida de la revisión de las características generales del cerebro lector propuestas por Stalisnas Dehaene (2014), así como las revoluciones en los materiales y dispositivos utilizados para la escritura, además de los cambios en las formas de leer, desde las tablillas sumerias hasta las tecnologías digitales. Se plantea el proceso de Educación para el Desarrollo y los rasgos distintivos de la ciudadanía digital, que son: inmediatez en la producción, transmisión y recepción de mensajes; la interactividad entre receptor y productor; la multiautoría, que da nacimiento a "los prosumidores"; la accesibilidad del medio; la libertad de expresión; la democratización del acceso y la apropiación de un espacio público. Todo esto permite contextualizar las nuevas formas de lectura y los nuevos perfiles de lectores, así como generar los espacios virtuales de lectura en donde se forman comunidades de diálogo e intercambio. El estudio llega hasta los docentes y sus biografías lectoras, las cuales definen, en gran medida, su competencia para fomentar la lectura entre sus estudiantes y su capacidad de movilizarlos hacia la responsabilidad ciudadana a través de la lectura.
Español/Spanish PDF
Português/Portuguese:
O presente é um estudo qualitativo por teorização, que discorre a partir do problema da leitura como recurso básico para a formação de cidadãos através da educação. Parte-se da definição da capacidade de leitura, seguida pela visão das características gerais do cérebro do leitor propostas por Stalisnas Dehaene (2014), assim como as revoluções nos materiais e dispositivos utilizados para a escrita, além das mudanças nas formas de ler, desde as tabelas sumerianas às tecnologias digitais. Se esboça o processo de Educação para o Desenvolvimento e os traços distintivos da cidadania digital, que são: rapidez na produção, transmissão e recepção de mensagens; a interatividade entre receptor e produtor; a multi-autoria, que dá espaço aos "prosumidores"; a acessibilidade do meio; a liberdade de expressão; a democratização do acesso e a apropriação de um espaço público. Tudo isso permite contextualizar as novas formas de leitura e os novos perfis de leitores, assim como gerar os espaços virtuais de leitura a partir de onde se formam comunidades de diálogo e intercambio. O estudo chega aos docentes e suas biografias leitoras, as quais definem, em boa parte, sua competência para fomentar a leitura entre seus estudantes e sua capacidade de mobilizá-los no sentido de uma responsabilidade cidadã através da leitura.
Citation
Brand Barajas, J. (2017). The reading teacher as a trainer of citizens. Alteridad, 12(1), 165-174. Quito, Ecuador: Universidad Politécnica Salesiana of Ecuador. Retrieved April 10, 2020 from https://www.learntechlib.org/p/195291/.