You are here: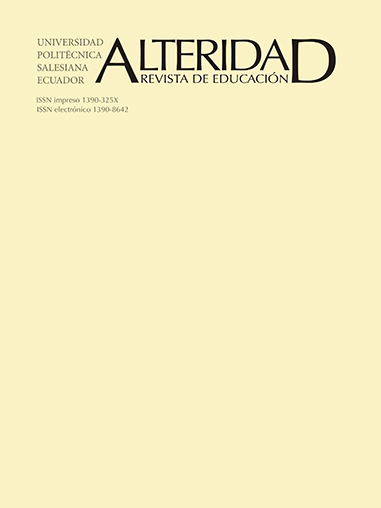 Thesis or degree-by-examination? A Dilemma for Research Training
Español/Spanish

¿Tesis o examen de grado? Un dilema para la formación investigativa
Português/Portuguese

Tese ou exame de grau? Um dilema para a formação do pesquisador

Alteridad Volume 12, Number 1, ISSN 1390-8642 Publisher: Universidad Politécnica Salesiana of Ecuador, Quito, Ecuador
Abstract
Nursery Schools in the ecuadorian educational system urges teachers with a solid research training that allows them to have a positive impact on the new educational contexts. One factor linked to this process is the preparation of the degree work or the degree examination that the student must perform prior to graduation. The aim of this study is to determine the extent to which the research training of Nursery School at the Universidad Politécnica Salesiana is affected by the application of the new regulations that include a final test as an alternative to a research in order to obtain an undergraduate degree. For this, the process of graduation of this career in the academic period (2015-2016) is analyzed through some principles of critical pedagogy.The data reveal, on one hand, the increase of efficiency with the application of the exams of degree; and, on the other, the reduction of investigative experiences of the degree work, which is affecting the research training of future nursery teachers. The conclusion reached is that research training must be signified by the career and within it the research work needs to be repotenced to fulfill its educational goals.
Español/Spanish:
El nivel inicial del sistema educativo ecuatoriano urge de docentes con una sólida formación investigativa que les permita incidir de manera positiva en los nuevos contextos educativos. Un factor vinculado a este proceso es la elaboración del trabajo de titulación o el examen de grado que el estudiante debe rendir previo a su graduación. El objetivo de este estudio es determinar en qué medida se afecta la formación investigativa de los estudiantes de la Mención Parvularia de la Universidad Politécnica Salesiana con la aplicación de la nueva normativa que incluye el examen de grado como una alternativa al trabajo de titulación. Para ello se analiza el proceso de graduación de esta carrera en el período académico (2015-2016) a partir de algunos principios de la pedagogía crítica. Los datos revelan, por un lado, el incremento de la eficiencia terminal con la aplicación de los exámenes de grado; y, por otro, la disminución de experiencias de carácter investigativo propias de los trabajos de titulación, con lo cual se ve afectada la formación investigativa de los futuros docentes parvularios. La conclusión a la que se llega es que esta formación debe ser re-significada por la carrera y dentro de ella, el trabajo de titulación necesita ser repotenciado para que cumpla sus objetivos educativos.
Español/Spanish PDF
Português/Portuguese:
O nível inicial do sistema educativo equatoriano necessita de docentes com uma sólida formação investigadora que lhes permita incidir de modo positivo nos novos contextos educativos. Um fator vinculado a esse processo é a elaboração de Trabalho de Conclusão de Curso (TCC), ou o exame de grau, que o estudante deve prestar por ocasião de sua graduação. O objetivo deste estudo é determinar em que medida a formação de investigativa dos estudantes da Educação Infantil da Universidade Politécnica Salesiana é afetada com a aplicação da nova normativa que inclui o exame de grau como uma alternativa ao trabalho de titulação. Para tanto se analisa o processo de graduação deste curso no período acadêmico (2015-2016) a partir de alguns princípios da pedagogia critica. Os dados revelam, por um lado o aumento da eficiência final com a aplicação dos exames de grau; e, por outro, a diminuição de experiências de caráter investigativo próprias dos trabalhos de titulação, com o qual está envolvida a formação investigativa dos futuros docentes do ensino infantil. A conclusão a que se chega é que esta formação deve ser ressignificada pela carreira e dentro dela, o trabalho de titulação necessita ser re-potencializado para que cumpra seus objetivos educativos.
Citation
Romero-Ortega, A. & Sanz Cabrera, T. (2017). Thesis or degree-by-examination? A Dilemma for Research Training. Alteridad, 12(1), 238-247. Quito, Ecuador: Universidad Politécnica Salesiana of Ecuador. Retrieved April 9, 2020 from https://www.learntechlib.org/p/195290/.