You are here: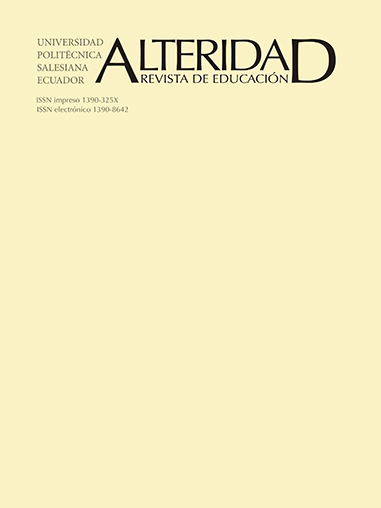 Educating the Educator: Hispanic women in a new social context
Español/Spanish

Alfabetizando al alfabetizador: Mujeres hispanas en un nuevo contexto social.
Português/Portuguese

Alfabetizando o alfabetizador: mulheres hispânicas em um novo contexto social

Alteridad Volume 12, Number 1, ISSN 1390-8642 Publisher: Universidad Politécnica Salesiana of Ecuador, Quito, Ecuador
Abstract
Abstract The Hispanic population in the United States continues growing steadily and rapidly. This fertile and constant growth has reorganized the country's social milieu and exposes immigrants to social, linguistic and educational realities that were previously unknown. Hispanic immigrant English Language Learners are immersed in a completely unfamiliar academic system, and face linguistic challenges that must be overcome if they are to be successful in school. In the same way, immigrant parents undergo similar challenges in their work environments in which language and other social barriers impede their professional success and involvement in their children's academic life. This work presents the experiences of Hispanic students and mothers in the United States through the eyes of four Hispanic immigrant women. In depth interviews were used to test for the impact that parental involvement has in the academic development of Hispanic students in the United States. 
Español/Spanish:
La población hispana en Estados Unidos continúa aumentando establemente y de forma rápida. Este incremento fértil y constante de hispanos ha reorganizado el matiz social del país y expone a los inmigrantes a unas realidades sociales, lingüísticas y educativas no conocidas anteriormente. Estudiantes inmigrantes hispanos aprendices del idioma inglés son inmersos en un sistema educativo completamente desconocido y se enfrentan a un reto lingüístico que necesitan rebasar de forma diligente para tener éxito en sus escuelas. A su vez, los padres inmigrantes atraviesan otros retos similares en sus ambientes laborales en los cuales el idioma y otros componentes sociales les dificultan el éxito profesional y el involucramiento en las escuelas de sus hijos. Este artículo expone las realidades de los estudiantes hispanos y las madres hispanas en Estados Unidos a través de los ojos de cuatro madres hispanas inmigrantes. Mediante la entrevista profunda, este trabajo expone el impacto que tiene la participación parental en el desenvolvimiento escolar y académico de los estudiantes hispanos en Estados Unidos. 
Español/Spanish PDF
Português/Portuguese:
A população hispânica nos Estados Unidos continua aumentando estavelmente e de forma rápida. Este aumento fértil e constante de hispânicos reorganizou a matriz social do país e expos os imigrantes a umas realidades sociais, linguísticas e educativas antes não conhecidas. Estudantes imigrantes hispânicos aprendizes do idioma inglês encontram-se imersos em um sistema educativo completamente desconhecido e enfrentam um desafio linguístico que necessitam conseguir de forma diligente para obter êxito em suas escolas. Por sua vez, os pais imigrantes atravessam outros desafios similares em seus ambientes de trabalho, nos quais o idioma e outros componentes sociais lhes dificultam o êxito profissional e o envolvimento na escola de seus filhos. Este artigo expõe as realidades dos estudantes hispânicos e das mães hispânicas nos Estados Unidos, vistas através dos olhos de quatro mães hispânicas imigrantes. Mediante a entrevista em profundidade, este trabalho expõe o impacto que tem a participação parental no desenvolvimento escolar e acadêmico dos estudantes hispânicos nos Estados Unidos.
Citation
Toledo López, A. & Pentón Herrera, L. (2017). Educating the Educator: Hispanic women in a new social context. Alteridad, 12(1), 68-78. Quito, Ecuador: Universidad Politécnica Salesiana of Ecuador. Retrieved April 7, 2020 from https://www.learntechlib.org/p/195286/.