You are here: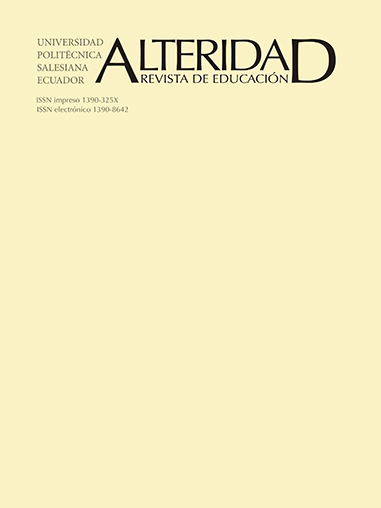 Photo-elicitation in lifelong learning of teachers of elementary education
Español/Spanish

La foto-elicitación en la formación permanente de maestros de educación primaria
Português/Portuguese

A foto-elicitação na formação permanente de professores de educação primária

Alteridad Volume 12, Number 1, ISSN 1390-8642 Publisher: Universidad Politécnica Salesiana of Ecuador, Quito, Ecuador
Abstract
In this article we present and analyze a plan of teacher training. This plan is promoted and supported in the photographs taken by two teachers in their classrooms. Subsequently, through two focus groups, one for each class, we reflect and debate on the content of the photographs. This study is based on three areas of theorizing: teacher reflection on own practice, the essence of experiential image and multimodal literacy of teacher and, finally, the value of the photo- elicitation as a means of storytelling. The question generator that plan was how to materialize represent delayed or experiential image of the teacher to encourage description and, therefore, understanding the experiences of your practice? The response we obtained using photo - elicitation is helping us to further investigate with rigor in human experiences unrelated to the hegemonic visual communication methodologies. Among its benefits within the teacher training, is to recreate the action out of what happened in it and, in parallel, offering the possibility of making visible and discuss conflicts and ethical dilemmas present in it. Thus, the photo- elicitation situations are warm to analyze how and why a teacher has made a decision and no other, because when asked by a choice made is forced to explain his theories, beliefs, values, attitudes.., and only when made explicit, when subjected to public scrutiny, is aware of them. We note that the change in teachers is only possible when it is aware of his theories, beliefs ... and what they entail in teaching.
Español/Spanish:
Este artículo versa sobre un plan de formación permanente del profesorado promovido y apoyado en las fotografías realizadas por dos maestras en sus aulas para, posteriormente, en dos grupos de discusión, uno para cada clase, reflexionar y debatir sobre el contenido de las mismas (foto-elicitación). Los fundamentos de dicho plan se asientan en tres ámbitos de teorización: la reflexión del profesorado sobre la propia práctica, la unión de la imagen experiencial con la toma de fotos por los docentes y, finalmente, el valor de la foto-elicitación como medio de narración. El interrogante generador de esta propuesta de desarrollo profesional de maestros fue ¿cómo poder materializar o representar en diferido la imagen experiencial docente sobre las vivencias en su aula? Como respuesta, se analiza si la foto-elicitación recrea fuera de la acción lo que ocurrió en ella, y hace visibles los conflictos y dilemas éticos presentes en el aula. Se concluye que estas sesiones fotográficas son válidas para analizar la toma de decisiones de ambas maestras, porque al preguntarles por ellas se les obliga a explicitar y, por lo tanto, a ser conscientes de sus teorías, creencias y valores. Se observa que el cambio en el profesorado solo es posible cuando este llega a ese nivel de conciencia y de lo que implica en su práctica docente.
Português/Portuguese:
Este artigo versa sobre um plano de formação permanente de professores promovido e apoiado nas fotografias realizados por dois professores em suas aulas para, posteriormente, em dois grupos de discussão, um para cada classe, refletir e debater sobre o conteúdo das mesmas (foto-elicitação). Os fundamentos de tal plano se baseiam em três âmbitos de teorização: a reflexão dos professores sobre a própria prática, a união da imagem experiencial com a tomada de fotos pelos docentes e, finalmente, o valor da foto-elicitação como meio de narração. A questão geradora desta proposta de desenvolvimento profissional de professores foi: como poder materializar ou representar posteriormente a imagem experiencial docente sobre as vivencias em sua aula? Como resposta, se analisa se a foto-elicitação recria fora da ação o que ocorreu nela, e torna visíveis os conflitos e dilemas éticos presentes na sala de aula. Conclui-se que estas sessões fotográficas são válidas para analisar a tomada de decisões de ambas as professoras, pois ao perguntar por elas se obriga a explicitar e, portanto, a ser conscientes de suas teorias, crenças e valores. Observa-se que a mudança no professorado só é possível quando este chega a esse nível de consciência e sobre o que implica para sua prática docente.
Citation
Bautista García-Vera, A. (2017). Photo-elicitation in lifelong learning of teachers of elementary education. Alteridad, 12(1), 202-214. Quito, Ecuador: Universidad Politécnica Salesiana of Ecuador. Retrieved April 10, 2020 from https://www.learntechlib.org/p/195285/.