You are here: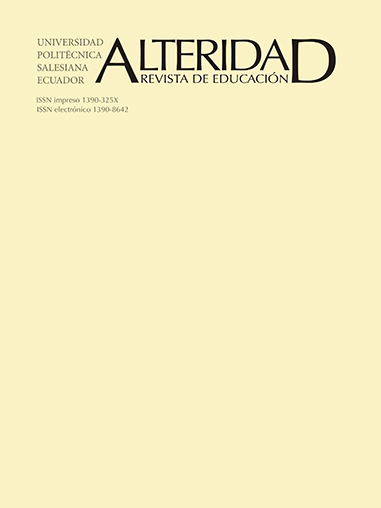 Parents and schools that grow in the 21st century
Español/Spanish

Padres y escuelas que hacen crecer en el siglo XXI
Português/Portuguese

Pais e escolas que fazem crescer no século XXI

Alteridad Volume 12, Number 1, ISSN 1390-8642 Publisher: Universidad Politécnica Salesiana of Ecuador, Quito, Ecuador
Abstract
The University Pontificia of Salamanca a few years ago has offered a program of parental training for families who come to the Master of clinical intervention of Logopedia, by teacher Dolors Rivas Serrat. Children with disorders in language and development receive speech-language intervention. Parents participate in a training program every week and the children receive educational guidance, intervention in learning problems and study support. Some of the issues addressed between parents and education professionals are covered in this article and have to do with changes in the Spanish family, new family models or lack of authority in educational relationships established in the family And at school. The work we do is developed through a parent school. This methodology is indispensable in the family formation processes. They are privileged spaces of participation and learning, constitute an adequate methodology for educators, counselors and other professionals of education. Pedagogy, as normative science, explains the most adequate family models, the risks of certain educational styles or the importance of authority in family-school relations. These are some of the conclusions that we have reached and which we set out below.
Español/Spanish:
Desde hace unos años, la Universidad Pontificia Salamanca ofrece un programa de formación parental a las familias que acuden al Master de intervención Clínica de Logopedia, dirigido por la profesora Dolores Rivas Serrat. Los niños que presentan algún trastorno en la adquisición y desarrollo del lenguaje reciben intervención logopédica. Semanalmente, los padres participan en un programa formativo y los hijos reciben, además, orientación educativa, intervención en los problemas de aprendizaje y apoyo al estudio. Algunas de las cuestiones tratadas entre los padres y los profesionales de la educación se recogen en este artículo y tienen que ver con los cambios en la familia española, los nuevos modelos familiares o la falta de autoridad en las relaciones educativas que se establecen en la familia y en la escuela. El trabajo que realizamos se desarrolla mediante una escuela de padres. Esta metodología resulta indispensable en los procesos formativos familiares. Son espacios privilegiados de participación y aprendizaje, constituyen una adecuada metodología para los educadores, los orientadores y otros profesionales de la educación. La Pedagogía, como ciencia normativa, nos explica los modelos familiares más adecuados, los riegos de determinados estilos educativos o la importancia de la autoridad en las relaciones familia-escuela. Estas son algunas de las conclusiones a las que hemos llegado y que exponemos a continuación.  
Español/Spanish PDF
Português/Portuguese:
De uns anos para cá, a Universidade Pontificia de Salamanca oferece um programa de formação de pais às famílias que buscam o Mestrado em Intervenção Clínica de Logopedia, dirigido pela professora Dolores Rivas Serrat. As crianças que apresentam algum transtorno na aquisição e desenvolvimento da linguagem recebem intervenção logopédica. Semanalmente, os pais participam de um programa formativo e os filhos recebem, por sua vez, orientação educativa, intervenção nos problemas de aprendizagem e apoio ao estudo. Algumas das questões tratadas entre os pais e os profissionais da educação são trabalhados neste artigo e tem a ver com as mudanças na familia espanhola, os novos modelos familiares ou com a falta de autoridade nas relações educativas que se estabelecem na família e na escola. O trabalho que realizamos se desenvolve mediante uma escola de pais. Esta metodologia resulta indispensável para os processos formativos familiares. São espaços privilegiados de participação e aprendizagem, constituem uma adequada metodologia para os educadores, os orientadores e outros profissionais da educação. A Pedagogia, como ciencia normativa, nos explica os modelos familiares mais adequados, os riscos de determinados estilos educativos ou a importancia da autoridade nas relações familia-escola. Estas são algumas das conclusões que chegamos e que expomos a seguir.
Citation
Torrubia, E., Guzón, J. & Alfonso Sánchez, J.M. (2017). Parents and schools that grow in the 21st century. Alteridad, 12(1), 215-223. Quito, Ecuador: Universidad Politécnica Salesiana of Ecuador. Retrieved April 5, 2020 from https://www.learntechlib.org/p/195284/.