You are here: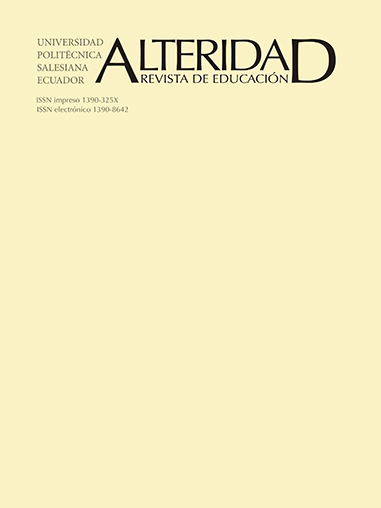 The student's families with disabilities in school, their needs and demands. Ecuador case
Español/Spanish

Las familias de estudiantes con discapacidad en la escuela, sus necesidades y demandas. Caso Ecuador
Português/Portuguese

As famílias de estudantes com deficiência na escola, suas necessidades e demandas: caso Equador

Alteridad Volume 12, Number 1, ISSN 1390-8642 Publisher: Universidad Politécnica Salesiana of Ecuador, Quito, Ecuador
Abstract
This paper identifies the needs of families with children with disabilities, strengths to support educational processes and analyzes how family requirements affect the continuity of parents' life projects. This researchaimed to know the emotional status of parents, commitment to the education of their children, the dreams of the family to ensure their inclusion in life.In the analysis of the information gathered, from the implementation of the survey and focal groups, to the families of students who attend different specialeducation schools was obtained as a finding that a high percentage of parents leave and/or delay their personal life projects because of the birth of a child with disabilities, just as a list of needs that educational institutions do not take into account or do not believe that must be satisfied. When the school has a role in providing the relevant supports to the student and his family with the aim of providing quality education to develop the highest levels of autonomy of their students.
Español/Spanish:
El presente trabajo identifica las necesidades, de las familias con hijos con discapacidad, y analiza cómo los requerimientos de la familia influyen en la continuidad de los proyectos de vida de los padres así como las fortalezas de la familia para apoyar el proceso de inclusión social y educativa de sus hijos e hijas con discapacidad. En el análisis de la información recabada a partir de la aplicación de la encuesta y grupos focales a las familias de los estudiantes que asisten a diversas escuelas de educación especial, se encuentra que un alto porcentaje de padres de familia abandonan y/o postergan sus proyectos de vida personal a causa del nacimiento de un hijo con discapacidad, de igual manera se identificaron un listado de necesidades que las instituciones educativas no toman en cuenta o no creen que se debe satisfacer, cuando la escuela tiene la función de brindar los apoyos pertinentes al estudiante y su familia con el objetivo de brindar una educación de calidad que desarrolle los máximos niveles de autonomía de sus estudiantes.
Español/Spanish PDF
Português/Portuguese:
O presente trabalho identifica as necessidades das famílias com filhos com deficiência e analisa como os requerimentos da família influem na continuidade dos projetos de vida dos pais, assim como os recursos da família para apoiar o processo de inclusão social e educativa de seus filhos e filhas com deficiência. Na análise da informação conseguida a partir da aplicação da pesquisa em grupos focais com as famílias dos estudantes que frequentam a diferentes escolas de educação especial, encontra-se que, um alto percentual de pais de família abandona e/ou posterga seus projetos de vida pessoal por causa do nascimento de um filho com deficiência. Da mesma maneira identificou-se uma lista de necessidades que as instituições educativas não levam em consideração se devem ou não satisfazer, quando é a escola que tem a função de proporcionar os apoios pertinentes ao estudante e à sua família com o objetivo de oferecer uma educação de qualidade que desenvolva os máximos níveis de autonomia de seus estudantes.
Citation
Gallegos Navas, M. (2017). The student's families with disabilities in school, their needs and demands. Ecuador case. Alteridad, 12(1), 20-31. Quito, Ecuador: Universidad Politécnica Salesiana of Ecuador. Retrieved March 28, 2020 from https://www.learntechlib.org/p/195282/.