You are here: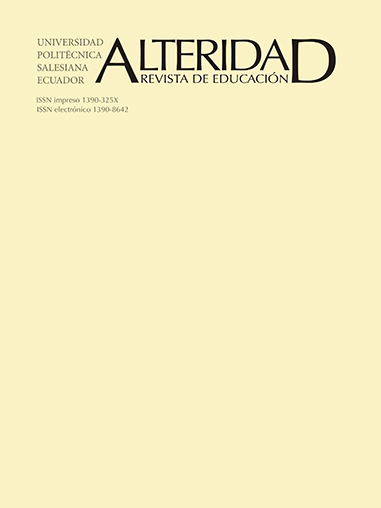 Intra and extra school factors associated with educational backwardness in vulnerable communities
Español/Spanish

Factores intra y extra escolares asociados al rezago educativo en comunidades vulnerables
Português/Portuguese

Fatores intra e extra escolares associados à distorção idade-série em comunidades vulneráveis

Alteridad Volume 12, Number 1, ISSN 1390-8642 Publisher: Universidad Politécnica Salesiana of Ecuador, Quito, Ecuador
Abstract
Abstract Six Objectives of development of the Millennium focused on childhood were stablished on 2000 with the aid of the 189 countries that form the United Nations, due to the situation presented by children from all around the world. One of the objectives strives to assure that by 2015 all children will complete their primary education. A series of individual and structural factors keep children from staying in school. According to several studies, external factors, such as poverty and gender end up being the key reasons that keep children away from school. This paper has the objective of showing the result of an exploratory study realized from a mixed focus over the perception that directives, professors, and citizens from Polígono San Bernabé (Monterrey), regarding the factors that promote educational lay back within basic education. The main strategies used by institutions to avoid this issue will also be presented. 
Español/Spanish:
Ante  la situación que presentan los niños y niñas del mundo, sobre todo  los  de los países en desarrollo,  se establecen, con la participación de 189 países miembros de las Naciones Unidas, en el 2000, seis Objetivos de Desarrollo del Milenio dirigidos a la infancia. Uno de ellos pretende asegurar para el 2015 que todos los niños y niñas terminen la enseñanza primaria.Una serie de factores individuales y estructurales  impiden el acceso o permanencia de los niños y niñas en la escuela, sin embargo, de acuerdo a una serie de estudios realizados, los factores externos, como la pobreza, y el género resultan ser los factores clave que mantiene a los niñ@s alejad@s de la escuela.El presente trabajo tiene por objetivo mostrar los resultados de un estudio exploratorio realizado desde el enfoque mixto sobre la percepción que tienen directivos, profesores y habitantes de nueve agebs del Polígono San Bernabé, del municipio de Monterrey,  sobre los factores que promueven el rezago educativo de los estudiantes que cursan la enseñanza básica. Se dará a conocer, además, las principales estrategias utilizadas en las instituciones educativas para incidir en los factores de riesgo.
Español/Spanish PDF
Português/Portuguese:
Diante da situação que apresentam as crianças no mundo, sobretudo as pertencentes aos países em desenvolvimento, foram estabelecidos, com a participação de 189 países membros das Nações Unidas, no ano 2000, seis Objetivos de Desenvolvimento do Milênio, dirigidos à infância. Um deles pretendia assegurar que para o ano de 2015 todas as crianças terminassem o ensino fundamental. Uma série de fatores individuais e estruturais impedem o acesso ou a permanência das crianças na escola. Sem dúvidas, de acordo com uma série de estudos realizados, os fatores externos, como a pobreza e o gênero resultam ser os fatores chave que mantem as crianças longe da escola. O presente trabalho tem por objetivo mostrar os resultados de um estudo exploratório realizado a partir de um enfoque misto sobre a percepção de diretores, professores e habitantes de nove setores do Polígono San Barnabé, do Município de Monterrey, sobre os fatores que promovem a distorção entre idade-série entre estudantes que cursam a escola fundamental. Discorre-se também sobre as principais estratégias utilizadas pelas instituições educativas para incidir sobre os fatores de risco.
Citation
Mendoza, E. (2017). Intra and extra school factors associated with educational backwardness in vulnerable communities. Alteridad, 12(1), 79-91. Quito, Ecuador: Universidad Politécnica Salesiana of Ecuador. Retrieved April 7, 2020 from https://www.learntechlib.org/p/195276/.