You are here:
Self-Efficacy: a booster for pedagogical innovation
ARTICLE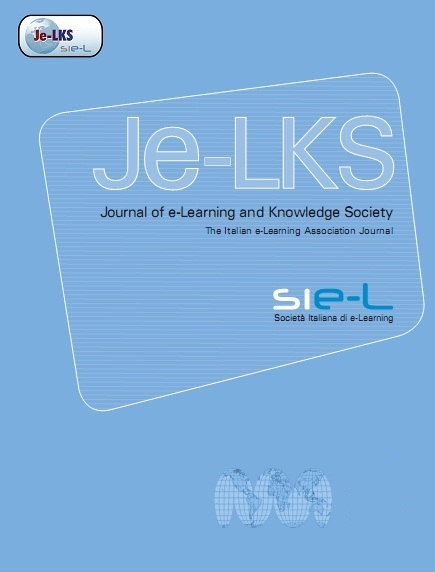 Journal of e-Learning and Knowledge Society Volume 12, Number 3, ISSN 1826-6223 e-ISSN 1826-6223 Publisher: Italian e-Learning Association
Abstract
This study is framed within a research doctorate program, whose aim is to investigate: 1. Italian lower secondary teachers' familiarity with ICT, active teaching and peer sharing; 2. teachers' profile and its correlation with difficulties in ICT integration and pedagogical innovation; 3. teachers' self-efficacy perception and its correlation with professional development and training opportunities. On account of these goals, we have been trying to arrange a few initiatives of informal training in enhanced environment, built upon a cooperative task-based approach. This training model is meant to reskill educational professionals in technological advances, but also to grow teachers' self-efficacy perceptions, which are important variables, affecting behavior and goal orientation, and are proved to predict intentions in ICT adoption. Possible significant contribution in this model relies on two aspects: providing blended interactive environment for peer training; encouraging technological adoption in school by affecting teachers' self-efficacy perception. According to provisional results, teacher's needs for peer discussion, sharing and counselling have been answered by in-presence and virtual debate, as well as by focus group meetings; ICT perceptions have positively evolved after collaborative training and knowledge building practice. Conclusive findings analysis should also indicate whether the reinforcement of self-perception enhances teachers' intention to implement and share pedagogical innovation within the school.
Citation
Oddone, F. (2016). Self-Efficacy: a booster for pedagogical innovation. Journal of e-Learning and Knowledge Society, 12(3),. Italian e-Learning Association. Retrieved March 22, 2019 from https://www.learntechlib.org/p/173476/.
Keywords
View References & Citations Map
References
Ajzen, I. (1991), The theory of planned behavior, Organizational Behavior and Human Decision Processes, 50 (2), 179–211.
Almog, T. & Hertz, R. (1999), Teachers as peer learner: Professional development in an advanced computer learning environment, in O'Donnell, A.M. & King, A. (Eds.), Cognitive perspectives on peer learning, 285-311, Mahwah, NJ, Lawrence Erlbaum.
Angiolani, M. & Oddone, F. (2015), Un laboratorio di formazione tra pari nella scuola secondaria di primo grado, Proc. Of DIDAMATICA 2015 Conf., 11-18, Genoa, Apr. 15-17.
Bandura, A. (1997), Self-Efficacy in Changing Societies, Cambridge, UK, Cambridge University Press.
Bandura, A. (2006), Guide for constructing self-efficacy scales, in Pajares, F. & Urdan, T. (Eds.), Self-efficacy beliefs of adolescents, 307-337, Greenwich, CT, Information Age Publishing.
Bax, S. (2011), Normalisation Revisited: The Effective Use of Technology in Language Education, IJCALLT, 1(2).
Benigno, V., Chifari, A. & Chiorri, C. (2014), Adottare le tecnologie a scuola: una scala per rilevare gli atteggiamenti e le credenze degli insegnanti, TD 22(1), 59-62.
Biasi, V., Domenici, G., Capobianco, R. & Patrizi, N. (2014), Teacher Self-Efficacy Scale (Scala sull'auto-efficacia del Docente– SAED): adattamento e validazione in Italia, Retrieved from http://www.ledonline.it/index.php/ECPS-Journal/article/ ViewFile/771/636.
Caprara, G.V. (2014), La valutazione dell'autoefficacia, Trento, IT, Erickson.
Caviglione, L., Coccoli, M. & Gianuzzi, V. (2011), Opportunities, Integration and Issues of Applying new Technologies over e-Learning Platforms, Proc. Of the 3rd Int. Conf. On NGNS, 12-17, Hammamet, TUN, Dec. 18-20.
Chao, C. (2015), Rethinking Transfer: Learning from CALL Teacher Education as consequential transition, Language Learning and Technology, 19(1).
Cox, M.J., Preston, C. & Cox, K. (1999), What Factors Support or Prevent Teachers from Using ICT in their Classrooms, in BERA Conf. 1999, Brighton, UK, Sept. 2-5.
Dabbagh, N. & Kitsantas, A. (2012), Personal Learning Environments, social media, and self-regulated learning: A natural formula for connecting formal and informal learning, Internet and Higher Education 15(1), 3-8.
Domine, V.E. (2009), Rethinking Technology in Schools, New York, NY, Peter Lang.
Geitz, G., Brinke, D. & Kirschner, P. (2016), Changing learning behaviour: Selfefficacy and goal orientation in PBL groups in higher education, International Journal of Educational Research, 75 (146-158).
Hattie, J. (2009), Visible Learning: A Synthesis of Over 800 Meta-Analyses Relating to Achievement, London, UK, Routledge.
Mishra, P. & Koehler, M. (2006), Technological Pedagogical Content Knowledge: A Framework for Teacher Knowledge, Teachers College Record, 108 (6), 1017-1054.
Oddone, F. & Firpo, E. (2015), Gli ostacoli all'innovazione didattica e l'attuale profilo professionale docente, TD, 23 (2), 112-120.
Oddone, F. (2016), Cloud Computing Applications and Services fostering Teachers' Self-Efficacy, Journal of e-Learning and Knowledge Society, 12(2), 15-25.
Trinchero, R. (2002), Manuale di ricerca educativa, Milano, IT, Franco Angeli.
Trinchero, R. (2013), Sappiamo davvero come far apprendere? Credenza ed evidenza empirica, Form@re, 13(2), 52-67.
Tschannen-Moran, M. & Woolfolk Hoy, A. (2001), Teacher efficacy: Capturing an elusive construct, Teaching and Teacher Education, 17, 783-805.
Wenger, E. (2006), Comunità di pratica. Apprendimento, significato e identità, Milano, IT, Raffaello Cortina.
These references have been extracted automatically and may have some errors. If you see a mistake in the references above, please contact info@learntechlib.org.