You are here: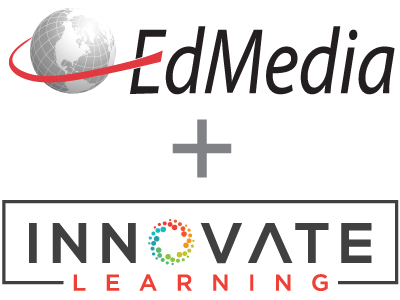 Designing and Implementing a Blended Professional Development Project - Lessons Learned
Proceeding
EdMedia + Innovate Learning, in Vancouver, BC, Canada ISBN 978-1-939797-24-7 Publisher: Association for the Advancement of Computing in Education (AACE), Waynesville, NC
Abstract
Online teacher professional development (OPD) is popular due to the need for professional development and the "anytime and anywhere" availability of the technology. However, OPD has potential challenges common to any online learning. Recently, the blended PD, a combination of face-to-face and online learning, began to get PD providers' attention. In this paper, we reported the process of how a grant-supported blended professional development project was designed and implemented. In addition, we presented the lessons we learned in the implementation process. The present study has potential theoretical and practical implications for blended learning based professional development projects. The findings offer highly needed information for researchers, teacher education professors, and policy makers in designing and facilitating blended-based professional development projects.
Citation
Zhang, M., Li, X. & Ford, A. (2016). Designing and Implementing a Blended Professional Development Project - Lessons Learned. In Proceedings of EdMedia 2016--World Conference on Educational Media and Technology (pp. 803-811). Vancouver, BC, Canada: Association for the Advancement of Computing in Education (AACE). Retrieved July 15, 2019 from https://www.learntechlib.org/primary/p/173041/.
References
View References & Citations Map
Bates, M.S., Phalen, L., & Moran, C. (2016). Online professional development. Phi Delta Kappan, 97(5), 70-73.
Belland, B., Burdo, R., & Gu, J. (2015). A blended professional development program to help a teacher learn to provide one-to-one scaffolding. Journal of Science Teacher Education, 26(3), 263-289.
Boyd, D. (2004). The characteristics of successful online learners. New Horizons in Adult Education and Human Resource Development, 18(2), 31-39.
Dede, C., Ketelhut, D., Whitehouse, P., Breit, L., & McCloskey, E. (2009). A research agenda for online teacher professional development. Journal of Teacher Education, 60(1), 8-19.
Desimone, L.M. (2009). Improving impact studies of teachers' professional development: Toward better conceptualizations and measures. Educational Researcher, 38, 181–199.
Ferdig, R., Cavanaugh, C., & Freidhoff, J. (2012). Lessons learned from blended programs: Experiences and recommendations from the field. Vienna, VA: iNACOL.
Fraenkel, J., Wallen, N., & Hyun, H. (2014). How to design and evaluate research in education (9th ed.). New York, NY: McGraw Hill.
Frey, N., & Fisher, D. (2013). Rigorous reading: 5 access points for comprehending complex texts. Corwin Press.
Hill, H.C., Beisiegel, M., & Jacob, R. (2013). Professional development research: Consensus, crossroads, and challenges. Educational Researcher, 42(9), 476-487.
Krefting, L. (1991). Rigor in qualitative research: The assessment of trustworthiness. American journal of Occupational Therapy, 45(3), 214-222.
McMillan, J.H., & Wergin, J.F. (2009). Understanding and evaluating educational research (4th ed.). Upper-Saddle River, NJ: Pearson Merrill Prentice Hall.
Miranda, R.R., & Damico, J.B. (2015). Changes in teachers' beliefs and classroom practices concerning inquiry-based instruction following a year-long ret-plc program. Science Educator, 24(1), 23-35.
Mirriahi, N., Alonzo, D., Mclntyre, S., Kligyte, G., & Fox, B. (2015). Blended learning innovations: Leadership
O'Byrne, W.I., & Pytash, K.E. (2015). Hybrid and blended learning. Journal of Adolescent& Adult Literacy, 59(2), 137-140.
Phu, V., Vien, C., Lan, V., & Cepero, J. (2014). Factors driving learner success in online professional development. International Review of Research in Open& Distance Learning, 15(3), 120-139.
Russell, M., Carey, R., Kleiman, G., & Venable, J.D. (2009). Face-to-face and online professional development for mathematics teachers: A comparative study. Journal of Asynchronous Learning Networks, 13, 71–87.
SAMPI. (2016). Science and Mathematics Program Improvement by Western Michigan University(https://wmich.edu/sampi).
Schaffhauser, D. (2015). 4 Features to look for in a 21st century LMS. THE Journal, 42(4), 19-22.
Staker, H. (2011). The rise of K–12 blended learning: Profiles of emerging models. San Mateo, CA: Innosight Institute. Retrieved from www.christenseninstitute.org/publications/ the-rise-of-k-12-blended-learning-profiles-of-emerging-models
Stanford-Bowers, D.E. (2008). Persistence in online classes: A study of perceptions among community college stakeholders. Journal of Online Learning and Teaching, 4(1), 37–50.
Tri-State Quality Review Rubric. (2016). New York State Education Department. Https://www.engageny.org/resource/tri-state-quality-review-rubric-and-rating-process
Van Schalkwyk, S., Leibowitz, B., Herman, N., & Farmer, J. (2015). Reflections on professional learning: Choices, context and culture. Studies in Educational Evaluation, 464-10.
These references have been extracted automatically and may have some errors. Signed in users can suggest corrections to these mistakes.
Suggest Corrections to References