You are here: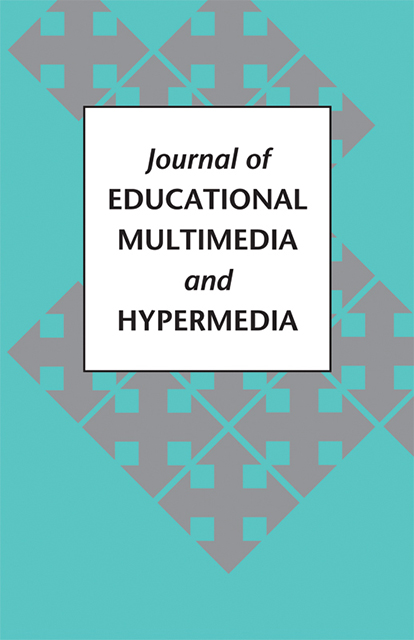 Using a Quality-Led Multimedia Approach for Interpersonal Communication Training
Article
Journal of Educational Multimedia and Hypermedia Volume 13, Number 2, ISSN 1055-8896 Publisher: Association for the Advancement of Computing in Education (AACE), Waynesville, NC USA
Abstract
Faced with a fast changing society, the need to develop quality instructional materials to update professional skills has become a growing necessity. This article shows how certain instructional design techniques, such as the Scenistic approach and the SNOW analysis, can ensure the educational and the broad technical quality of interactive multimedia environments. In doing this, we outline a novel way of helping adults improve their interactional skills by adopting a "situated learning" approach that includes a workplace-based video fiction, educational games, and on and offline social interactions to make the pedagogic content as versatile, attractive, and varied as possible for learners to reconstruct their knowledge in their own way. Finally, we outline some applications and implications of our approach, including the harsh reality of conducting evaluation of an instruction module in the workplace.
Citation
Labour, M., Leleu-Merviel, S. & Vieville, N. (2004). Using a Quality-Led Multimedia Approach for Interpersonal Communication Training. Journal of Educational Multimedia and Hypermedia, 13(2), 185-214. Norfolk, VA: Association for the Advancement of Computing in Education (AACE). Retrieved February 20, 2020 from https://www.learntechlib.org/primary/p/12866/.
Keywords
References
View References & Citations Map
AFNOR. (1987). Norme française NF X 50-120: Qualité vocabulaire, (pp. 43-52). Paris: AFNOR.
Astolfi, J.P. (1997). L'erreur, un outil pour enseigner. Issy-les-Moulineaux, France: ESF.
Brown, J.S., Collins, A., & Duguid, P. (1989). Situated cognition and the culture of learning. Educational Researcher, 18(1), 32-42.
Civanlar, M.R. (2001). Internet video. In M.T. Sun & A.M. Reidman, Compressed video and networks, (pp. 433-464). New York: Mercel Dekker.
Festinger, L. (1957). A theory of cognitive dissonance. Stanford, CA: Stanford University
Goleman D., Boyatzis, R., & McKee A. (2002). L'intelligence émotionnelle au travail, Paris: Editions Village Mondial/Pearson Education. Original edition, 2002, Primal leadership, Boston: Harvard Business School Press.
Grandmont, N. (1994). Le Jeu éducatif. Québec, Canada: Les Editions Logiques. Bibliothèque nationale du Québec.
Henderson, G.E., & Brown, C. (1997). Glossary of literary theory. University of Toronto English Library. Retrieved January 6. 2003 from http://www.library.utoronto.ca/utel/glossary/Diegesis.html
Herrington, J., & Oliver, R. (1995). Critical characteristics of situated learning: Implications for the instructional design of multimedia. (pp. 1-10). Melbourne, Australia: Australasian Society for Computers in Learning in Tertiary Education (ASCILITE).
Jonassen, D.H., & Rohrer-Murphy, L. (1999). Activity theory as a framework for designing constructivist learning environments. Educational Technology Research and Development, 47(1), 61-80.
Kirkpatrick, D.L. (1994). Evaluating training programs: The four levels. San Francisco: Berret-Koehler.
Labour, M. (2000). Social constructivism and CALL: Evaluating some interactive features of network-based authoring tools. ReCALL (The Journal of European Computer Assisted Language Learning), 13(1), Using a Quality-Led Multimedia Approach 209
Labour, M. (1998). Que pense l'apprenant de l'apprentissage guidé de l'anglais? Un Panorama des représentations des adultes en formation
Leleu-Merviel, S. (1996). La scénistique: Méthodologie pour la conception de documents en media multiples suivant une approche qualité. Unpublished post-doctoral thesis, Paris, France: University of Paris VIII.
Leleu-Merviel, S. (1997). La conception en communication. Méthodologie Qualité. Paris: Editions Hermès.
Lindkvist, L. (2002, May). Knowledge and organization. On knowledge bureaucracies, communities, and collectivities. Paper for the EuramTrack Managing the knowledge-based firm. Stockholm, Sweden.
McCannell, S. (2000, October 6). SMIL: Multimedia for the masses. Hotwired. Retrieved June 8, 2002, from http://hotwired.lycos.com/webmonkey/00/41/index4a.html
Noffsinger, J. (1926). Correspondence schools. New York: MacMillan.
Petit, M. (2003). Equipe d'accueil 2025, Anglais de spécialité / Didactique de la langue. Retrieved July 16, 2003 from http://www.langues-vivantes.u-bordeaux2.fr/recherche/ea2025.php, Last
Oudman, R., Vos, A.M., & Biesboer, J. (1999). Stakeholder analysis methods. Retrieved October 27, 2001 from http://panoramix.univ-paris1.fr/ CRINFO/dmrg/MEE98/misop001/
Stora, G., & Montaigne, J. (1986). La qualité totale dans l'entreprise. Paris: Les Editions d'Organisation.
Treicher, D.G. (1967). Are you missing the boat in training aids? Audio-visual communications. New York: United Business Publications.
Tremblay, F. (1999). La fiction en question. Montréal: Balzac-Le Griot.
Turner, G. (1988). Film as a social practice. London: Routledge.
Wellek, R., & Warren, A. (1971). La théorie littéraire. Paris: Seuil. Name:……………………………………………………………………………………............. In which department do you work? :…..………………………………………………………… How long have you been working in the department?:……………………………………………
These references have been extracted automatically and may have some errors. Signed in users can suggest corrections to these mistakes.
Suggest Corrections to References